Learn to Whitewater Kayak Chile Rivers – Beginner Lessons
View Pucon Kayak Retreat Trip Advisor 5 STAR Reviews for BEGINNER CHILE KAYAK LESSONS AND TRIPS.
"I'm not good enough to kayak Chile rivers." WRONG. Pucon Chile has more beginner and intermediate rivers than the more YouTube famous class V. Think about it. All of those waterfalls, creeks, rivers, and lakes make their way to the Pacific within a short distance. Heck, within ten miles of the retreat we have more than a dozen beginner to intermediate kayak sections with features excellent for learning to combat roll, ferry, catch eddies, surf and play, and develop your skills safely.
Am I good enough to learn how to whitewater kayak in Chile?
We all had to learn somewhere. Chile's rivers, lakes, and hot springs are perfect for whitewater development. There is something magical about exploring rivers, challenging yourself, the  rush of the water, and bonding that has kept all of us kayakers coming back to rivers. Learning to whitewater kayak is your passport to new and exciting adventures with friends team scouting, decision making, and celebrating successes and failures. Chile is the world's best beginner and intermediate kayak destination because of the anomaly of rivers, lakes, lagunas, and hot springs. Lakes and hot springs are excellent for hot and cold day rolling practice. The multitude of rivers provide more development features for learning kayak mechanics and river navigation.
Who is Rolls & Rivers, Beginner Whitewater Kayaking Chile, for?
Anyone with a sense of adventure keen to learn the sport of whitewater kayaking giving your vacation purpose and challenges. Not to mention the friends you will meet while exploring rivers daily. Beginner kayak lessons is your ticket to join a community of friends that tend to migrate to festivals, events and exploring down by the river.
Kayak equipment orientation, outfitting & safety.
You'll learn the key pieces of equipment and various styles of kayaking. Safety concerns, history, and applications of the world's most dynamic water craft. What other craft can plunge waterfalls, surf waves, run rapids, and roll upright when it flips? The essential five pieces of kayak equipment are: paddle, personal flotation device (PFD), kayak, skirt, and helmet. Soft gear includes river shoes such as neoprene booties or sandals, fleece liners, and splash or dry tops. Wet suits are also common. The retreat provides all of your gear. Many guests bring their own river shoes and underlayers.
As your skills progress so will the rivers.
Learning to whitewater kayak takes time and practice. Each day your skills will progress as will your daily new challenges. Rolling in whitewater is unnatural in the beginning. But with great instructors and team support each progression and failure is celebrated as a progressive advancement. We'll keep the adventures and rivers coming, and you keep the good attitude.
What Is Included
Breakfast, l

unch, appetizers & dinner.

Kayak rental.

Airport transfer *per published times found on registration page. 

Riverside communal ammenities & lodging.

Industry leading guides and Team Buena Onda.

Daily kayak and adventures.

River and town transports.

Two house bottles of vino or pisco sour nightly.  

KEEP KAYAKING shirt.

New friends for life. 
Not Included
Team Buena Onda Tips. Recommend 9% to 15% of trip cost to be split across team participants.
1 meal out per week at local culinary adventure.
Personal provisions. There are markets within walking distance of retreat.
Some optional multi-adventure activities such as massage therapy and hot springs.
Airport transfers outside of scheduled times.
Got Questions. Email or give us a call. [email protected] or +1-828-788-5135.
KEEP KAYAKING. 
Tentative Trip Itinerary
*Due to water levels, skills, and group needs the following itinerary is subject to change and is a best prediction of the itinerary.
---
DAY 1, SAT. Bienvenidos a Pucon Chile. 
Arrival to Temuco Airport (ZCO) between 11 AM to 5 PM.
Boat outfitting, orientation, and welcome dinner.
Potential afternoon lake session pending time.
DAY 2, SUN. Lago Caburgua Roll Practice + Rio Liucura to Wave – Confluence
AM – Kayak Theory & roll and games session.
PM – Kayak Chiles Rio Liucura to Wave or Trancura Confluence (II to III+).
DAY 3, MON. Kayak orientation, goals, rolls and rivers.  Rio Tolten + Artisan ice cream.
AM – Kayak history, purposes, equipment, and safety. Lago Villarrica wet exit & roll session.
PM – Kayak Chile Rio Tolten River Run.
DAY 4, TUE. Lower Maichin Canyon (II to III)
AM – Beginner Kayak Pucon Chile Lower Maichin Canyon (kayak a basalt canyon)
PM – Options: Pucon Chile Multi-Sport Activities or Kayaking
DAY 5, WED. Trancura Delta to Lago Villarrica + Palguin Appetizers
AM – Kayak Pucon Chile Trancura Delta to Lago Villarrica for roll practices
PM – Middle Trancura Skills Development (II+) + Palguin Appetizers
DAY 6, THU. Rio San Pedro (II to IV) Raft or Inflatable Kayak
Yes, beginners get to experience the world renowned turquoise rapids of kayaking or rafting Chile's Rio San Pedro. We will put you in a pack raft or raft to keep the experience safe and so so so fun. This may be your best day of kayaking ever.
DAY 7, FRI. Kayak or Inflatable Kayak a 10' Waterfall. Chilean Asado Celebration.
AM – Morning Group Option.
PM – Palguin TEN Foot Waterfall. That's right. We will hike you into the Upper Palguin to the safest waterfall in the region. Expert kayakers will set safety at the lip and the pool below in case you swim. Stick the line and roll and listen to the cheers from your new friends celebrating your success. Miss the line and want to do it again? We built a ladder so we can lap the drop time after time. Yes, we will have cameras ready for you most exciting whitewater yet.
DAY 8, SAT. Pack and Souvenirs 
AM – Optional Morning Lap or Pucon souvenirs and crafts shopping.
PM –Temuco Airport (ZCO) Departure Flights Between 11 AM to 5 PM.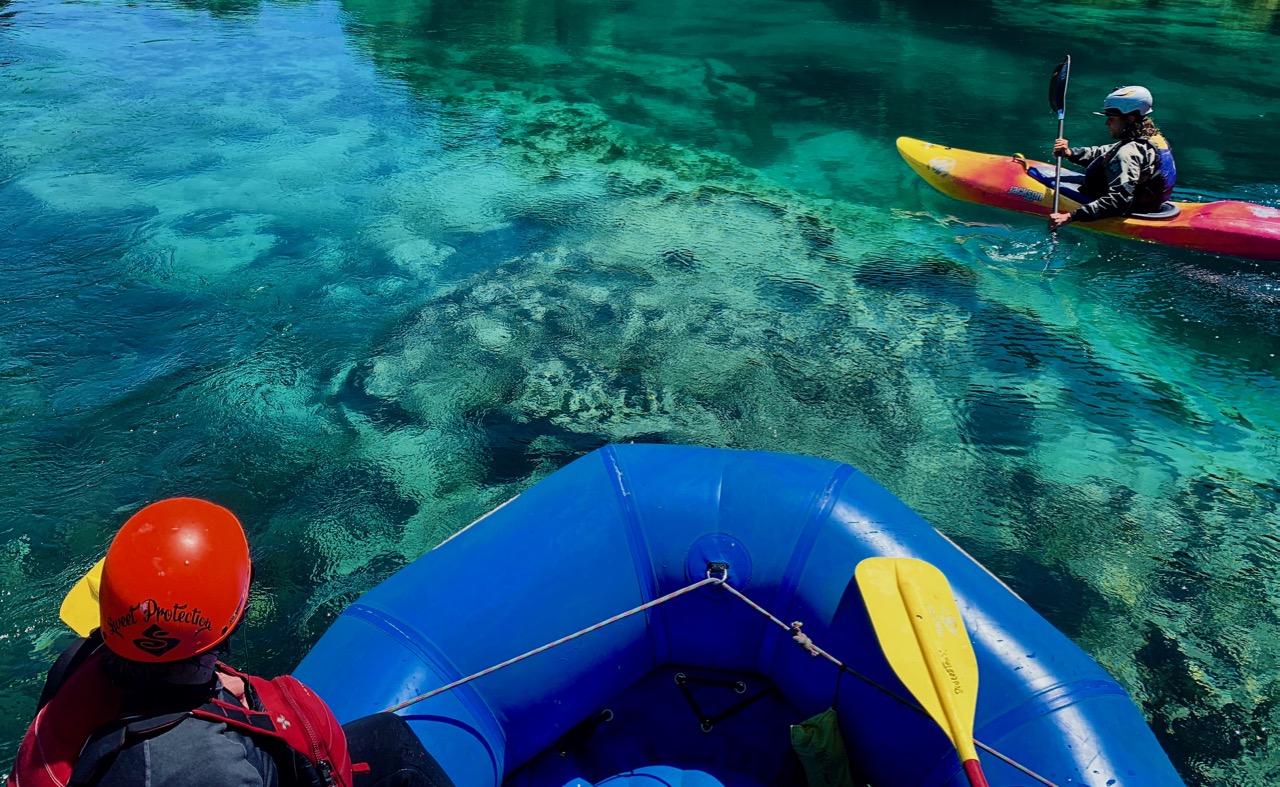 Lodging Options
River Suite (pp dbl occ)
$3,090/per

Hosteria Cabañas (pp dbl occ)
$2,490/per
Treehouse Dorm (pp shr occ)
$2,390/per
Camp (pp)
$2,290/per
Skill Level: No experience required.
Deposit: $US750 Deposit. Read Payment Guarantees
Arrival City: Temuco Airport (ZCO) – 11 AM to 5 PM
Departure City: Temuco (ZCO) – 11 AM to 5 PM
Trip Length: 8 Days
ADD a Second trip option: DISCOUNT Available. 

Want to chat with a real person? Send a message.