Hughes Family Goes to Patagonia!
It is with pride retreat owner David Hughes announces the Hughes Family Goes to Patagonia trip. This page serves as a guide and checklist for the Hughes Family Patagonia Vacation Plan. Page does NOT detail trip itinerary or advertising of retreat services. Trip will focus on mellow activities, back yard river floats and beaches, trout and salmon fishing, exploring surrounding volcanos and valley's adventures, and culturally rich eco-friendly businesses.
Who can go? Is your last name Hughes? Then you qualify. Exceptions are if your name is Christina, George, Bedwell, or Joe.
Dates. FEB 26 (Temuco, Chile arrival) to MAR 5 (Temuco, Chile departure)
Prepping For Your Trip
A. Regarding Flights. Recommend to book your flights through Flighthub.com, Hopper.com, eSky.com, or equal service. David can also provide you with a travel agent to coordinate your flights. See arrival and departure times to the right. Brad and David found Chattanooga to ZCO flights around $850 and Raleigh to ZCO at $732.
Destination. Temuco (airport code ZCO) is about an 80 minute drive from Pucon.
AIRFARE TIP. Signup with companies to be notified of deals for your flight. Give it 3 or 4 weeks for best deals to arrive.
Where are you staying?
Pucon Kayak Retreat
KM 10 Camino a Caburgua
Pucon, Chile
David Hughes, +56-9-3388-6197 or +1-828-788-5135
B. Costs
Activities Pay As You Go. The retreat offers a selection of economical activities such as rafting, SUP boards, fishing, beautiful hikes, beach swimming, lagunas swimming, driving tours… We will meet daily to discuss activity options. Envision light hikes to waterfalls, beaches, and lagunas; fishing options; river and lake activities are economical as the retreat has river toys; and Andean mountain drives to beautiful views.
Meals – Group Food Split. We will organize a family meal cost split and pay as you go system. David will arrange a Chilean cook to shop, cook dinners and lunches. Cook teams will be assigned for breakfasts. We will eat out at a couple of times at selected culturally rich restaurants or locations with excellent views. Restaurant meals are about 10 to 20% less cost than US. Family will split the cook and food costs.
For Pay Activities. Horseback rides, tandem paragliding on beach, hot springs, rafting, renting a fishing boat…
Tipping Guides. Tipping guides and employees is expected.
Transportation. Group split gas and tolls costs.
C. Required and Helpful Documents
COVID Entrance Docs.
1. Chile Mobility Pass. Get this 45 to 30 days prior to your FEB 26 – MAR 5 trip.  Link to Chile Mobility Pass and the Travel Afidavit.
Requirements: Passport, vaccination card, travel data. 
2. Affidavit of Travelers
This is an online form filled out within 72 hours of your flight boarding time. Travelers (of all ages) will have to present three documents when boarding: (US Embassy Chile Page)
A completed "Affidavit of Travelers" electronic form (available at www.c19.cl  and also known as a Sanitary Passport)  prepared less than 48 hours before boarding;

The travel affidavit is an online source for you to document where you are. You will receive a daily email to confirm you are at the same location, have no symptoms… takes 30 seconds to submit.

Proof of a negative result from a PCR result from a test taken within 72 hours prior to  departure (Note: the 72-hour time period begins from the time the test is administered- not from when the test results are returned); and
Proof of a health insurance policy that provides coverage for Covid-19 and related health issues during the traveler's stay in Chile. The Health Insurance must cover charges associated with COVID-19 during your stay, with a coverage of USD $ 30,000 (minimum). (All documents must be presented before boarding the flight to Chile)

Google "Covid travel insurance." David bought a policy for 3 months at $43 that covered $50,000 for Covid from Trawick International. It must state that it covers Covid.
What happens with the docs at the airport?
When you check in the airline agent will ask for your three docs. They will specifically look to make sure your dates/time are in accordance with the above. Once you are through the agent you are good until Chile customs.
What happens at Chile Airport?
Chileans are friendly and the airlines will know English. There will always be someone nearby that speaks English. Be open to ask people around you for help with translations.
A. Covid Check Station. Present your docs: affidavit, proof of insurance, PCR results, passport. They will give you a stamped slip of paper saying you are Covid safe. KEEP THIS!
B. International/Extranjeros/Foreigners Customs Lines. Follow the people to the the foreigners/extranjeros lines. For a series of questions and checks.
1. Show Passport and Covid slip of paper;
2. Reason for Travel. Family vacation to Pucon.
C. Baggage Claim. Follow the people to the baggage claim. Look for the carasell that has your flight.
1. Get a free cart. Take your baggage to the XRay machines.
2. Exit baggage claim to the area where public people are. Taxi drivers will try to get you to their taxi. Goto the right seeking the elevators.
3. Take elevator to 3rd floor – airline departures.
4. Goto your airline gate and checkin. Some airlines won't let you check in until 3 or 4 hours prior to flight.
5. After check in goto Domestic flights xrays. Then find your gate.
Got Lost Luggage? Imperative that you goto your airline service and report. Make certain to have photos of your bags. The airlines are excellent at delivering your bags.
Packing Checklist. David will prep a packing checklist in separate doc.
Temuco Arrival
1. After exiting the plane follow the crowd to baggage claim.
2. Claim your bag.
3. Exit baggage claim to public area where David will be waiting.
4. Have warm weather clothes to change into.
5. 80 minute drive to Pucon home base. 
Got questions. Call or email. 
Tentative Trip Itinerary
*Due to group needs the following itinerary is subject to change and serves as a predictor itinerary options. Other options include: tandem paragliding, horseback rides, lake tours, and practically any adventures.

---
DAY 1 FEB 26 (SAT)
Arrival to Temuco Airport (ZCO) between 11 AM to 5 PM.
90 minute Temuco to Pucon drive. welcome, orientation, property tour, dinner and games.
DAY 2,  (SUN)
AM – Morning Fishing.
PM – Afternoon Turbio lava flow and lagunas hike. (Lite hiking)
DAY 3, (MON)
AM – Rio Tolten Fishing, SUP, Inflatable Kayak Run.
PM – Artesan ice cream in Villarrica.
DAY 4, (TUE)
AM – Pichillancahue Glacier and Volcano Hike. 3 hour hike (medium hiking 1.5 hr uphill)
PM – Appetizers overlooking Lago Caburgua. David paraglide off mountain. (Drive to)
DAYS 5, (WED)
AM – Raft Retreat backyard Rio Trancura. This is the river where you will be based. Whitewater and views of the volcano.
PM – Hotsprings
DAY 6, (THU)

AM – Lago Caburgua trip.
PM- Pucon Dinner and Walking Tour.
Day 7, (FRI)
Optional Day.
DAY 8, (SAT)

AM – Optional Activity
PM –Temuco Airport (ZCO) Departure Flights Between 11 AM to 5 PM.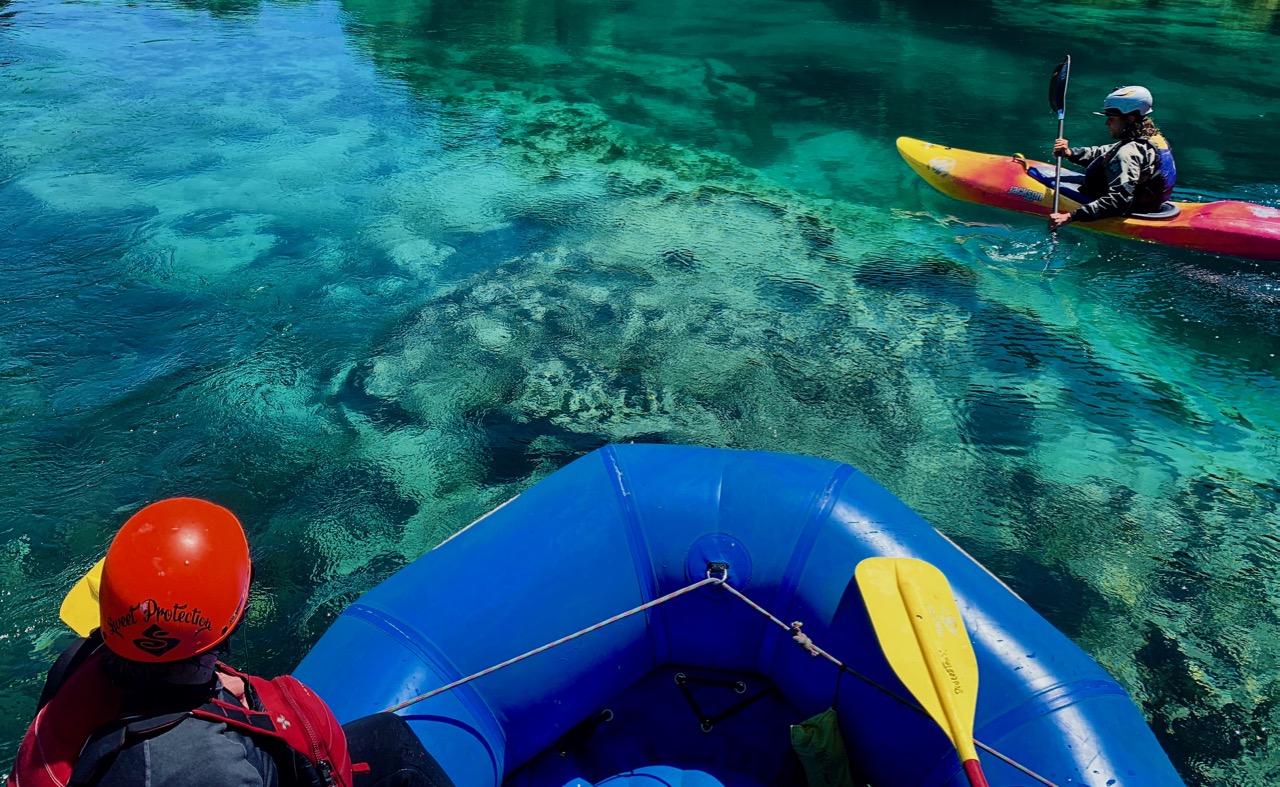 Lodging Options
FAMILY WEEK – MEAL SPLIT AND PAY AS YOU GO ACTIVITIES
River Suite (pp dbl occ)
$2,695.00/per

Hosteria Cabañas (pp dbl occ)
$2,395.00/per
Treehouse Dorm (pp shr occ)
$2,195.00/per
Camp (pp)
$1,995.00/per
Trip Details

Arrival City: DEPART US MAR 11;
ARRIVE CHILE. Temuco Airport (ZCO) – MAR 12, 11 AM to 5 PM
Departure City: Temuco (ZCO) – MAR 21, 9 AM TO 11 AM to 5 PM
Want to chat with a real person? Send a message.