Kayaker Friendly Cheap Chile Air Fare Tips
"I'm considering my dream Chile kayaking trip but the airfares are expensive."
We've composed tips from global adventure travelers sniffing out cheap Chile airfares with and without kayaks. Here are our money saving proven airfare research tips. 
Browse
 

INCOGNITO – avoid bait and switch pricing

Airlines say they don't raise prices when you leave and return to their sites. We became suspicious when exactly that happened during some of our searches. Each time you search incognito you are in effect resetting your cookies and hence not allowing the sites to track your site hits.
Use Price Alerts and Bidding Features
If you start your airfare search early enough these two features will 100% save your wallet. Many booking sites even allow you to bid your price. Or requesting alerts watches prices drop during the following weeks. LowFares.com – searches Travelocity, Kayak, Expedia, One Travel, Cheap Flight Now, and Trip Advisor. CheapFlightNow.com and CheapOAir.com  – Also searches multiple engines. SkyAuction.com – While, Priceline.com recently killed their name your own price option SkyAuction still offers a similar service. You have the option to pay the price they publish or why not try naming your price. Want more Chile travel advice regarding airport transfers, bussing and logistics.
Segment Your Connecting Fights
Let's use Denver International Airport (DEN) as our example. Purchasing a DEN to JFK flight separate vs. DEN direct to SCL may save your wallet hundreds. Chile. domestic flights, Santiago (SCL) to Temuco (ZCO) are almost always cheaper than a direct to Temuco. 
CONs of Flight Segmenting. Airlines are now heavily taxing additional baggage. Plus, you have to recheck bags when piecing out your connecting flights. 
Seek Known Cheap Ports – Santiago (SCL) and/or Temuco (ZCO) Chile
*Temuco (ZCO) is the retreat's primary airport for 90% of trips. Route through these ports to save your budget. Some guests have bought their US flights separate. For example, purchase a Denver to DC Dulles has a cheap Copa Airlines flight routing through Panama. JFK surprisingly had the lowest national airfares to Santiago. Raleigh Durham (RDU) often offers a cheaper flight than it's Big Sister Charlotte. This is likely due to the fact that smaller RDU reduces flights to remain competitive. Atlanta, Charlotte, Miami, Houston, Toronto, and Dallas are all international airports that route direct to Chile. Domestic Chile Airlines.  Domestic Chile airfares remain shockingly affordable if purchased in advance. We recently used Orbitz.com to purchase a Latam Santiago to Temuco flight for just $60.30. Downsize is Latam listed additional bags as $100 – $200. Domestic Chile airlines include Latam, Sky Airlines, and Jetsmart.
Know Cheapest Days of Week to Fly
General rule of thumb is that  Tuesday, Wednesday, and Thursday are cheaper than weekend flights. Use sites like Google Flights and Sky Scanner's "Whole Month" feature to compare flight costs by date. 
Avoid Flying Near Holidays. Yet, if you can fly exactly on Christmas or New Years you may find lower rates. Also, don't be surprised by inflated holiday rates.
Google.com/Flights. We suggest beginning your research with Google Flights because you can easily compare rates by calendare days. 
SkyScanner.com. Maybe the best comprehensive booking site for finding low fares. The "Whole Month" feature allows you to compare prices by the day equaling hundreds of dollars in savings. Easy to use and fast.
Now that you know the cheapest days to fly use your dates research to search on other cheaper booking engines.
Try a Travel Agent
Travel agents are under heavy cyber competition fire. It appears that travel agents don't much want to seek out bookings as the margins are so low. Yet, travel agents have so much value beyond just the pricing. While, they may not want to match fares they have similar booking powers. It is super nice to have a travel expert go to work for you if/when something goes wrong with your flight. If you find one of those angel travel agents then we think they are worth the enquiry. They know all of these tips and more with that backend access. 
Interested in discounts? Check out… Group Discounts and Planning.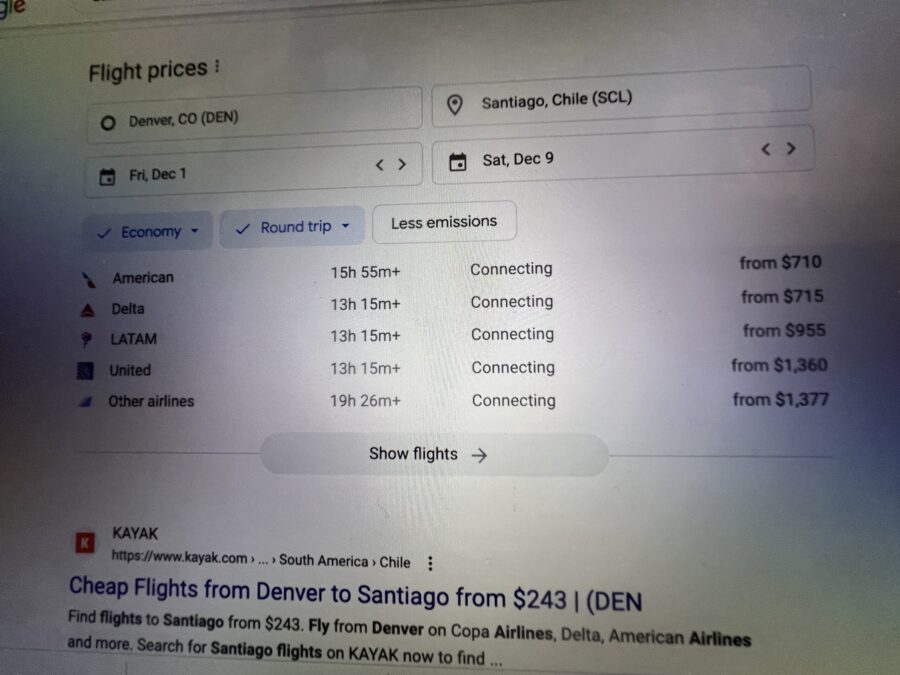 Want to chat with a real person? Send a message.