Buena Onda…
Nightly, retreat guests nominate each other for awards. "Buena onda" is a Chilean phrase repsenting someone that has a god vibe, a good person of character. It's so profound we decided to nominate buena onda guests nightly for awards. Ask to chat with one of our buena onda guests. 
Shawna's Richmond Friends
Big Chile Kayak Trip
Curtis, my NOC kayak instructor mentioned Chile offers numerous beautiful rivers in breath-taking landscapes, that are safe, full of Chile white water, and promise amazing days of paddling. That is all it took for twelve of us, ages 21-60, to venture to Chile. Our skill level varied from Class II to Class IV. One of the strongest paddlers was my son Jack (21 years) joined us with the hope of running more challenging sections and running a few waterfalls. The instructors at the retreat skillfully, graciously, and energetically accommodated our varying kayak skills, abilities and interests. Even guiding a few members of our group down in a raft when the river was more than they felt comfortable kayaking. Experiencing Chile kayaking was even more memorable and special with our private group of paddling friends.
The Bull Riding Cancer Surviving Kayaker.

Read Randy's story.

 
I met David, the retreat owner, at NOC's GAF and signed up to kayak the Pucon Classics Intermediate trip. Unfortunately, I got cancer that year and had to defer my trip credits to a later year. After the bout with cancer I was ready to kayak and asked, "Should I do one or two weeks?" David assured me that most kayakers just as they get in the groove depart after a week and wish they'd planned for two weeks. "Okay, sign me up for two weeks then. After kayaking for only a few days I began wondering if two weeks would be enough. This is the best kayak instructional team I have experienced. I ended up taking a couple days of kayak breaks which added to this amazing adventure. I got to enjoy some of the multi-adventure activities including visiting hot springs, hiking in the mountains, exploring Pucón, the Turbio hike, lunch on a Glacier, fly fishing and hanging with the crew paragliding. 
"Is there a clean 50-Foot Waterfall I can run?"
As a San Francisco real estate business owner my "sendy class V" years are now the occasional weekend warrior multi-day NorCal kayak trips. When I first asked if there was a clean 50-footer David said no, but offered the Claro +PLUS and Pucón Creek Week options. The Claro trip was epci. A year later David asked, "Do you still want to notch Chile's cleanest 50-footer?" Previously, David thought the Middle Fuy class V canyon was too much even with the big drop being clean. But with some recon on low-water levels the section becomes manageable and fun offering solid action packed whitewater. The highlight is the bluest 50-footer on the planet. I felt safe and stoked from start to finish with Eli and MJ leading me down this magical canyon.
Pucon Classics x3 Trips & Jo-Ann Durdock Keeps Kayaking!
Jo-Ann vs Tsunami Story Coming Soon.
Having started kayaking at an older age I have some natural fear and lack of confidence when attempting harder moves, rapids, and rivers. My NOC instructors Curtis, Mariela, Tosh, Casey and Eli are right there in Chile meeting my needs, improving my combat roll, ferrying, surfing, and running big water. Helping me feel safe to try things is part of the accomplishment. Pucon Kayak Retreat has the best instructional team to be found, and Chile's rivers are spectacular. Off the river we take trips to hot springs, volcano trail hikes, riverside lodging and games, churros and artesan ice cream. I even tandem paraglided over Lago Villarrica. I hope I have the physical ability to keep returning.
Highlight. Jo-Ann vs. Tsunami Rio San Pedro story coming soon.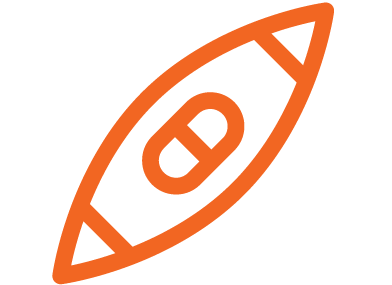 Ask to Speak to a Guest

To help align you with the right guest type please answer a few questions. For the convenience of our guests we will confirm if it is okay for you to contact them direct.