OUR HISTORY.

Like many Chile visitors, David Hughes dreamt of buying Chilean land and building. In 2006 with life savings David searched for land ideally with river access. Perhaps he would find a small cabin that would allow him to live as he built. An old fisherman's lodge along the Rio Trancura surpassed his dreams and budget. Asking for advice mentors shared, "If it is as good as you say it is then do everything in your power to secure the funds. Over time you'll be glad you did your homework." So David began negotiating a sale, still uncertain whether he could pull it off. The property came with an existing hosteria, which served immediately as a base for David's traveling kayak high school, New River Academy. Each morning with coffee in hand David walked along the river bank envisioning. It was during these walks that the vision for a kayaker destination retreat grew, sketching additional structures and creating a plan to attract kayakers and other adventure aficionados. 
———
"The vibe of retreat is important. We want people hanging out that love to kayak and adventure, are people you'd invite for a pint at the pub, are knowledgeable, and of course hard working around the property."
Trancura Riverside Location. Location. Location.
The Rio Trancura is the lifeblood source of Chile's famous Lakes District. Here the Andean slopes drain glaciers and rain via volcanic canyons, Andean slopes, and vast river systems. The steeper creeks and rivers flow into the Trancura making it the bread and butter whitewater rafting and kayak sections of the region. The retreat base serves as the takeout to the Upper Trancura (III to V), put in to the Lower Trancura (III to IV), and is central to area tributaries. Imagine the retreat as an epicenter for all things adventure within an anomaly combo of hot springs, volcanoes, rivers, lakes, and snow-capped peaks. It's stunningly beautiful. And we optimize the guest experience with riverside lodgings and campfire settings along our banks.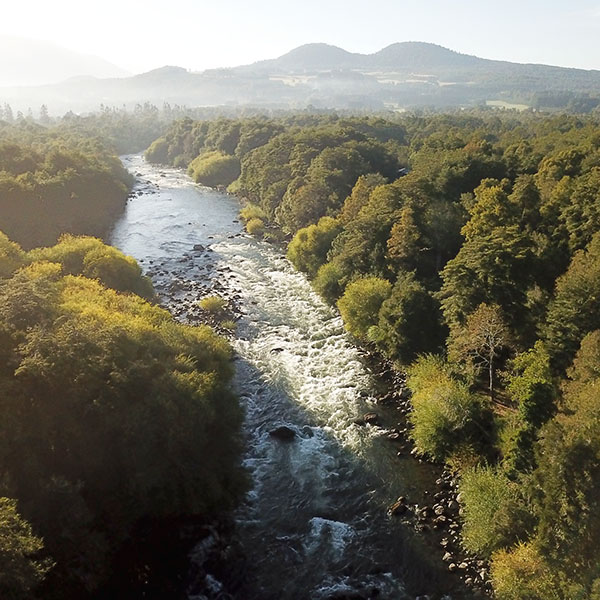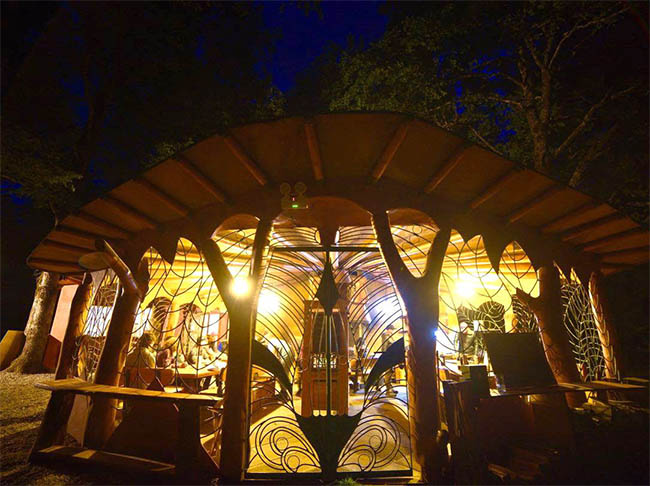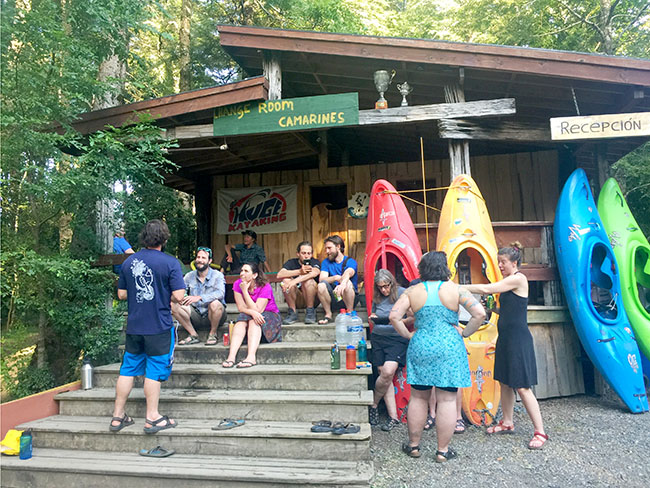 Retreat Center-Piece Quincho

Volcano, Forest, River
When David first bought the property the hosteria cabinas were the only structures. Kayakers would finish rivers and separate to their rooms to watch videos. David would build fires in the drive-way, kayakers would show up with beers, logs and chairs. What was bothering David was that there was no place for folks to gather and share stories and laughter. For years David admired Sergio Andrade Hubner's architectural Antonio Gaudi style art designs. One day David met with the architect describing the vision to build an artful masterpiece designed to bring folks together with family style meals and a fire centerpiece. Sergio designed one of Chile's most unique quinchos. 
Sergio represented the native elements of forest, river, and volcano within the design. Today, the quincho is a reminder of principles for every development decision. Artfully  functional eco-friendly designs can be seen throughout the property.
Sustainability – Bath house, tree-house showers, & equipment room. A recycled container is the base for the camp bath house. Elevating the bath house creates a nice social deck, below are secure kayak lockers, and behind is the equipment room and outdoor showers.
Sustainability – Dorms, workshop, storage. An early piece of infrastructure was the purchase of a recycled container for secure storage. We built multi-purpose tree house dorms, bath rooms, and workshop around the creative base.
TODAY.

And so the tradition continues today. The retreat attracts groups and individuals from around the globe including world champions and Olympians, high schools and universities, clubs and friends groups, adventure companies and schools. Notably, several outdoor industry leaders have partnered with the retreat including NOC, Wilderness Tours, Ottawa Kayak School, Keeners, Colorado Mountain College, Patagonia Study Abroad, World Class Kayak Academy, the National Center for Outdoor and Adventure Education, iroamtheworld.com, and many more.
Its Chile rivers and adventures combined with quality services that attract so many. But it's a certain adventure team ambiance and warm inviting feel at the retreat that keeps folks coming back. 

———
"It has always been a reward to share beautiful places or a bit of knowledge articulated in a way that makes a rapid or move seem easy. So, hosting nomads and sharing Chilean experiences has become a role that offer enjoyment."       – Owner David Hughes