PAGE INDEX
Important Checklists & Forms
Helpful Retreat FAQs
About Chile FAQs
When is the best time to kayak Chile rivers?
Which Chile kayak trip - Intermediate or Advanced? An analysis tool to help you decide.
How do I find Kayaker Friendly Cheap Chile Airfares?
Good question. From our years of guests flying experiences we composed tangible tips to help travelers research and save their airfare budget. Travel tips include online agencies booking tools, timing, connecting flights… Read more… KAYAKER FRIENDLY CHEAP CHILE AIRFARE TIPS.
Can I speak to a past guest and review testimonies?
Yes. Often, the best way to learn if a kayak or multi-sport trip is right for you is to speak to someone that has experienced it. Several guests offer to speak in person at your request. We recommend reviewing our TESTIMONIALS & ASK A GUEST page. Or email [email protected] to make request.
Are there NON-KAYAKING ADVENTURES for friend or me?
Most kayak trips have limited non-kayaking options such as a town culinary adventure, Pucon exploration, and hot springs that may or may not be out of pocket.  Here are our two MOST POPULAR NON-KAYAKING OPTIONS for non-kayaking friends or guests to ADD as second week trip with discount. 
VIP PUCON MULTI-SPORT TRIP or VIP PACKRAFT PATAGONIA RIVERS & HOT SPRINGS are idea for non-kayaking friends or a second week trip ADD-on. Available in registration.
Do you offer SPACE HOLDS with no financial obligation?
Yes. A SPACE HOLD offers guest security to hold a space while they research personal logistics such as airfares, work time off, and personal travel needs. Simply, email [email protected] with subject SPACE HOLD REQUEST, and add your trip dates and any key info. 
Are there DISCOUNTs available?
Yes. DISCOUNTS are offered for varying group sizes and industry professionals. Read more DISCOUNTS. 
How do I find CHEAP CHILE AIRFARES?
Are AIRPORT TRANSFERS included?
AIRPORT TRANSFERS within the published REGISTRATION ARRIVAL/DEPARTURE TIMES are included with your trip costs. Airport transfers outside of published arrival/departure times require transfer fees or we can help you arrange a Sprinter to Pucon transfer service. 
How far in advance do I need to reserve my trip?
To be safe RESERVE your space during summer months. Airfares are cheaper the earlier you book. Peak season months (DEC to FEB) and popular trips can fill up as early as June. Groups should check reservations even earlier. 
Academic programs for institutions: secondary, post-secondary, continuing education...
Secondary and post-secondary programs execute academic programs primarily with academic focus in sustainability, Spanish language and cultural studies. 
Continuing education programs are offered to provide academic learning spaces combined with daily multi-sport adventures.
Email [email protected] or call +1-828-788-5135 to learn more about group pricings and options. 
Are there custom weeks available to reserve for group or friends? Yes.
Yes, the calendar has a few weeks available for group custom trips. Take 3 minutes to complete CUSTOM TRIP FORM and we'll send you more info.
Do you offer Spanish lessons (before or during trip)? Yes.
Yes. Our Chilean staff enthusiastically desire to teach Spanish both prior to and during your trip. Spanish lessons prior to your trip helps support local economy while improving your speaking skills. Email [email protected] to learn more.
How much should I tip guides/staff?
PKR recruits and retains industry leaders as our core value proposition, and that shows in the guest-centric instruction/trips, meals, and hospitality services. Your gratuitie is the team's best feedback available. Like a restaurant meal guests typically tip between 9% to 15% of total trip cost. We recommend splitting your tip approximately 50% to 60% to your primary guides. And the remaining 50% to 40% to general Team Buena Onda contributing staff.
What's included/not included in my trip?
Majority of trips are all-inclusive with lodging, kayak rental, 3 meals/day, airport transfers (between published arrival/departure times), daily transportation, guide/instruction, and equipment needs. Each trip page description and registration has a section titled "What's included/not included?" for specific trip inclusions. Some trips require guests to pay out of pocket for a culinary dinner out or travel meal. Custom trips vary from DIY to all-inclusive academic or continuing education itineraries.
What amenities does retreat provide and what do I need to bring?
Guests reserving lodging accommodations are provided linens, towels, and pillows. We do not stock personal toiletries such as toothpaste or shampoo. Campers are required to bring their own camping supplies. 
Does the kitchen accommodate dietary needs?
Within the REGISTRATION guests list dieteray needs. We can accommodate a diverse range of dietary needs such as vegan; vegetarian; gluten, lactose, peanuts, shell fish… intolerance; allergies, and other ingredient intolerances. Retreat meals include a mix of authentic Chilean cuisine and gourmet favorites. An asado – or traditional Chilean barbecue with veggie options – is featured weekly during the peak summer season.
Where will I keep my belongings?
Lodging units have lockable (locks not included) spaces for personal items. Campers may request lockers. Retreat has safe equipment lockers for kayaks and gear. Reception offers a safe for valuables such as cash and passports.
Do I need to bring camping supplies?
Only campers need to bring camping supplies. Campers may also opt to rent camping supplies. 
Electricity and converters?
Travelers love to geek out with videos, editing, and emails so we built plenty of outlets. This Amazon $USD14 Type C plug can be purchased locally for approximately $USD1. While, we attempt to keep a handful in stock we sometimes run out. 
Is there Internet access?
Internet is currently available to quincho, movie dome, and hosteria zones. We are researching addint network to all units for NOV 2023.
Will I have access to a washer and dryer?
Yes. The commercial washer and dryer is available before 9:00 AM and after 5:00 PM to guests. We encourage guests to use drying lines to reduce high energy demands on system.
What is the retreat payment schedule & cancellation policy?
What kind of country is Chile?
Chile boasts the strongest economy in South America with excellent infrastructure and steady revenue streams from agriculture, mining and technology sectors. Chile has experienced significant growth over the last quarter century in particular, creating a visible dichotomy between rural and urban areas. The densely populated cities and towns frequented by tourists deliver high-speed Internet, reliable cell phone coverage, and an ample supply of high-quality goods and services. In rural areas you'll find communities living off the land with no electricity and very limited access to modern resources and technology. As part of any trip to Chile, you'll see both sides.
Can you tell me about Chile's Climate & Geography?
Chile is long and narrow, stretching from the center of the South American continent to the very tip. This makes for a land of extremes – including climate. Why? Many may find it interesting to learn that Chile is, geographically speaking, extremely isolated. The Atacama Desert, the driest non-polar place and one of the largest deserts in the world border it to the north. To the east, Chile is bordered by the longest mountain range in the world, the Andes Mountains, which extend all the way from Venezuela to the Southern Tip of Chile. To the west is the south Pacific, where land meets the world's largest ocean at one of its most remote locations. Travel just a few hundred miles past Chile's southernmost tip and you reach the Antarctic Peninsula.
What weather can I expect?
So how does Chile's geography and climate impact your trip? You have to consider two things: time of year and location. Our base is in Pucón, in the southern half of the country. Curiously, the latitude and longitude are nearly the same as the east coast of the United States, somewhere in the Mid Atlantic region. Because Chile is in the southern hemisphere, this means you can generally expect a similar climate at exact opposite times of the year. Wait, what? It looks like this:
October = April
November = May
December = June
January = July
February = August
March = September
So if your trip is in November, the weather in Pucón will be roughly the same as the mid-eastern United States is in May, with the only notable exceptions listed below.
Why is Chile perfect for kayakers of all ability levels?
To Chile's east is the spine of the Andes Mountains. Snow and rain draining from the eastern slope flows west towards the Pacific Ocean. Practically every drainage offers remarkable runs as the volume of water moved is significant over a short distance. Pucón is the epicenter of whitewater based on geography. A landmark destination since the early 1900's, Pucon was originally a military trading route to Argentina. This means in addition to having the right combination of water and gradient for kayakers, it also has infrastructure, meaning roads you can use to access those rivers. The Rivers & Lakes District, where Pucon is located, is in a highly active tectonic region. This has lead to the formation of many volcanoes and hot springs – and provides a spectacularly beautiful backdrop to nearly any outdoor activity. These factors have combined to make Pucón a vacation destination for South America's elite for generations. Now kayakers of all ability levels can enjoy the concentration of water in one of the most beautiful landscapes on the planet.
What is the transportation like?
Public transportation in Chile is clean, easy to navigate, professionally-run, and overall extremely safe. It can prove challenging with a kayak so if you're traveling with one by bus you may need to do a little extra planning. Otherwise, taking public transportation within the country is fairly straightforward and economical. Many PKH guests never need to take public transportation (though it's still helpful to know how the system works). If you are interested in having PKH pick you up in Temuco, please inquire about availability of our transport service.
Transportation becomes a bit of a challenge for kayakers when they are looking for river access or shuttles. Gas is extremely expensive in Chile and dirt roads that are poorly maintained are common on nearly every route. PKH provides vehicle rentals that are equipped with roof racks and/or trailers robust enough to handle hauling around all your kayaks, paddles, and gear. For kayakers who do not plan to rent their own vehicle, PKH offers shuttle services to help pool kayakers together as affordably as possible for river stretches in the Pucón region.
How is the healthcare system?
The Chilean healthcare system is ranked higher than the U.S. healthcare system by the World Health Organization (WHO). PKH has helped many groups deal with a variety of accidents, illnesses, and injuries over the years. Chilean hospitals are modern with quality basic equipment such as x-radiography, dental, and general medical assessment and prescription. A typical emergency room visit will cost about $30 USD and most kayakers pay out of pocket for their visit and any subsequent prescriptions that are needed. We recommend you consult with your health insurance provider to know your coverage – some U.S. healthcare providers require you to have a travel amendment to your existing policy. You may also want to consider researching a short-term international insurance provider.
Is Chile safe?
Chile is a considered a safe destination with an extremely low violent crime rate. Chile is the most stable and economically prosperous of all South American countries. The culture is generally very friendly and welcoming of tourists. However, petty theft is common, especially in major cities, bus terminals, and metro areas – but a combination of common sense and awareness is typically all you need to stay safe and out of trouble. We recommend every guest carry a lockable bike cable combo to lock personal gear at all times, on any trip to any destination in the country.
What is the Currency in Chile?
Chile uses the Chilean Peso (CLP). You can find conversion rates for your currency here.
What is the Voltage in Chile?
Electric voltage in Chile (and most of South America) is 220 volts, 50 cycles (220v, 50Hz). The use of appliances or electric devices designed for 110 volts need a transformer to operate. Most travel appliances, like laptops, have an auto-volt (110v – 240v) transformer built in that will adapt to Chilean electricity – all you need is an adapter for your plug so it fits into the standard wall sockets found throughout the country. Universal adaptor kits are easy to find and inexpensive. The hostel often has some for sale in reception, so don't stress if you aren't able to get one in advance – we will help you charge your electronics, don't fret.
Do I need a visa to visit Chile?
You do not need a Visa to visit Chile so long as you do not plan to stay in the country for longer than 90-days. Your 'tourist visa' will be automatically granted to you upon your arrival as part of the customs process. If you have a passport from a country outside the U.S. or Canada — or if you will be traveling in Chile for longer than 90-days, please email [email protected] for assistance.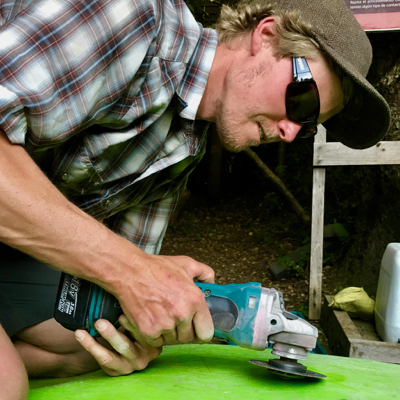 Offering attractive compensation packages to recruit, train and retain industry leaders.
"You've got the best people," a guest shared. The retreat owes its best people largely in part to a strategic partnership created by Tosh Arwood, Nantahala Outdoor Center – Kayak Program Director. NOC wanted to retain their best instructors, and the retreat wanted to employ the world's best instructional leaders.  
Want to chat with a real person? Send a message.