Packraft Patagonia & Hot Springs VIP
Packraft Patagonia and Hot Springs is for beginner paddlers with an enthusiastic adventure spirit. Along the Argentina Chile border Rio Ventisquero flows lakes and glaciers to more lakes to rivers and finally to Chile's Gulfo de Ancud en route to the Pacific Ocean. This remote region of Patagonia is not reachable by vehicle. So, we hire "Chilean barcazas" to ferry vehicles and horses to carry  camping supplies to our remote Patagonia base camp. 
More about Packraft Patagonia and Hot Springs
Argentina's Parque Nacional Lago Puelo flows out of Lago Puelo crossing the Chilean border as the Rio Puelo. Glaciers flow into the Rio Ventiesquero which soon confluences with the Rio Puelo. The Puelo is separated shortly by the salmon rich Lago Tagua Tagua that reforms into Rio Puelo on it's southeastern end. The Rio Puelo flows for a short distance into the Gulfo de Ancud and it's final Pacific destination. As you can imagine, the Puelo is a high energy location breathing energy from Argentina to the Pacific.
Packraft Rio Vientisquiero Highlight. This excursion hires horses to carry expedition gear five to six hours medium grade trek near to the Argentina border. Our hosts prepare an authentic gaucho asado celebration. After a relaxing morning we will pack raft (a lightweight inflatable single person kayak) class II to III rapids appropriate for beginner paddlers. This relaxing river excursion ends at a riverside Rio Puelo cerveceria and pizzeria to celebrate the trip of a life time.
Read more about our Rio Puelo y Valle Ventisquero Multi-Adventure Trip destination and host family.
Packraft Patagonia Puelo Valley Mutli-sport Itinerary
Itineraries are subject to change based on weather conditions and group skill levels. 
JAN 21, Day 1. Puerto Montt Arrivals (11 AM to 3 PM) Ensenada Base and Welcome Dinner.
Your trip begins with a short drive to the Patagonia tourist town of Ensenada located along Lago Llanquihue. Orientation, trip logistics, welcome dinner and toasts.
JAN 22, Day 2. Lago Tagua Tagua boats en route to trek Valle Ventisquero to Base Camp. 
Driving along Patagonia lakes and rivers is even better when the road ends at Lago Tagua Tagua. You'll be boat transported across the lake en route to the Ventisquero trailhead. Ready horses await to rig and carry camping and packraft supplies. Hike to base camp is 5.5 hours.
JAN 23, Day 3. Hike the Universal Trail (5 hours, 10 KM, medium to high difficulty).
Following mule and horse trails the Universal Trail gives glorious overlook vistas of the surrounding valley and glaciers. Keep your eyes open for condors in flight.
JAN 24, Day 4. Pack Raft to River Camp 1 (Class II – III, 3 hours). Enjoy the Patagonia stars by the fire.
JAN 25, Day 5, WED. Pack Raft to River Camp 2 (Class II – III, 3 hours). This camp is walking distance from the Puelo Valleys most famous cerveceria and pizzeria. Yesss. Nothing like cold beer and hot pizza after a hard workout.
JAN 26, Day 6, THU. Pack Raft Lower Puelo (class III+, 3 hours). Rapids get bigger offering more action from our base camp. After paddling we'll return to base camp for a farewell dinner.
Day 7, FRI.  Ferry across Lago Tagua Tagua (2 hours), Hot Springs (3 hours), and Puerto Montt. Hot springs soaking and relaxing. Drive to Puerto Montt for farewell dinner celebration.
Day 8, SAT. Puerto Montt Optional Crafts Market and Departure Flights (12 AM to 2 PM).
Guests have the option to explore the fish and crafts market prior to departure flights.
*Guests adding a Pucon week have option to ride with staff to Pucon.
Speak to a Real Person. Email [email protected] or call/Whatsapp, +1-828-788-5135.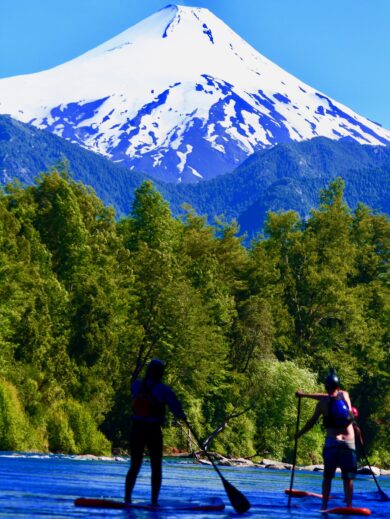 Price & Lodging Options
Cabins and Rio Camping (pp dbl occ)
$US4800.00
Prices per person
Trip Details

Skill Level: No kayak experience required. Mandatory 6 hour hike. 
Deposit:  $US1200 deposit. Read Payment Guarantees
Arrival City: JAN 21 Puerto Montt Airport (PMC) 11 AM to 3 PM
Departure City: JAN 28 Puerto Montt Airport (PMC) 3 PM to 6 PM
Trip Length: 8 Days Including Arrival/Departure Dates
Trip Extension Option: Yes

Want to Work Exchange? Email to learn more.