Scarlett's Favorite Pucón Multi-sport Adventures
As a Chilean native researching, discovering, and sharing Pucon's multi-adventure gems has become amongst the most rewarding jobs beyond my imagination. Through my work with Pucon Kayak Retreat I quickly learned that just sharing my favorite activities, language lessons, fun and funny facts about the culture are all fascinating to adventure travelers. I too discovered new adventures embracing culturally rich communities, and explored beyond my own capacity via the retreat's mission to share with guests. Below is a list of favorites from both guests and myself. 
Climb the Bolted Via Ferrata Ladder to Views of  Pucon Volcano and Valley.
Intensity. High adventure. Medium to high exercise.
"Scarlett tried to kill us!!!" laughed Missy as she exited the van to describe the epic day. Just ten minutes from the retreat is one of Pucon's best kept secrets. The Via Ferrata is a bolted ladder with safety clip-in system climbing an open rock face to a spectacular view of volcanos and valley. This one-day experience begins with a steep forest hike, followed by a scramble section that brings you to the base of a 300-meter wall.
Colorado guests Missy and Brian received a physical and mental journey as they ascended the rock face using metal steps and clipped in for safety. The breathtaking views of Caburgua Valley, the majestic Villarrica volcano, and the sense of accomplishment at the top made this a favorite story to relieve with friends that night around the fire. 
Soak in Hot Springs.
Intensity. High relaxation. 
After a few days of adventures, relaxing in the hot springs is the perfect break for your body. Within Pucon's "Ring of Fire" is a series of volcanos. Making Pucon the most congested area in Chile for a variety of hot springs. What's your flavor? Mojitos and luxury, rustic and natural, vistas of waterfalls… You choose and we'll make it happen.
Raft Rio San Pedro.
Intensity. High action fun.
A best kept secret is rafting the Rio San Pedro. This river is straight out of a magazine with clear turquoise and often warm water to swim in. After an easy warmer upper passing a waterfall we come to the big rapids. Culminating at Tsunami you may or may not get stood up and tossed into the river with an abundance of kayak rescue boats. This is horrifying and exhilarating at the same time. And worthy of story swapping around the fire. 
Beer Tasting at Craft Cerveceria.
Intensity. Educational and tasteful. 
Gaining popularity in the Pucon region is craft beer making. And with such pure water… Well, you can taste its pureness. If you are a beer lover you'll enjoy the educational component of mixing raw products to craft a variety of flavors. Activity is often combined with an earlier adventure activity with geographical proximity to get a double bonus of adventure and tasteful education. 
Pucón Vineyard & Wine Tasting Tour.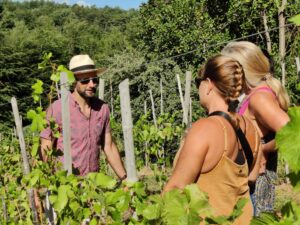 Intensity. Educational and tasteful. 
Discover the secrets of winemaking and appreciate the flavors of Chilean wines amidst stunning vineyard landscapes. After a short tour of the vineyard guests are educated to the processing of the pinot noir grapes from raw to final product. Appetizers accompany the variety of wines. 
Visit Mapuche Ruka + Lunch at Rosario's House.
Intensity. High cultural experience. 
Immerse yourself in the rich culture and traditions of the indigenous Mapuche people by visiting a traditional Mapuche Ruka (house). Learn about their history, customs, and way of life. To complete the experience, savor a delicious lunch prepared by Rosario, where you can taste traditional Mapuche cuisine. Experience is for those wanting cultural or non-physical activities.
Trek Santuario El Cañi.
Intensity. High adventure, quality exercise. 
"Santuario El Cañi is my favorite hike to lead with a 360 degree views of four volcanos."  The nature reserve is renowned for its diverse flora and fauna viewable as winding trails lead you through ancient forests, past crystal-clear lakes, and towards breathtaking lookout points that offer panoramic views of the surrounding landscapes. Notable are the Monkey Puzzle trees classic for the region at altitude. 
Boat Tow Paraglide Volcano Vistas.
Intensity. High adventure, low effort.
"Oh, I don't want to do that," claimed Cindy. It only takes about 20 steps of running before you and your guide are being pulled like a giant kite up and away from the lake. The boat tows you to over a thousand feet high before it unclips and soars back toward the lake beach. It's the best views in the area of surrounding mountains, town, peninsula, and volcanos. Then you land on the beach in front of your friends. We like to pair this with a Pucon event such as ice cream, or cerveceria, or culinary adventure. 
Hike Turbio Basalt Lava Fields and Saltos.
Intensity. Family fun or High adventure medium intensity. 
The Rio Turbio lies in an open lava field with a series of waterfalls and slides. For kids we love to teach how to make foamy boaters (little foam kayakers) that kids can send down the waterfalls for hours. The lava fields are spectacular and make the foundation for a local mountain bike park and trails along Volcan Villarrica flanks. Hikers can hike for hours, or relax and sunbathe in this anomaly high energy location. We often combine this with an afternoon tour of Pucon and/or culinary adventure. 
Hike Lagos Andinos Near Argentina Border.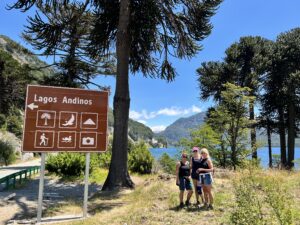 Intensity. Medium Intensity and beautiful. 
Hike as much or as little as you like at the Lago Andinos beaches and trails. Traverse scenic trails that lead you to pristine lakes, surrounded by towering mountains and breathtaking natural beauty. Hot days we recommend cooling off in the lakes. A cool combo is beer tasting at one of the nearby craft cervecerias (breweries). 
Day at Lago Caburgua – Stand Up Paddle, Rent a Chilean Water Craft, SunBathe or Snorkel.
Intensity. Relaxing and fun. 
Just ten KM from the retreat is Lago Caburgua with beaches, vendors, and plenty of toys. During summers local vendors are for hire with jet skis, paddle boats and all kinds of crafts to tow tourists around the lake. We'll pack a variety of toys and enjoy an afternoon at the lake. 
Horseback Riding.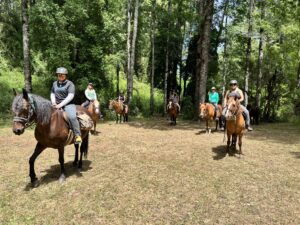 Intensity. Mellow intensity with riverside and volcano views. 
For animal lovers there are a variety of horse rides. Our favorite is alongside the Rio Trancura trails with views of river and volcanos. Ride through picturesque landscapes, across meadows and forests, and connect with nature in a unique way.
Pucón Tour and Culinary Adventure.
Intensity. Culinary, shopping, people watching… 
Located between Volcan Villarrica and Lago Villarrica, what Pucon trip would be complete without a tour of town? Pucon's streets are full of crafts markets, adventure agencies, restaurants, street vendors, and international tourists seeking deals and thrills. Whether you want to buy souvenirs, experience culinary delights such as churros or artisan ice cream, exchange money, people watch in la plaza, relax on the beach, or enjoy a streetside cerveza Pucon is a fun town to experience. 
Pirate Ship Battle (Boat Ride) at Lake Villarrica.
Intensity. Family fun entertainment. 
It sounds cheesy, we know. Yet, we found ourselves laughing at how much fun we had just soaking and getting soaked in the pirate ship battle. The Chilean pirate crew knew how to entertain in the peninsula harbor. Kids and parents love it best on those hot summer days. 
Skydiving with Volcano Crater View.
Intensity. Extreme Adventure with Guide.   
For the ultimate adrenaline rush, experience the thrill of skydiving over Pucón. Just the plane ride circling above the volcano crater is spectacular with vistas of the valleys. Feel the exhilaration as you freefall through the sky and enjoy stunning aerial views of the region.
Other Pucon Multi-Sport Adventures we love. Volcano research center, hike Volcan Quetrupillan or Villarrica, Waterfalls Hike, Pucon scavenger hunt (group Spanish language and cultural experience)…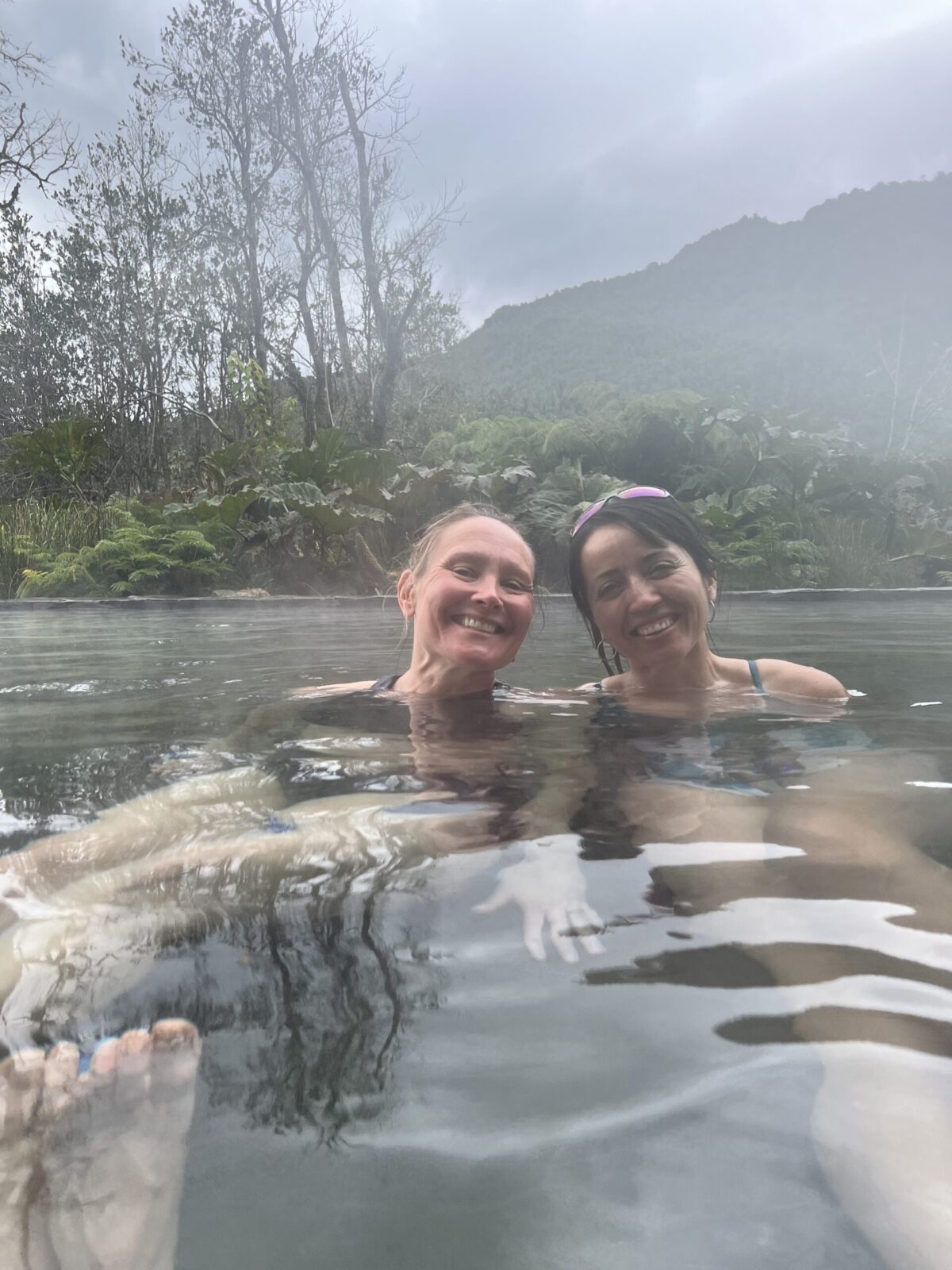 Want to chat with a real person? Send a message.