VIP Pucon Multi-Sport Adventures
Read Scarlett's Favorite Pucon Multi-Sport Adventures
Want to add a plane or heli tour? Request in advance for pricing and reservations.
Why choose Pucon Kayak Retreat for your multi-sport adventure vacation? Welcome to our home. 
This is not your cruise ship hotel by the beach trip. Luxury hotels can often feel cold and disconnected. The retreat was purposefully designed to feel warmth and to connect and bring people together. Imagine your French doors opening to the river, laughing around the quincho fire, or relazing to a private hot treehouse sower. Yes, Pucon offers Chile's best adventures. Yet, travelers may sign up with a lame company or the wrong adventure. With our experiences and your activities feedback we customize your daily activities to balance the best kept secrtet adventurous with the relaxing, indulances with the thrilling, and welcome you to the warmth of our team.
Choose A Different Adventure Flavor Daily 
We've explored, networked, hosted, and even trained the Pucon eco-tourism leaders and resuce teams. For us it's like a fulfilling pursuit to discover another gem of an activity to share with new traveling friends. Hike the "Fire and Ice Trek" (Volcano and Ice), summit the Vía Ferrata to a dream-like laguna, soa in hot springs, sample a new culinary dish, paraglide behind a boat over Lago Villarrica, hike the fire and ice (volcano and glacier) trek, loosen those muscles with morning yoga, or enjoy a massage after an intense couple of days adventuring. We orchestrate Pucon's best multi-sport activities in a balance of adventures to relaxing all celebrated with a nightly toast.
Relaxing Activities. After a few days of adventuring, we'll mix in Pucón's more comforting activities. Tea and pastries at Chile's most famous hot springs, Termas Geometricas. How about an authentic asado with a sommelier presenting Chilean wines, appetizers, and provisions at our private access overlooking Lago Caburgua. Morning yoga to breathe and stretch out those muscles is almost as therapeutic as the massage therapist.
Funky Sustainable Architect Designs. The retreat property is architect-designed to exclusively bring global personalities together around glowing fires, music, and riverside hangout areas. Most notable is the center-piece open-air quincho with wood burning oven attracting laughter and stories. Recycled containers, open-air tree deck showers, geodesic domes, and an eco-forestry sustainability plan preserves the indigenous native riverside environment. The retreat is all things contrast of hotel and internet-checking out.
Location. Location. Location. It's no surprise that adventure companies are making offers to purchase Pucón's best riverside property. If Pucón is Chile's adventure epicenter, consider your Trancura riverside retreat as the lifeblood center of Pucón adventures. Adventures are in every direction, beginning with a minute's walk to whitewater and fly fishing. We're conveniently just outside of Pucon riverside amongst the areas best adventures.
Riverside Pucon Living. The river suites provide en suite bathrooms with a river view from your bed. French doors open to a private deck over-looking the Trancura rapids. Nightly fires are mandatory attracting story swapping reliving the day's fears and blunders, and of course climaxes and successes. It is this spirit of bonding that keeps traveler's loyal to the retreat atmosphere.
Chile's Adventure Capital, Pucón
For millions of years, glacial compaction and volcanic activity carved and milled Chile's Lakes and Rivers District. Three volcanos tower above the surrounding Andean snow-covered peaks storing water energy. Within a short distance, the Andes flow enters and exits several lakes and lagunas, becoming warmer and warmer as they approach the Pacific. The views are remarkable by any scale, and the clear Chilean waters are surprisingly warm. It is this series of peaks and canyons, creeks to lagunas, and rivers to lakes that we promise to show you the best of Chile's fire ring.
What Is Included
Breakfast, l

unch, appetizers,  and dinner.

One to two local culinary favorite adventures.


Nightly table drinks.

Airport transfer *per published times found on registration page. 

Riverside communal ammenities & lodging.

Industry leading guides and Team Buena Onda.

Daily multi-sport adventures.

One day massage therapy.

River and town transports.

Pucon cuisine adventures and open bar. 

KEEP KAYAKING shirt.

New friends for life. 
Not Included
Team Buena Onda Tips. Recommend 9% to 15% of trip cost to be split across team participants.
Massage therapy sessions beyond first day.
Airport transfers outside of scheduled times.
SAMPLE PUCON MULTI-SPORT ITINERARY
*This is a sample itinerary. Each multi-sport advnture itinerary is customized based on the group interests and feedback. 
Day 1, SAT. Temuco Arrivals (11 AM to 5 PM) & Welcome Dinner.
Multi-Options (TBD). Rio Liucura Inflatable Kayak or SUP board, Vista and Appetizers.
Day 2, SUN. Inflatable Kayak Rio Trancura/Turbio Lava Pools
Early Bird Options. Yoga, fishing or coffee and cold breakfast before breakfast.
Multi-Options (TBD). A. Inflatable Kayak Rio Liucura to Trancura Confluence; B. Afternoon Turbio Lava Pools Hike.
Day 3, MON. Fire & Ice Trek (Volcano & Glacier) + Appetizers & Wine Tasting
Early Bird Options. Yoga, fishing or coffee and cold breakfast before breakfast.
Multi-Options (TBD). Hike Glacier Pichillancahue or Volcan Quetrupillan (picnic/provisions).
Wine Tasting Afternoon Event.
Day 4, TUE. Rio San Pedro Rafting
Early Bird Options. Coffee or tea. Early pack and go.
Multi-Options (TBD). Rio San Pedro click link. Pucón dinner, town-walk/shopping, artisan ice cream.
Multi-sporters will raft the San Pedro alongside the kayakers to experience one of Chile's most glorious warm-water whitewater experiences. Read more Rio San Pedro.
Day 5, WED. Basalt Canyoneering + Boat-Tow Paraglide Lago Villarrica + Pucon Culinary Favorite.
Early Bird Option. Coffee or tea. Breakfast and pack.
Multi-Options (TBD). Morning activities include exploring the waterfalls and pools of a volcanic canyon. Jumping cliffs and zip lining into pools… oh my. For the afternoon we go to the Lago Villarrica beach for an afternoon of relaxing and boat-tow paragliding over the lake. We'll check out the Pucon shops prior to enjoying one of our favorite culinary experiences.
Day 6, THU. Waterfall Hike & Hotsprings. Want to run a 10 foot waterfall in an inflatable kayak?
Early Bird Options. Coffee or tea.
Multi-Options (TBD). Guests have the option to go on a waterfall hike or run a Waterfall (pack raft) at the world famous Palguin canyon. We'll hike into the Palguin basalt canyon where. natural land bridge lies at the bottomw of a 90 foot waterfall. Thrill seekers can run a clean ten foot high waterfall with an inflatable kayak. Our kayak team will set safety for the thrill of a lifetime. Or you can hike the canyon waterfalls and see what the pro kayakers run. Then soak in Chile's hot springs. We'll savor the fails and successes with pastries, coffee and tea.
Day 7, FRI. Rafting or Fly Fishing or Horseback Riding
Early Bird Option. Yoga, coffee or tea before breakfast.
Multi-Options (TBD). Choose from rafting fly fishing and Horse Back Riding. Our farewell feast will include an authentic Chilean asado to celebrate the achievements of the week.
Day 8, SAT. Pack and Airport Transfer. 
Early Bird Option. Yoga, coffee or tea before breakfast.
Multi-Options (TBD). Pucon souvenirs shopping pending time.
Want to extend your multi-sport trip? Or learn to whitewater kayak? 
Email [email protected] or call/Whatsapp, +1-828-788-5135.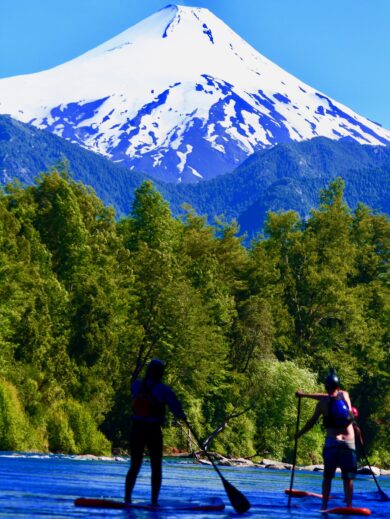 Price & Lodging Options
Pucon River Suite (pp dbl occ)
$US3990.00
Pucon Hosteria
$US3590.00
Prices per person
Trip Details

Skill Level: Keen spirit to explore and relax
Deposit:  $US750 deposit. Read Payment Guarantees
Arrival City: Temuco Airport (ZCO) 11 AM to 5 PM
Departure City: Temuco Airport (ZCO) 11 AM to 5 PM
Trip Length: 8 Days
Trip Extension Option: Yes. Available for trip extension.

Want to chat with a real person? Send a message.