Pucons best Rio Trancura property offers Chile kayaking guests and travelers riverside access and the community of friends amongst the comforts of communal areas. For kayaking in Chile you can put in and take out fron your own lodging. Or go fish from your private riverside bank. Guests particularly embrace kayaking a section of whitewater right from the property.
Communal spaces…
indoors and out — centered around an architect designed open-air quincho, which serves as the perfect place to gather at the end of a long day to meet new people, eat great food, share stories, and relax by the fire with a glass of wine or cerveza. Or hangout at our riverside fire pit and kitchen. Or on the patio deck. Or in the yoga movie dome. This is more than your normal place to stay. 
Pucon Chile Riverside Lodging

Sustainable Rio Trancura riverside lodging options mean Chile kayakers and travelers enjoy kayaking, fishing and riverside luxuries. Read guests testimonies of river suites, hosteria cabins, dorms and camping on Pucon Kayak Retreat Trip Advisor testimonies page.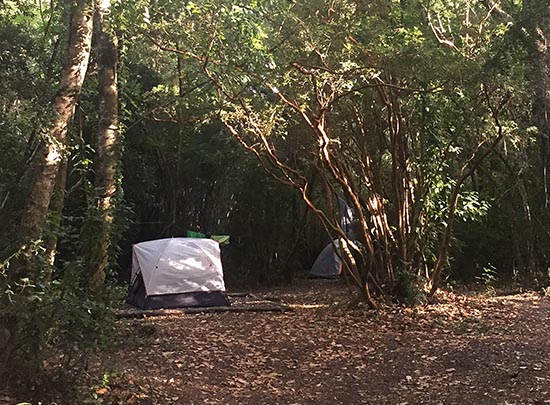 Pucon Riverside Camping
Want to save your budget and kayak daily, eat chef cooked meals, and enjoy the retreat luxuries. Chile kayakers on a budget can join regular trips by camping within a beautiful forest with access to treehouse showers, bath house, and all retreat amenities.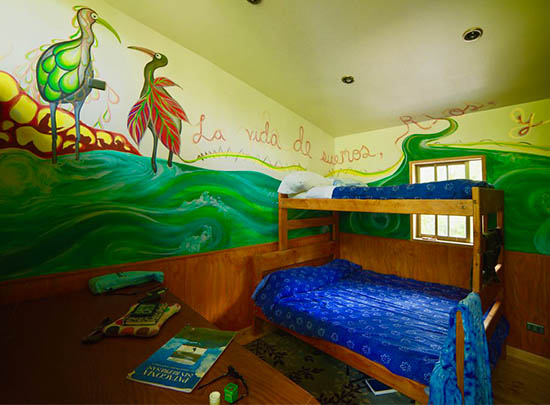 Treehouse Dorms
Want to save your budget and sleep in a bed? Chile kayakers and travelers can sleep in dorm style lodging tucked within the forest. Decorated with murals representing local flora and fauna just outside of the dorms is a treehouse shower with multiple bath rooms. Shared lodging is idea for instituttions, groups or travelers on a budget.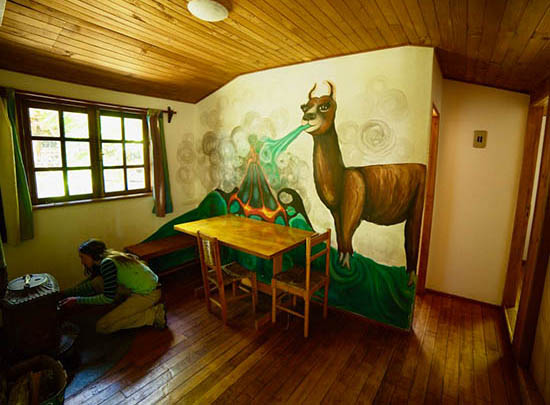 Retreat Hosteria
Originally, built as a fisherman's lodge David Hughes bought the hosteria to start the kayaker's retreat dream. Centrally located hosteria rooms each have private en suite bathroom, comfy beds, gear drying and outdoor lounge areas. Room options include lodging for couples, groups of 3, and groups of 5 persons.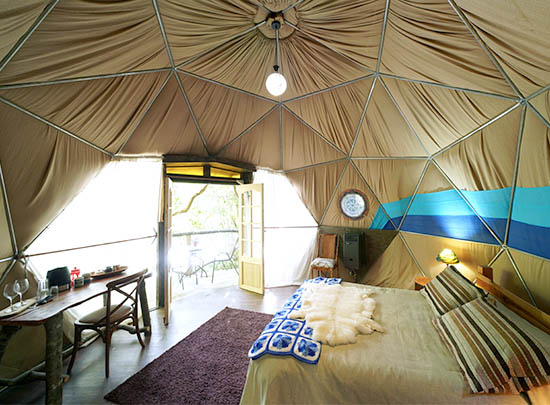 River Suites
A cozy riverside geodesic dome with en suite bathroom, view from your bed, artistic designs, and private deck overlooking river. The design was dreamt up to bring an open-air feel to a secure en suite structure. A luxurious dome with French doors was the solution.
Popular Rio Suites
Topping the list of luxury options are our recently added river suites with French doors allowing for open-air night sleeping, en suite bathroom, comfortable bedding, and of course the riverside privacy and feel.
Cool Places to Hangout

It's your vacation and after a day of adventures you'll appreciate cool places to relax, chill, and enjoy yourself. A few favorites are the quincho, the movie/yoga/class dome, bath house deck in afternoon sun, river kitchen and fire pit, the game area, tree house showers, reception office, and a variety of secret gems down by the river.