Guide – Pro 50% DISCOUNT Chile Kayak Trip
Kayak Guides & Pros qualify for a week of kayaking Chile rivers. The dream guide – pros kayaking all-inclusive trip just enjoying life riverside and kayaking Chile's rivers and waterfalls. The daily kayaking andd/or adventure trips are treated like normal trips with accommodations, meals, daily adventures, and nightly celebreations of our failures and successes.
It started when Colorado River School owner Lyle Phetteplace asked if CRS could have a staft reunion kayaking Chile rives. A 50% discount and Guide – Pros Week emerged.
How to Join Guide – Pros Chile Kayak Trip
STEP 1. COMPLETE GUIDES – PROS FORM (3 Minutes) for DISCOUNT CODE.
STEP 2. BOOK A GUIDE WEEK: NOV 25 – DEC 2 or JAN 28 – FEB 3. You will receive packing list and helpful Chile travel logistics.
STEP 3. BUY SANTIAGO (SCL) CHILE AIRFARE. Pack your GoPro…
Guide – Pro Chile Kayak Week FAQs
1. Who qualifies for discounts? Kayak and adventure industry employees, companies, industry influencers, alumni guides that may refer future guests.
2. What's included:  Breakfast, lunch, appetizers & dinner; Kayak rental; Airport transfer *per published times found on registration page; Riverside communal ammenities & lodging; Industry leading guides and Team Buena Onda; Daily kayak and adventures; River and town transports; Two house bottles of vino or pisco sour nightly; KEEP KAYAKING shirt; New friends for life. 
3. What's NOT included:  Team Buena Onda Tips; 1 meal out per week at local culinary adventure; Personal provisions. There are markets within walking distance of retreat; Some optional multi-adventure activities such as massage therapy and hot springs; Airport transfers outside of scheduled times.
4. How much does Guide week cost? Trip prices vary based on the particular trip and the lodging a guest chooses. Qualified guide-instructors receive a 50% DISCOUNT from the trip and lodging they select. View prices by clicking trip BOOK NOW button.
5. Can my company join? Yes, email for details.
6. What rivers will we paddle? Daily river runs and instruction mimic one of three trips we offer:
7. What about multi-sport adventures? Primarily, the trip will follow a kayak week intinerary. Yet, we will plan to experience some popular multi-adventures such as hot springs, massage sessions, and Pucon tours to be paid out of pocket. We can also organize any private request to be subcontracted such as a volcano trek.
8. Can I guide Chile trips? That's the idea. The retreat mission is to recruit and train industry leaders. We hope your intro to Chile rivers and our services will inspire you to join Team Buena Onda and refer future guests.
9. Got questions. Email [email protected] or call +1-828-788-5135.
KEEP KAYAKING. 
Tentative Trip Itinerary
*Due to water levels, skills, and group needs the following itinerary is subject to change and is a best prediction of the itinerary.
---
DAY 1
Arrival to Temuco Airport (ZCO) between 11 AM to 5 PM.
Boat outfitting and welcome.
Afternoon Lower Trancura skills assessment. Welcome to Pucon Kayak Retreat appetizers, provisions, and dinner by fire.
DAY 2 – River Goals, Coaching, Boofing, Piercing Eddies and Making Moves
AM – Kayak Theory + Lower (II-III+) or Upper Trancura (III, IV, IV+ w/portagables) run.
PM – Upper Palguin (IV) or Liucura Wave to Trancura (II, III+).
DAY 3 
AM – Pack for Maichin Full Day trip.
AM/PM – Maichin (III – IV w/portagables) +PLUS Pucon Fireworks Optional.
DAY 4 – Full Day RIO San Pedro, Truful Truful
AM – Depart for Rio San Pedro (II – IV w/portagables. Inflatable kayak options).
PM – Paddle San Pedro.
DAY 5 
AM – Kayak Theory + Lower Trancura or Upper Palguin (IV) Full Day.
PM – Liucura Wave to Trancura or Upper Palguin Full Day.
DAY 6 
AM / PM – Full Day Road Trip River Option.
DAY 7
AM – Upper Palguin (III+ to IV Group).
PM – Afternoon group favorite. Celebration asado and video show.
DAY 8 – Time for one last lap. 
AM – Last river laps and/or souvenir shopping.
PM – Temuco Airport Transfers.
KEEP KAYAKING.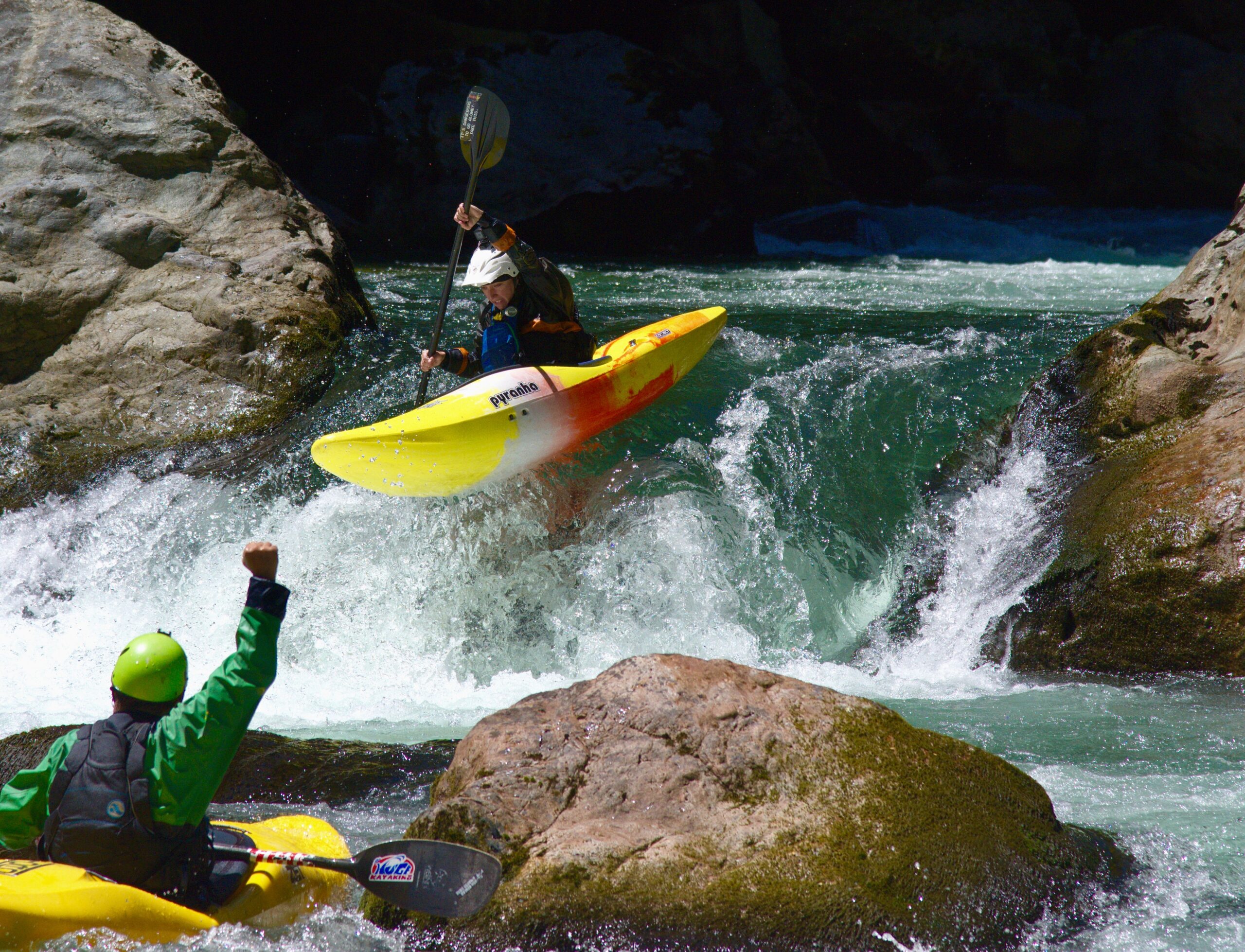 Lodging Options
*Deduct 50% DISCOUNT
River Suite (/per dbl occ)
$3,090.00/per

Hosteria Cabañas (/per dbl occ)
$2,490.00/per
Treehouse Dorm (/per shr occ)
$2,390.00/per
Camp (/per tent not included)
$2,290.00/per
Trip Details

Skill Level: Kayak Instructors All Levels. 
Deposit:  $750 deposit. Read Payment Guarantees
Arrival City: Temuco Airport (ZCO) – 11 AM to 5 PM
Departure City: Temuco (ZCO) – 11 AM to 5 PM
Trip Length: 8 Days
Multi-Sport Option Available: No. 
Want to chat with a real person? Send a message.