Pucon Classics – Advanced (III to IV)
For skilled whitewater kayakers ready to up their game whether that be charging fun boofs, challenging self with safe rapids, experience a basalt canyon, or notching clean waterfalls this trip has got the goods. The retreat is the epicenter of Chile's lakes and rivers district based right on two sections of the Trancura River. River types include both bigger volume and steeper low volume. Features include ramping boulders, play featuress, creeking tight eddies, clean waterfalls, and basalt canyons. Its downright spectacular. Your instructors know the features, every boof, challenge move, play wave, and eddy line. Highlights start on day one and continue until you depart proud of your whitewater accomplishments. By the end of this week your skills will improve so much you'll wish you had another week to continue progressing. Biggest surprise? How much your skills will not only improve during your week, but will continue to improve throughout the year.
"Can my non-kayaking friend stay and do other adventures?" or "Can I stay an additional week to explore other Pucon activities?" Yes, we've got you covered. Guests can now add a DISCOUNT second week or multi-sport trip for non-kayaking friends. Option available in registration. 
Want more Chile kayaking or multi-sport adventures than a week to maximize your experiences and improvement? Or many guests have a non-kayaker friend excited to explore the areas adventures too. We've got you covered with options to add a second week or add a friend to a mult-sport trip. Selct eh add-on option during registration.
ADVANCED CHILE RIVERS GUIDE & LINKS
---
Tentative Itinerary

*Itineraries are tentative pending skills and water levels.
---
DAY 1 (SAT). Bienvenidos a Pucon Chile. Orientation.
Arrival to Temuco Airport (ZCO) between 11 AM to 5 PM.
Boat outfitting and welcome. If time allows we will get you on the river ASAP to wash off the jet lag.
Welcome to Pucon Kayak Retreat appetizers, provisions, and dinner by fire.
DAY 2  (SUN) River Goals, Coaching, Boofing, Piercing Eddies and Making Moves
AM – Kayak Theory + Chile kayaking Lower Rio Trancura River (III to III+)
PM – Chile Kayaking Upper Rio Trancura (III, IV, IV+ w/portagables) run.
DAY 3 (MON). Lower Palguin + Upper Trancura
AM – Lower Palguin (III to IV+)
PM – Kayak Chiles Upper Trancura or Turbio Lava Falls and Swimming Holes
DAY 4 (TUE) Maichin Canyon Plus Multi-Sport Option
AM – Kayak Chiles Rio Maichin Canyon (III to IV+)
PM – Pucon Chile Multi-Sport Activity Option
DAY 5 (WED). Lower Trancura + Upper Palguin + Palguin Appetizers
AM/PM – Lower Trancura lap (III to IV).
Afternoon – Kayak Theory Art of Kayak Flight. Kayak Chiles Upper Rio Palguin (IV).
AM – Full Day Road trips are big days and often the group favorites. An early breakfast followed by won of the most scenic drives circling volcanos, lakes and rivers.
Travel Dinner. *Guests are responsible to cover this cultural dinner estimate at $US12 to $US20.
DAY 7 (FRI) Morning Optiona. Palguin Friday Afternoons. 
AM – Group options for morning.
PM –Upper Palguin Laps.
Celebration asado.
DAY 8 (SAT) – "We hate good byes."
AM – Packing and Pucon souvenir shopping .
PM – Temuco Airport Transfers.
What's Included.
Breakfast, L

unch, Appetizers & Dinner

Kayak Rental

Airport Transfer *per scheduled times

Riverside Base & Lodging

World's Best Kayak Instruction

Daily River Transports
Not Included.
2 meals out at group chosen cultural, favorite cafe, or travel meal
Alcohol
Some optional multi-adventure activities such as massage therapy and hot springs.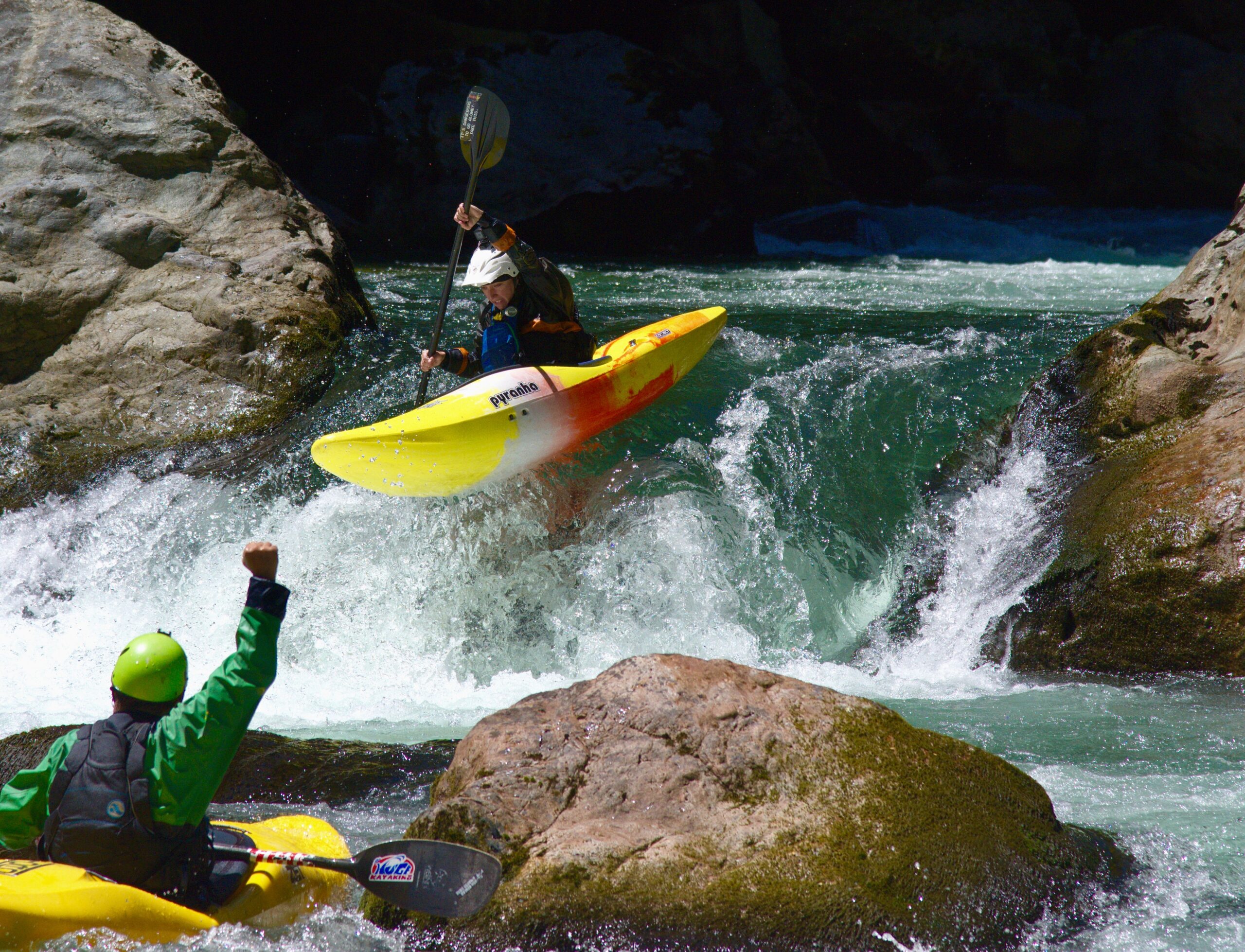 Links to reserve your BEGINNER Chile Kayak Lessons Trip 
Lodging Options
River Suite (pp dbl occ)
$3,090.00/per

Hosteria Cabañas (pp dbl occ)
$2,490.00/per
Treehouse Dorm (pp shr occ)
$2,390.00/per
Camp (pp)
$2,290.00/per
Trip Details

Skill Level: III+ to IV+
Deposit:  $750 deposit. Read Payment Guarantees
Arrival City: Temuco Airport (ZCO) – 11 AM to 5 PM
Departure City: Temuco (ZCO) – 11 AM to 5 PM
Trip Length: 8 Days
Multi-Sport Option Available: YES.