Meet Eli Castleberry
NOC Instructor Trainer, PG Pilot Level 4, L5 ACA Kayak Instructor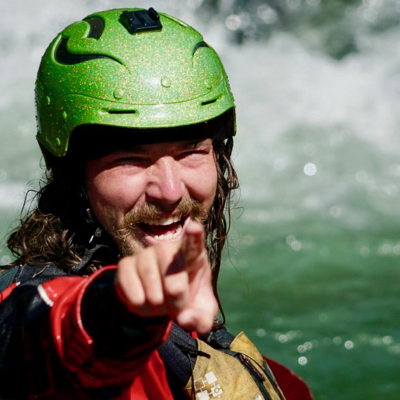 NOC kayak program director Tosh Arwood reached out to PKR, "Hey, I've got a good one for you. Eli is a super hard worker, team player, and great kayaker…" When NOC recommends great instructors it's no surprise we listen. Eli's kayaking talents, on-water confidence, and safety acumen align well with the retreat's signature advanced and expert trips. Remote canyons such as the Claro PLUS, Pucon Creek Week, Fuy +PLUS, and Pucon Classics Advanced trips require a leader that evokes confidence, and can make safe decisions. When Eli leads kayakers through such adverse canyons he has the ability to give that sense of confidence to paddlers and that can be seen in their paddling. And the choice to walk away from a potentially unsafe situation is well received as logical and safe from such leadership. 
On the side Eli tends to be attracted to all things extreme adventure – paragliding Chile's volcanos and Andean slopes, Patagonia motorcycle riding, notching class V extreme waterfalls, and dating a Chilena. We joke, but actually Kendra too is equally adventurous as a deep ecologist running an animal rehab center for predatorial birds, Chilean pumas, and various other species.
Eli's Instructional Style. 
Eli applies individual's interests and observable skills to rapids and challenges. Whether giving waterfall technique how to protect your body or position your paddle, giving confidence building pep talks you might hear "Stay loose and have fun." Eli's laid back approach to running Chile's epic canyons and rivers is a plus to any trip experience.
Accomplishments and Certifications.
-Wilderness First Responder; L5 ACA WW Kayak Instructor; L4 Swift Water Instructor Trainer; AED and CPR; licensed massage therapist specializations in sports massage, trigger point therapy, myofascial release; 50 ton licensed boat captain (for those of you in bigger kayaks); and a whole list of ocean certifications from his former captain life.
Eli Signature Trips