Meet Katie Kowalski
Co-Owner Wilderness Tours & Ottawa Kayak School
WT Managerial Accounting and General Manager
Canada National Freestyle Champion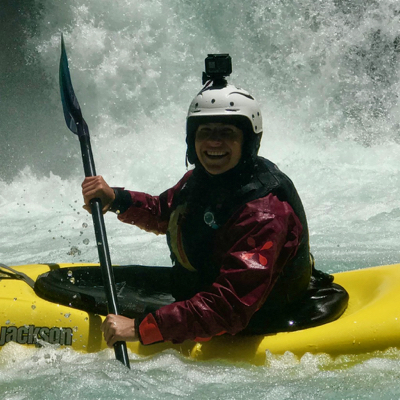 Katie grew up on the banks of the Ottawa River and first came in contact with PKR owner David Hughes as a student of the Patagonia Gap Year program. There Katie acquired leadership and academics whilst traveling with kayak. Even Katie's parents Joe and Sue continue to visit Chile each January and February to escape the Canadian winter and work along the Rio Trancura riverside. 
Katie naturally made her way through the family owned and world champion producing youth Keeners program where she's won multiple Canada National Championship titles and competed internationally for years. Less known is the remarkable leadership education the Ottawa's rapids and multitude of kayakers offered Katie as first an on-water instructor and today a leader of the Ottawa River's largest employer. 
It was 2019 when Katie returned to Chile to visit and paddle with her future fiancé Casey Jones. While Katie was only visiting her go the extra mile personality was soon illustrating her many values to Chile's micro-version of OKS. Pitching in around the retreat, leading on the water, and challenging her own skills on personal whitewater achievements and it was a no-brainer to recruit Katie to continue exploring and working winters in the Chilean summer. 
Katie leads some of our signature-influencer trips, gives world-class instruction, and raises the business bar of the retreat with her master of business administration experience.
Accomplishments
Team Jackson Kayak, Multi-time Canada National Freestyle Team Member, Partner Wilderness Tours & Ottawa Kayak School
Katie Signature Trips Coming Soon