Position Announcement:
Breakfast/Lunch Shift Cook
Application Deadline: Aug 31, 2023 or until position is filled
How to APPLY
STEP 1. Review EMPLOYMENT OPPORTUNITIES
STEP 2. Complete general EMPLOYMENT APPLICATION
Months: NOV to MAR. Partial season fulfillment contracts available (minimum 2 months)
Category: Kitchen Operations
Compensation: Rates depending applicant qualifications
Position Description
Breakfast/lunch shift cook is responsible to menu plan, prep shop list, shop, cook and present quality gourmet level breakfasts daily. To go or at retreat kitchen lunches are prepared for guide team trips. 
Kitchen Operations General Description
Cooks are responsible for preparing various menu items and specials quickly and accurately while maintaining high-quality standards. Cook ensures guests' dietary requirements and special requests are met while adhering to safe food handling procedures and health code standards. Maintaining kitchen cleanliness/hygiene, working as a team player, taking direction, and having a comprehensive understanding of commercial kitchen operations are also important responsibilities. The job requires the ability to work independently as well as collaboratively with others. Prep, cooking, and closing cleaning duties adhere to staff hand book SOPs. Cook and kitchen shifts may be required to rotate to help scheduling and staff needs. 
Responsibilities
Creating various menu items and specials quickly and efficiently while maintaining quality standards.

Ensuring that guests' dietary requirements and special requests are met while preparing ingredients and cooking.

Arranging and presenting food items on the serving line and ensuring that there are enough back-ups in stock.

Keeping the kitchen clean and organized by adhering to proper food storage practices, maintaining clean work areas, and sanitizing equipment regularly.

Ensuring that all food served meets high-quality standards by performing regular taste tests and following recipes correctly.

Collaborating with other team members to assist and support them as required, including helping with dishwashing or other tasks.

Shopping for fresh local ingredients.

Preparing traditional Chilean meals, gourmet recipes and to go lunches as needed.
Qualifications
Applicants are expected to follow safe food handling procedures and comply with health code standards to ensure that the kitchen meets hygiene requirements.

Maintaining the cleanliness of the kitchen is a crucial aspect of the job and must be performed by the applicants.

Teamwork is highly valued and applicants must be able to work collaboratively with others, while also taking direction and working independently.

Applicants must have a comprehensive understanding of the Retreat´s operations flow to perform their duties efficiently.

The job requires the ability to stand for extended periods, and applicants must be comfortable doing so.

Legal Chile resident or work visa*, job specific experience with recommendations, partner agency referrals. *If you do not have a work visa or are Chile resident you may qualify for compensation as a staff assistant. 
How to APPLY
STEP 1. Review EMPLOYMENT OPPORTUNITIES
STEP 2. Complete general EMPLOYMENT APPLICATION
BUENA ONDA.
Trip Itinerary
---
Day 1 (SAT)
Arrival to Temuco Airport (ZCO) 11 AM to 5 PM.
Boat outfitting and welcome a retreat riverside base. Afternoon river lap and welcome dinner.
Day 2 & 3 (SUN & MON)
Boof time. Your Pucon riverside base offers four core sections of whitewater to serve as a warmer upper to get your boof, eddy piercing, communication skills, and rapid running game ready. The Upper and Lower Trancura is packed full of boofs, fast paced rapids, and challenge slot moves. The Upper and Lower Palguin gives you the perfect balance within a canyon experience offering low volume waterfalls and creeking lines. The Maichin Canyon reminds us of the Upper Yough's many slots and fun lines within a gorgeous canyon experience.
Mornings. Kayak Theory, Safety Protocol, Waterfall 101, Art of Flight. Morning lap.
Afternoons. Recovery Ciestas and afternoon laps. Keep in mind the days are 13 hours so we have more time than energy.
Day 4 to 6 (TUE to THU) Fuy River Base

We'll depart the luxuries of our Pucon base for the epicness of the Fuy canyons, waterfalls, rapids, and area wonders. This 3-Day Fuy road trip is simply an epic kayaking experience. Being so close to the Fuy kayakers have plenty of time to actually get a lap in, take a ciesta, then get another lap in. 
Day 6 (THU) Morning Fuy Lap & Return to Pucon

Some guests want a last lap, but don't be surprised if you are good. There are plenty of activities to do en route back to Pucon. 
AM – Morning Fuy Choice Lap or Multi-Adventure Activity
PM – Return to Pucon Kayak Retreat
Day 7 (FRI) Group Pucon Choice & Celebration Asado 
Want to explore Pucon for a morning? Get a final Palguin or Trancura lap in? Try a multi-adventure activity such as tandem paragliding, hike a volcano, hot springs, swimming holes and lagunas… Our celebration asados are world class. This is your moment to relive your epic stories, to celebrate your accomplishments, to laugh at our failures, and to simply enjoy a Chilean feast.
AM – Wake. Pack. Drive to Santiago airport (SCL) or kayakers going to Pucon Creek Week ride to Pucon.
PM – Time permitting afternoon Nuble lap and asado.
Are You Ready?
We recommend before your trip that you kayak often, are part of a normal hiking or workout routine, and who couldn't lose some weight? Workouts like Crossfit or any intense leg routines… we love them. Yes, get in shape it will help your confidence as you paddle too.
KEEP KAYAKING.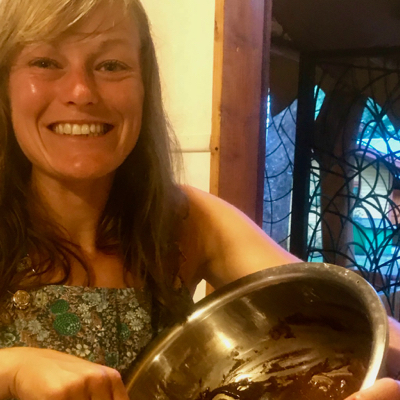 Want to chat with a real person? Send a message.