"Can we kayak in Chile this season?"
This post will share what kayakers and tour operators are observing on the ground in Chile, government announcements and timelines, some Chile COVID improvements, and retreat COVID policies and guarantees.
August 6, 2020 – The Chile U.S. Embassy Reduced Travel Alert from Level 4 – Do Not Travel to Level 3 – Reconsider Travel after 5 months on L4 status. While, it's not a Level 2 after months of L4 No Travel we are excited to see Chile allow travel at L3 status. This alert is particularly advantageous to our international staff that will freely travel to Chile for the NOV to MAR season. For the rest of us more timid travelers it is a indicator in the right direction. 
What are kayakers observing in Chile?
The rivers are running and kayakers are allowed to kayak, trek, fish and explore in the river valleys we visit. While, tourism restrictions in the US, Canada, UK and other countries have been implemented new Chile tourism restrictions are being implemented more slowly. We expect Chile to follow some international standards such as less persons per vehicle with masks and sanitization available.
This summer PKR owner David Hughes was contracted by Colorado Mountain College to lead kayak trips because the university was not allowed to have students so close together in rafts. The raft program adapted to individual pack rafts as a COVID distancing solution protector, and kayaking was the savior of a fall orientation program. We expect individual kayaking to get a similar COVID pass.
Late September RUMORS – Fingers Crossed. We've heard rumors from Chile tourism operators that Chile is expecting to further open travel in late September. We will keep you posted.
Santiago is 96% of Chile's COVID news.
96% of Chile COVID news is from the Santiago metro 8 million population. Pucon and our river destinations have open travel with COVID social distancing restrictions. Necessary municipalities and essential businesses are operating with responsible COVID protocols. 
RULE 1. Avoid Santiago. PK-ReTreat is officially switching our Claro PLUS Maipo leg to the more remote Nuble Valley to further avoid metro Santiago. Check out Claro PLUS Nuble Chile Kayak trips.
What about the Claro PLUS Valley?
Our Claro host families are writing us asking for our business and share the following: "Here we have no COVID protocol only normal Claro quarantine; Due to forest fires and COVID the Seven Teacups National Park local economy was devastated this winter; The remote families ask us to please visit this season, the river levels are good, and if they need to they will make COVID masks for the trout.   
PK-ReTREAT Social Distancing Stance.
Implement and seriously follow social distancing protocol;
Claro PLUS Maipo switches to Nuble valley to avoid Santiago;
Develop new $US1 registration guarantees.
What guarantees does Pucon Kayak Retreat offer?
We understand there will be less international travelers this season. So, we developed a $US1 registration fee with only $US1 risk. We tried to make it $0 but you have to put an amount into the res system. This means guests have $1 financial obligation and can back out of a registered trip.
Guests can Chile kayak trip dream shop around freely, and if travel doesn't work-out… no worries.
Registration means you will have normal conversations about trips, and we'll alert you as travel developments occur.
This is the cheapest airfare year we have seen for Chile.
We are hoping for the best, and planning for the best.
Tentative Trip Itinerary
*Due to water levels, skills, and group needs the following itinerary is subject to change and is a best prediction of the itinerary.
---
DAY 1 (SAT)
Arrival to Temuco Airport (ZCO) between 11 AM to 5 PM.
Boat outfitting, orientation, and welcome.
Potential afternoon lake session pending time.
DAY 2 (SUN)
AM – Kayak history, purposes, equipment, and safety. Lago Caburgua Wet Exit & Roll session.
PM – River run.
DAY 3 (MON)
AM – Lago Villarrica rolls and games session.
PM – Tolten River run. Artesan ice cream Villarrica. 
DAY 4 (TUE)
AM – Trancura Delta 
PM – Lago Villarrica Rolls and Games
DAYS 5 & 6 (WED & THU)
River options are dependent upon the learner's specific skills assessment, and comfort of level of challenges. Instructors will assess and provide rivers, activities, and development options. Options include Middle Liucura and Wave section, Lower Maichin, Middle Trancura, Lower Trancura, and Liucura Wave to Trancura Confluence.
DAY 7 (FRI)
Return to favorite river section and celebration asado. Option for multi-adventure activity. 
DAY 8, JAN 9 
AM – Optional Morning Lap or Pucon souvenirs and crafts shopping.
PM –Temuco Airport (ZCO) Departure Flights Between 11 AM to 5 PM.
KEEP KAYAKING.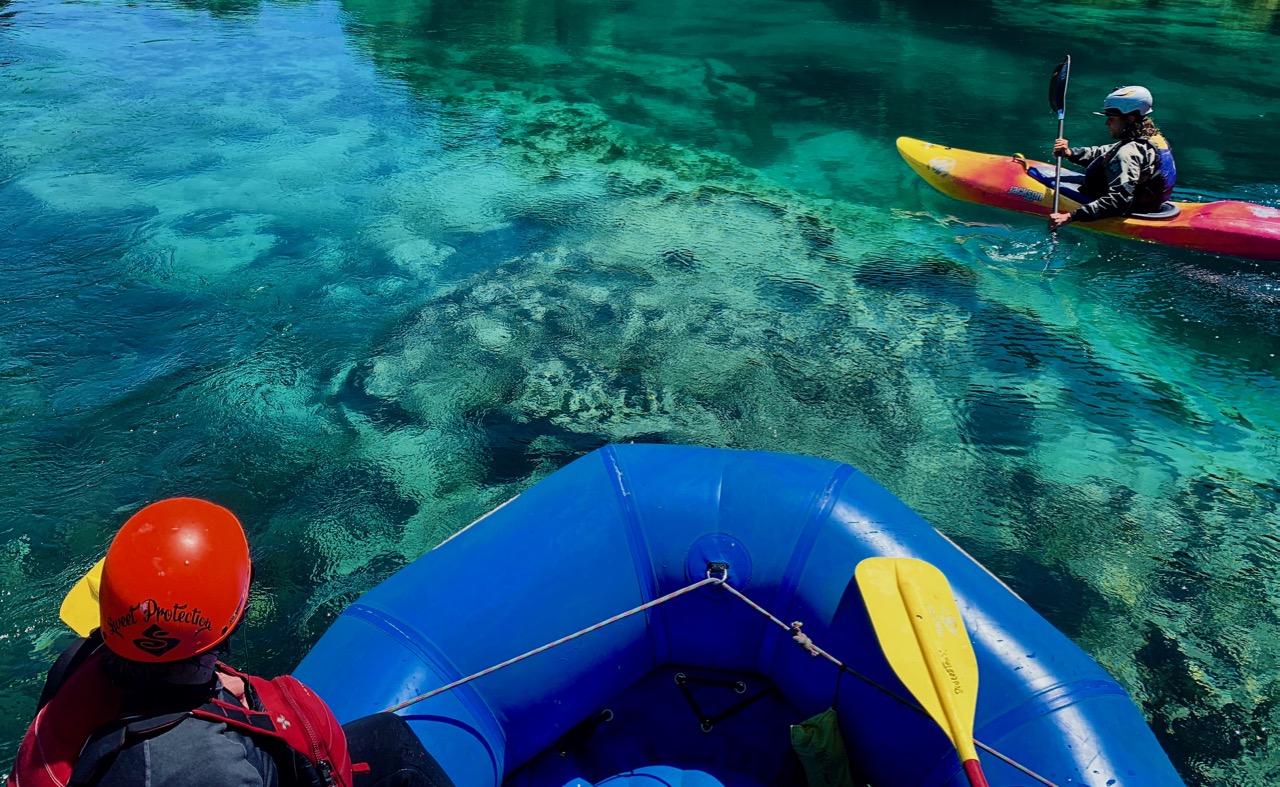 Lodging Options
River Suite (pp dbl occ)
$2,695.00/per

Hosteria Cabañas (pp dbl occ)
$2,395.00/per
Treehouse Dorm (pp shr occ)
$2,195.00/per
Camp (pp)
$1,995.00/per
Trip Details

Skill Level: III+ to IV+
Deposit: $600 $US1 deposit during COVID Restrictions. Read Payment Guarantees
Arrival City: Temuco Airport (ZCO) – 11 AM to 5 PM
Departure City: Temuco (ZCO) – 11 AM to 5 PM
Trip Length: 8 Days
ADD a Second trip – Claro +PlUS Trip: Chile's best two weeks of kayaking possible with a $200 DISCOUNT.

Want to chat with a real person? Send a message.