Huilo-Huilo Plus Pucon Multi-Sport for Non-Kayakers
Want to add a plane or heli tour? Please request in advance for pricing and reservations.
Why choose Pucon Kayak Retreat for your multi-sport vacation? 
Sadly, much of the multi-sport industry has evolved into booking agencies where their core values don't easily transfer to the destinations they market. Some try by flying their guides internationally but that doesn't work either. You can feel the warmth, pride, and ambiance of our riverside property in each building, caring face, and story. These pure connections are not replicable by the cookie cutter booking model. Each adventure, asado, wine tasting, and experience represents many years of networking and building relationships with our Chilean community. We warmly invite you to let us introduce you to one of the world's glacial, volcanic, and water transporting anomalies. 
"Can my friends that don't kayak do a multi-sport trip? And which advanced kayak trip do you recommend?" – Adam Taylor, REI Atlanta
Yes, they can. PKR owner David Hughes immediately began customizing and aligning the Fuy Plus Pucon Rivers (for kayakers) with a Huilo Huilo Plus Pucon Multi-Sport Trip. Some day's the two trips co-align activities with the kayaker group making the trip special to your venture vacation. And your kayaker friends have the option to take a kayak session off and join in on the multi-sport activities.
Choose A Different Adventure Flavor Daily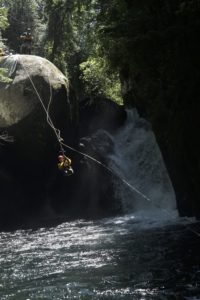 Whitewater rafting or canyoneering? Have you climbed a vía ferrata (a climbing route with anchored steps and rope safety)? If yes, we'll throw in a fantasy-like volcanic laguna at the summit. Tandem paraglide over Lago Villarrica, offering vistas of Chile's most famous volcano. Relax and enjoy the lake breeze and views while the pilot does the work. It's not all extreme, we're masters at savoring those guaranteed once-in-a-lifetime experiences with the relaxing. We've done our homework scouting the mellow to adventurous weeding out the lame activities so to ensure guests get Pucón's best of the best.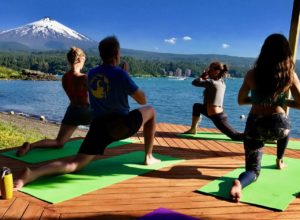 Relaxing Activities. After a few days of adventuring, we'll mix in Pucón's more comforting activities. Tea and pastries at Chile's most famous hot springs, Termas Geometricas. How about an authentic asado with a sommelier presenting Chilean wines, appetizers, and provisions overlooking Lago Caburgua. Morning yoga to breathe and stretch out those muscles is almost as therapeutic as the massage therapist.
About Valle de Fuy (Huilo Huilo) Plus Pucón Multi-Sport Trip. The retreat multi-sport trip ensures several value differentiators impossible to recreate by cookie-cutter agencies.
Advanced Kayakers with Non-Kayaker Friends. This itinerary was designed when Atlanta kayaker Adam Taylor when he asked if his non-kayaking friends could do a multi-sport trip.
Sustainable Architect Design. The retreat property is sustainably architect-designed to exclusively bring global personalities together around the warmth of fires, music, and riverside hangout areas.
PKR Pearl Experiences. Guests receive the benefits of 20 years of Huilo-Huilo & Pucón exploring and creating meaningful experiences. We've done our homework both failing and succeeding. So your trip is guaranteed to balance stimulating with relaxing comforts.
Location. Location. Location. It's no surprise that large adventure companies are making offers to purchase Pucón's best riverside property. If Pucón is Chile's adventure epicenter, consider your Trancura riverside retreat as the lifeblood center of Pucón adventures. Adventures are in every direction, beginning with a minute's walk to whitewater and fly fishing.
Riverside Pucon Living. Eco-sustainable structures amongst the native forest and whitewater enhance the exclusive intimate feel. Architect designed facilities create an open-air festive ambiance and reduce environmental impact. Nightly fires are mandatory attracting story swapping reliving the day's fears and blunders or climaxes and successes. It is this spirit of bonding that keeps traveler's loyal to the retreat atmosphere. It's no wonder that lifetime friendships and marriages commonly originate and return to the retreat.
Chile's Adventure Capital, Pucón
For millions of years, glacial compaction and volcanic activity carved and milled Chile's Lakes and Rivers District. Three volcanos tower above the surrounding Andean snow-covered peaks storing water energy. Within a short distance, the Andes flow enters and exits several lakes and lagunas, becoming warmer and warmer as they approach the Pacific. The views are remarkable by any scale, and the clear Chilean waters are surprisingly warm. It is this series of peaks and canyons, creeks to lagunas, and rivers to lakes that we promise to show you the best of Chile's fire ring.
About Huilo-Huilo & Valle de Fuy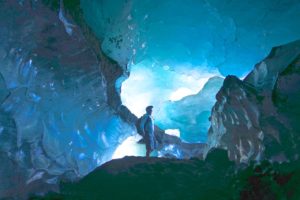 As you circle to the opposite side of Volcan Villarrica you will discover Termas Geometricas outlying above the other hot springs. Rivers continue to drain to solar warming lakes onward to rivers to the Pacific. At the Argentina border is the narrow Lago Neltume that overflows into the short high energy life span (20 KM) Rio Fuy. Volcan Mocho Choshuenco covered in snow peaks over the valley offering hikes, horse back rides, vistas, and more water to the central river.
Remarkable to the Huilo-Huilo area is the unique Ewok village like architecture. Whether we hike to Las Leonas to watch the kayakers, hike to fantasy like swimming lagunas, SUP board, raft, or horse back ride Huilo-Huilo guarantees remarkable memories.
SAMPLE ITINERARY.
*PKR reserves the right to make changes due to individual activity requests, water levels, and weather conditions. Activities will be presented nightly for the following day. Pucon and Huilo-Huilo multi-sport options are too numerous to list. Here are some of our favorites: hot springs, hike a volcano or glacier, horse back riding, raft or pack raft Pucon's best rivers, SUP board a river or lake, summit the via ferrata, Turbio basalt swimming lagunas, run a waterfall in pack raft, wine tasting, massage therapy, tandem paraglide (boat-tow) Lago Villarrica…
Day 1, JAN 18. Temuco Arrivals (11 AM to 5 PM) & Welcome Dinner.
Multi-Sport Options (TBD). Trancura Delta Inflatable Kayak or Lago Caburgua Appetizers or Turbio Lagunas & Appetizers.
Day 2, JAN 19. 
Multi-Options (TBD). A. Canyoneering Turbio or Nevados; B. Vía Ferrata Route Climb; C. Fly Fishing.
Early Bird Options. Yoga, fishing or coffee and cold breakfast before breakfast.
Day 3, JAN 20.
Multi-Sport Options. Hike Glacier Pichillancahue or Volcan Quetrupillan (picnic/provisions).
Early Bird Options. Yoga, fishing or coffee and cold breakfast before breakfast.
Day 4, JAN 21. Rio San Pedro click link. Pucón dinner, town-walk/shopping, artisan ice cream.
Early Bird Options. Coffee or tea. Early pack and go.
Multi-sporters will raft the San Pedro along side the kayakers to experience one of Chile's most glorious warm-water whitewater experiences. Read more Rio San Pedro.
Day 5, JAN 22. Hike a Volcano or Glacier & Termas Geometricas (tea and pastries). 
Multi-Sport Options. Hike Glacier Pichillancahue/Volcan Quetrupillan or Run a Waterfall (pack raft). Then soak in Chile's best of the best hot springs.
Early Bird Options. Coffee or Tea.
Two world class medium or advance hike options both with spectacular vistas of three volcanos within the Villarrica National Park. Or for the really adventurous you can run a Palguin 10 foot waterfall in a pack raft while we set your safety. Our group will rejoin the kayakers for an afternoon of soaking in the world famous Termas Geometricas. Read more Termas Geometricas.
Day 6, JAN 23. Drive to Fuy/Huilo-Huilo Biological Reserve.
Multi-Sport Options.
Early Bird Option. Coffee or tea. Breakfast and pack. 
Day 7, JAN 24.
Multi-Sport Options. Fishing or Horse Back Riding. Farewell Celebration Asado.
Early Bird Option. Yoga, coffee or tea before breakfast.
Day 8, JAN 25. Pack and Airport Transfer. 
Early Bird Option. Yoga, coffee or tea before breakfast.
Want to extend your Huilo-Huilo trip, JAN 25 – 29?
Email [email protected] or call/Whatsapp, +1-828-788-5135.
Trip Itinerary
---
Day 1 (SAT)
Arrival to Temuco Airport (ZCO) 11 AM to 5 PM.
Boat outfitting and welcome a retreat riverside base. Afternoon river lap and welcome dinner.
Day 2 & 3 (SUN & MON)
Boof time. Your Pucon riverside base offers four core sections of whitewater to serve as a warmer upper to get your boof, eddy piercing, communication skills, and rapid running game ready. The Upper and Lower Trancura is packed full of boofs, fast paced rapids, and challenge slot moves. The Upper and Lower Palguin gives you the perfect balance within a canyon experience offering low volume waterfalls and creeking lines. The Maichin Canyon reminds us of the Upper Yough's many slots and fun lines within a gorgeous canyon experience.
Mornings. Kayak Theory, Safety Protocol, Waterfall 101, Art of Flight. Morning lap.
Afternoons. Recovery Ciestas and afternoon laps. Keep in mind the days are 13 hours so we have more time than energy.
Day 4 to 6 (TUE to THU) Fuy River Base

We'll depart the luxuries of our Pucon base for the epicness of the Fuy canyons, waterfalls, rapids, and area wonders. This 3-Day Fuy road trip is simply an epic kayaking experience. Being so close to the Fuy kayakers have plenty of time to actually get a lap in, take a ciesta, then get another lap in. 
Day 6 (THU) Morning Fuy Lap & Return to Pucon

Some guests want a last lap, but don't be surprised if you are good. There are plenty of activities to do en route back to Pucon. 
AM – Morning Fuy Choice Lap or Multi-Adventure Activity
PM – Return to Pucon Kayak Retreat
Day 7 (FRI) Group Pucon Choice & Celebration Asado 
Want to explore Pucon for a morning? Get a final Palguin or Trancura lap in? Try a multi-adventure activity such as tandem paragliding, hike a volcano, hot springs, swimming holes and lagunas… Our celebration asados are world class. This is your moment to relive your epic stories, to celebrate your accomplishments, to laugh at our failures, and to simply enjoy a Chilean feast.
AM – Wake. Pack. Drive to Santiago airport (SCL) or kayakers going to Pucon Creek Week ride to Pucon.
PM – Time permitting afternoon Nuble lap and asado.
Are You Ready?
We recommend before your trip that you kayak often, are part of a normal hiking or workout routine, and who couldn't lose some weight? Workouts like Crossfit or any intense leg routines… we love them. Yes, get in shape it will help your confidence as you paddle too.
KEEP KAYAKING.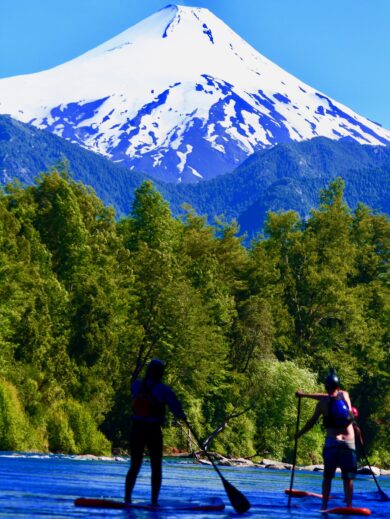 Price & Lodging Options
Pucon River Suite/Fuy Cabin (pp dbl occ)
$3,995.00
Pucon Hosteria/Fuy Cabin
$3,595.00
Prices per person
Trip Details

Skill Level: Keen spirit to explore and relax
Deposit:  $1,000 deposit. Read Payment Guarantees
Arrival City: Temuco Airport (ZCO) 11 AM to 5 PM
Departure City:
Temuco Airport (ZCO) 11 AM to 5 PM
Trip Length: 8 Days
Trip Extension Option: Ask about a discounted trip extension.

Want to chat with a real person? Send a message.