Chile Geography and Geology Working Together
To the east are the Andes mountains and to the west lies the Pacific Ocean. The cordillera of the Andes is the central part congested with rivers, lakes, glaciers and volcanoes. Peaks Aconcagua and Nevado del Salado are the Americas two tallest peaks at 6,959 and 6,880 meters. All meaning an extended high altitude ridge carries water to sea in a short distance. About 80 percent of the land in Chile is made up of mountains of some form or other. The majestically snowcapped Andes and their elevations combined with heavy winter snows and spring rains (November) offer kayakers some of the cleanest waterfall runs in the world.
Andes Spine + Abundance of Water + Bedrock often in Granite or Basalt = Whitewater Geological Phenomenon
Chilean Blue Water Colors, How?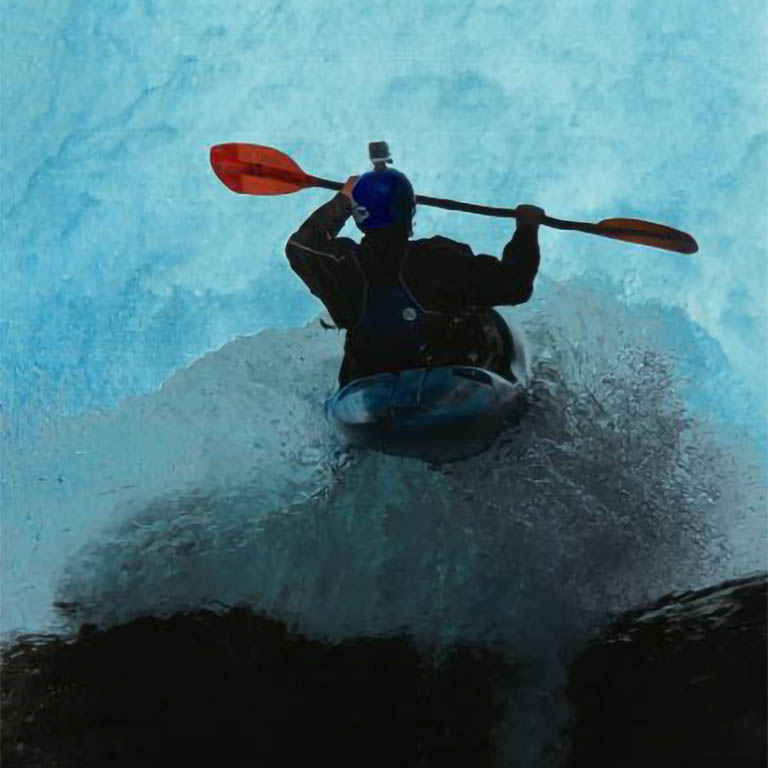 **Excerpt taken from "Colors of Water at Earth's Surface- Lakes, Rivers, Glaciers" Did you know water molecules absorb long wavelength red light and scatter short wavelength blue light. This is why clear bodies of water appear blue. Clean bodies of water appear deep blue. The water is virtually pure as water molecules scatter blue light efficiently. Lakes will be a duller colour after rain or in cloudy conditions.
What about the clear blue colors of Chilean rivers?
Often rivers in Chile overflow out of a lake after several runnable gem tributaries flow into that same lake. This is the case with Pucon's Rios Trancura and Tolten drainages. The Trancura is a catchment for many of Pucon's best cascade runs including classics Palguin, Puesco, Liucura, Nevado, Coilaco, Desague, Turbio, Maichin and Carhuelo. Short lived the continuous Trancura rapids flow into the volcanic formed Lake Villarrica. After being solar heated those same waters become the clear blue Rio Tolten (a beginner kayaker and SUP boarder's warm water delight).
Water color is a matter of bedrock or sediment on many rivers.
Trancura tribuataries are often clear and blue too? Let's examine the Rio Turbio which flows direct off the snow pack and rains of Pucon's Volcan Villarrica. The lower main highway stretch of the Turbio after rains runs brown. Yet, higher up on a class V+ cascade stretch dropping off the volcano's horizon are dazzling blue drops on those same lower section brown days.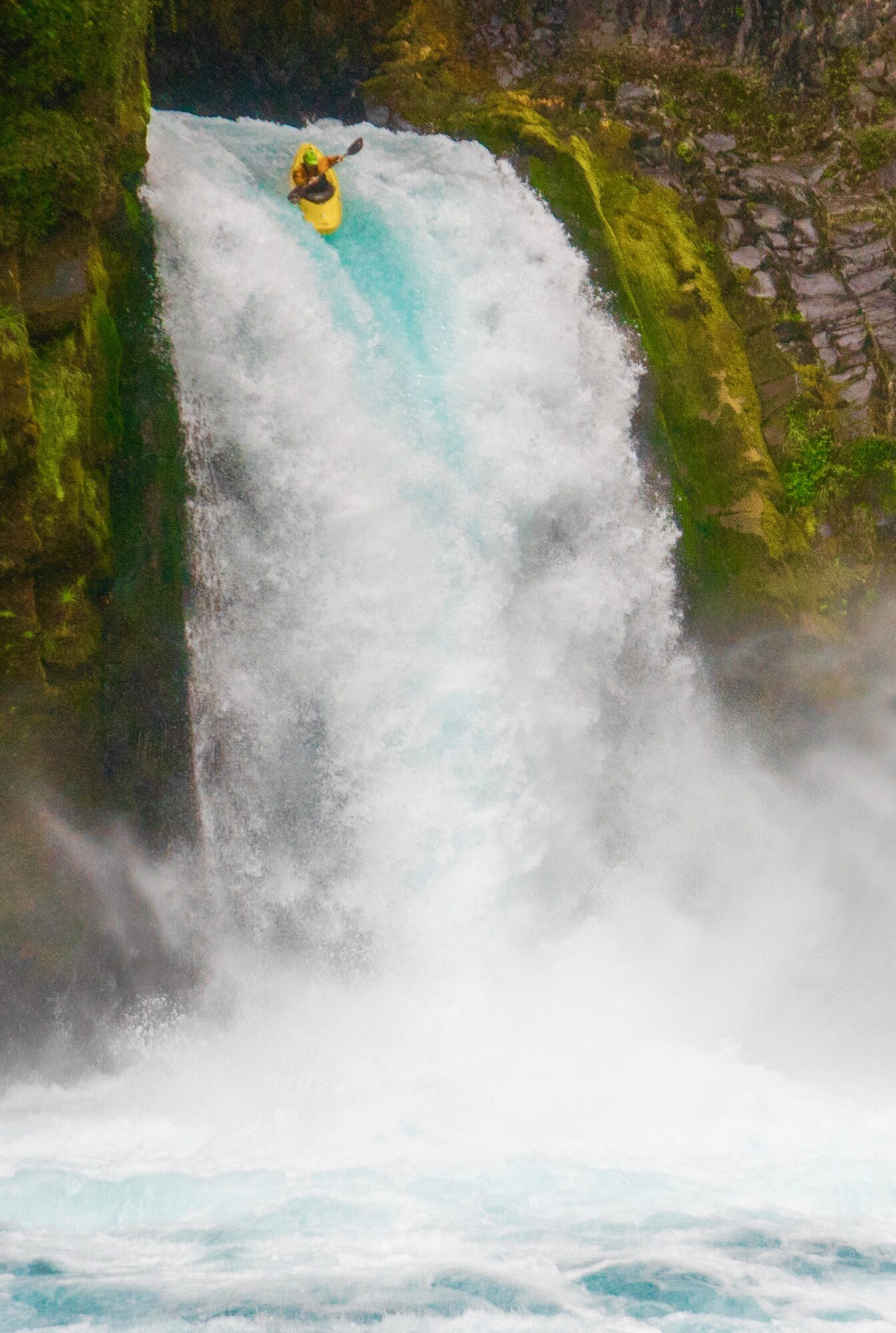 The Turbio's black basaltic bedrock in it's steeper reaches might be imagined as the more famous Seven Teacups runs a couple of million years ago prior to being carved, milled and polished to perfection. You can walk next to every drop just beginning to cut it's way into the Turbio's more jagged versus slick polished basaltic bedrock of the Teacups. High on the volcano the water was snow just the night prior (unless due to rain) and the basalt bedrock holds little sediment. As the run exits the lava field granite boulders and sediment become apparent. And hence the lower reaches of the run exhibit the color brown.
What does clear or blue water color mean for kayakers?
It means Chilean rivers are pure and clean as they emit those fore-mentioned shortwave blue rays. For us kayakers it's simply spectacular to boof blue water drops and to peer deep into pools. Based on the geography there are lots of rivers often in close proximity to one another. Yes. There are plenty of days when the water is brown. Meaning a recent rain or higher than normal flows.
Are there still first descents to be discovered in Chile?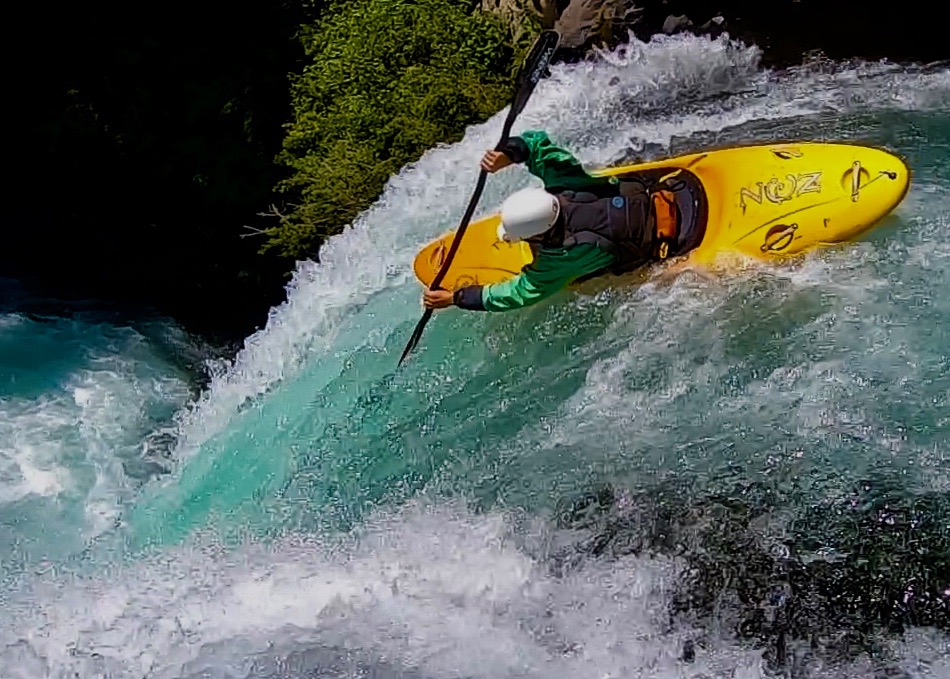 Top kayak explorers are still notching annual first descents. In 2011 Kurt Casey notched 6 first descents in 4 days. Researching a drainage away from explored areas and finding the right levels plus access ultimately means Chile has lots of first descents available. Maybe you'll be the one to discover the next Rio Nevado.
Cool Ways to Explore Chile's Rivers:
Patagonia Gap Year is New River Academy's favorite choice for high school grads and university students.
You are warmly invited to the hospitality of Pucon Kayak Hostel.
Links to rivers related to this article:
Palguin River– Class IV
Rio Turbio– Class V+
Rio Trancura Class III and IV stretches
Rio Desague Class V
Rio Puesco Class V