Best Patagonia Chile Adventure Study Abroad
Adventure Marketing & Management Program – AMMP
Accreditation: 16 to 19 credits Colorado Mountain College Chile Study Abroad  in affiliation with Universidad de la Frontera Pucon.
Email for FREE CMC Patagonia Photos, Videos, and Packing List: [email protected].
Semester Dates: Spring 2022, JAN 3 – APR 15
More Than a Study Abroad Semester…

AMMP

Your Employment Advantage
CMC Patagonia AMMP provides 16 to 19 academic credits with gainful certification, professional skills, adventures, and internship work experiences. "Why should I hire you?" by the end of AMMP you will have plenty of answers.
Adventure. CMC Patagonia makes adventure exploration and learning an integral part of the academic experience. Students bond and build confidence as they learn exciting whitewater and mountaineering skills and earn certifications employers seek. Base is right on the Rio Trancura giving outlets to activities like swimming, fly fishing, or practicing your kayak eskimo roll. Did we mention adventure classes are collaborative with Chilean students from Pucón's Universidad de la Frontera (UFRO)? Read more Best Pucon Multi-Sport Adventures.
Marketing – Social media marketing (course, MAR 155) skills help companies promote products. The art of story crafting via images and words benefits company promos, sales, and visibility. Tangible marketing skills give the employee a competitive advantage within employment, retention, and compensation.
Management – CMC negotiated a variety of internship positions with Pucon Kayak Retreat.  Contemporary Management (BUS 328) class experiments real world management experiences within culinary, hospitality, eco-tourism, sustainability, perma-culture, and adventure leadership. Management classes conference like an executive decision-maker team of various departments to plan and discuss disciplines of execution.
Program – The program encompasses work experience internships, course work, and sustainable community oriented practices within the contemporary management course. Adventures, community, work experience, and management practices in Patagonia. All of this in a single life perspective altering and gainful semester.
"AMMP is designed to give sustainable eco-tourism perspectives in protecting rivers and connecting with Chilean communities. AMMP practices and develops tangible skills/credits, and certifications for gainful employment. Our Pucón riverside adventure base with a variety of jobs provides students the perfect experiential marketing and management experiences." -David Hughes, Owner Pucón Kayak Retreat/Director CMC Patagonia 
 

AMMP

HIGHLIGHTS
"Puelo Libre" Students plan a multi-day Patagonia pack raft expedition from Argentina border.
Riverside lodging at Pucón Kayak Retreat. Wanna fly fish or kayak after class?
CMC partnered with Universidad de la Frontera to co-lead adventures. Think about the friends you'll make.
Rivers of Life Tour visits five rivers threatened to be dammed.
TUITION AND COSTS – Program cost $13,999 + CMC Tuition* + Airfare
*Tuition pricing is dependent on a student's Colorado in-state or out-of-state residency tuition.
VIDEO – Best Chile Adventure Study Abroad Semester

SUSTAINABILITY Rivers of Life Threatened Rivers Tour (SUS 201 + OUT 116). The CMC Patagonia Chile Study Abroad AMMP commences with the Rivers of Life tour and coursework led by SUS and OUT Professors Matt Jost and John Saunders, PhD. AMMP students explore-guide multiple river valleys via pack raft and/or raft with the added benefits of various Chilean's presenting experiences, various forms of protests, and successes in their plight to save Patagonia's most precious resource.  
Maipo Valley. Professors John Saunders PhD., Matt Jost, and David Hughes lead students to the Maipo Valley. Chile's largest eco-tourism compay is fighting a hydropower dam project threatening the community Maipo River resource. Students will packraft and/or raft the Maipo River, and hear sustainability presentations from the community and legislative leaders.
SUS Presenters. Juan Pablo Orrega (legislation) and eco-tourism operators.
Nuble Valley – Chile's Vineyard District. Today, more than 50 miles of free flowing Rio Nuble is threatened by three dams. Students visit the dam sites by river and realize the evident areas of land and homes that are threated to be under a lake. The AMMP team will paddle various sections with Chilean families illustrating eco-tourism practices to create sustainable business and bring attention to their river conservation plight.
SUS Presenters. Eco-tourism operators and local families impacted by displacement.
Trancura Valley – Your Pucón Home. AMMP students arrive to their Trancura river home to pack raft, kayak, fish and raft area rivers. Threatened rivers to be explore include Rio Maichin, Trancura, Panqui, and San Pedro.
SUS Presenters. Mapuche Indigenous Tribal Spokesperson (Huerquen), UFRO Professors.
PATAGONIA EXPEDITION LOGISTICS PLANNING
Puelo Libre (Puelo Free) – World Renowned King Salmon and Trout Fishing
This part of Patagonia is so remote that you can't get there by car. Students will plan and execute logistics to board a ferry crossing Lago Tagua Tagua and their capstone expedition. Imagine a land and culture largely disconnected from cell towers, internet, and the conveniences of super centers. Base right on Rio Puelo's blue waters to experience an organic eco-tourism operation. We will hike 6 hours to the border of Argentina to our "refugio" base camp for 2 days of camping and hiking. Then experience a multi-day pack raft expedition back to our Puelo base camp.
Puelo Libre is protected and is free flowing from the Argentina border to the Gulfo de Ancud to the Pacific.
Learning. Connect and interview locals about how "Puelo Libre" first became protected, Spanish speaking, expedition planning, hiking and pack rafting expedition planning.
WHAT'S A TYPICAL SCHOOL DAY LOOK LIKE?
Pucón Chile Study Abroad Base. Daily structure is designed to mock a school schedule with adventure tripping following classes. After breakfast, academic courses begin. The courses are applicable to both the work force and adventure decision making world. Students have access to the internet and study areas, and participate in scheduling of communal living tasks. After dinner, students either wind down or have a debrief class depending on the schedule.
Adventure Trips. During adventure trips such as Rivers of Life and Puelo Libre your class room is replaced by the adventure setting. AMMP takes advantage of the unique expedition learning opportunities such as connecting with communities, conservationist presenters, cultural learning, expedition planning and needs.
CHILE STUDY ABROAD CLASSES AND INTERNET
Pucón Study Abroad Classes. CMC Patagonia maintains a contract with Pucón's Universidad de la Frontera (UFRO). While, in Pucón AMMP classes are often at UFRO. Of course, adventure classes are at our adventure base right on the Trancura River or other nearby adventure destinations. Internet is provided at both UFRO and PKR base.
Classes During Trips. All of our destinations have Internet access nearby. While, Puelo Libre has Internet at some cafes this is rugged Patagonia. So, we plan to work ahead during expeditions. AMMP students often have classes in open air camp settings. So, a good travel chair is a must.
ACCOMMODATIONS & MEALS
Pucón Base. Students will stay within the dormitory lodging in a shared living space. There is access to PKR facilities including river access and fishing, riverside kitchen and fire pit, commercial kitchen, movie and class dome, gear room, tree house outdoor showers, office space, deck and lounge area.
Adventure Trips. Students typically stay in either camping, hostels, or hospedajes (Chilean version of B&B) near river or mountain settings.
Meals. Students are provided breakfast, lunch and dinner daily. Students are expected to pay one meal per week out of pocket. Typically, a voted on café idea for internet or near to a river setting. Such as the riverside pizzeria at the Rio Puelo.
Travel Trip Meals. During adventure trips students are expected to pay out of pocket for two meals.
ABOUT PUCON – CHILE' BEST ADVENTURE STUDY ABROAD BASE
Pucón's story began as a fort in 1883 strategically locating the military between nearby Argentina and established Chilean routes. As transportation infrastructure developed, it became a tourist destination.The surrounding lakes, lagunas, rivers, hot springs, and snow-capped peaks gave retreat to those that could afford to spend their summers in luxury. German settlers and South America's elite were the primary clientele.
Chile continued to develop the military and trade route to Argentina as Pucón continued to attract more and more outdoor enthusiasts. Today, Pucón's Lakes District on the northern edge of Patagonia is Chile's most popular summer vacation destination. Pucón is a melting pot of international outdoor adventurists seeking beauty and excitement at the end of a fishing line, within a basalt canyon, flowing over a waterfall, or at the peak of a volcano.
Want to speak to a real person? Email [email protected] or call +1-828-788-5135.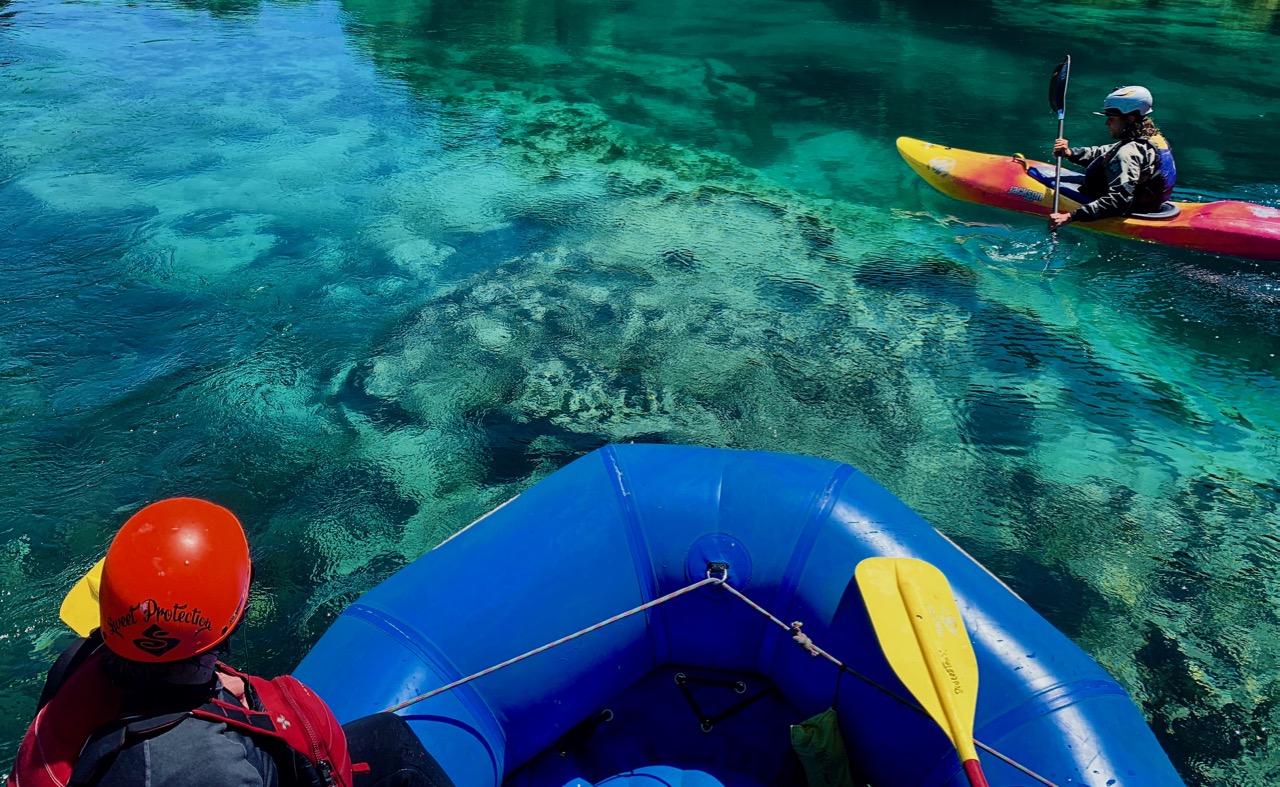 AMMP Courses

Business Management:
MAR 155 Social Media for Business (3 CRDT)
MAN 328 Contemporary Management (3 CRDT)
Internship Credits (3 to 5 CRDT):
OUT 287 (pending retreat work experience category)
Outdoor Recreation: 
OUT 116 River Orientation (2 CRDT)
OUT 218 River Orientation III (2 CRDT)
OR OUT 215 Whitewater Paddling Leadership (4 CRDT)
OUT 140 Swift Water Rescue Technician (1 CRDT)
Sustainability: 
SUS 201 Issues in Sustainability (3 CRDT)
Want to chat with a real person? Send a message.