Pucon + Valle Puelo Valley Multi-Sport Adventure Trip
Explore two of the Lakes District most remarkable destiantions. First, experience the Chile's Adventure Capital Pucon for several days of boutique multi-sport adventures and luxuries at our riverside Rio Trancura base. Then take a short road trip along Lago and Volcan Osorno en route to Patagonia's most fascinating Gulfo de Ancud and Valle de Puelo.
Argentina's Parque Nacional Lago Puelo flows out of Lago Puelo crossing the Chilean border as the Rio Puelo. The Rio Puelo converts into Lago Tagua Tagua reforming into Rio Puelo on it's southeastern end. The Rio Puelo flows for a short distance into the Gulfo de Ancud and it's final Pacific destination. As you can imagine, the Puelo is a high energy location breathing energy from Argentina to the Pacific.
Valle Rio Vientisquiero Highlight. This excursion hires horses to carry expedition gear six hour near to the Argentina border amongst Patagonia glaciers, volcanos, and lagunas. Our gaucho host Doña Bernadita Alegria will prepare an authentic gaucho asado celebration. After a relaxing morning we will pack raft (a lightweight inflatable single person kayak) class II to III rapids appropriate for total beginners. This relaxing river excursion ends at a riverside Rio Puelo cerveceria and pizzeria to celebrate the trip of a life time.
Pucon + Rio Puelo Valley Mutli-sport Itinerary
*This is a sample itinerary. Each multi-sport advnture itinerary is customized based on the group interests and feedback. 
MAR 25, Day 1. Temuco Arrivals (11 AM to 5 PM) & Welcome Dinner.
Multi-Options (TBD). After your travels we recommend washing off the travel lag with a short easy river paddle. Hot showers, afternoon appetizers and dinner combine for a good night of sleep.
MAR 26 – 29, Days 2 – 6. Boutique Pucon Gem Experiences.
From activities you list in your registration we nightly present the area's best options. The formula balance thrilling activities and soft advnetures often followed by the relaxing and luxurious. Culinary experiences punctuate reliving our daily achievements and failures surrounded. byfriends and laughter. Pucon, Chile's Adventure Capital, offers too many activities to list. We've done the homework for you eliminating the lame and presenting those as good as it gets moments. A few of our favorites: Fire and Ice (Volcano and Glacier) National Park Trek, Raft Rio San Pedro's blue waters, hot springs and asado, canyoneer a basalt canyon…
MAR 30, Day 7. Lakes District Road Trip en route to Lago Tagua Tagua Ferry.
A boat taxi will pick us up at the Lago Tagua Tagua port. A short boat ride takes us to our lakeside lodge for a dinner overlooking the lake. Welcome to fishing heaven.
MAR 31, Day 8. Lago Tagua Tagua fishing and relaxing. While, the lake attracts global fisher persons the valley offers a diverse range of adventures. A best kept secret is the world class wind surfing/kite boarding, SUP boarding, and kayaking.
APR 1 – 2 , Day 9 and 10, Pack Raft Expedition. Horses will carry expeditiong gear high into the Andes to Doña Alegria's gaucho farm and organic asado dinner. Your second day is a pack raft (small packable solo raft) paddling the Rio Ventisquiero class II to III currents (beginner friendly). Dinner has never been so delicious as our Rio Puelo balcany pizzeria and cerveceria celebration overlooking one of Patagonia's most beautiful vistas.
APR 3, Return to Pucon. After breakfast and a morning yoga or fishing option our boat taxi will deliver us back to the Lago Tagua Tagua port. A scenic drive amongst Lago and Volcan Osorno gives time to reflect on your adventures before returning to a Rio Trancura dinner.
APR 4. Depart Pucon Kayak Retreat
Email [email protected] or call/Whatsapp, +1-828-788-5135.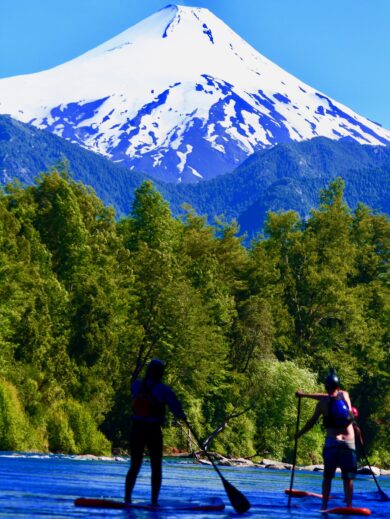 Price & Lodging Options
First Class Suite (pp dbl occ)
$US5600.00
Prices per person
Trip Details

Skill Level: Keen spirit to explore and relax
Deposit:  $US1200 deposit. Read Payment Guarantees
Arrival City: MAR 25 Temuco Airport (ZCO) 11 AM to 5 PM
Departure City: APR 4 Temuco Airport (ZCO) 11 AM to 5 PM
Trip Length: 11 Days Including Arrival/Departure Dates
Trip Extension Option: Yes