Chile SUP Board & Multi-Sport Adventures
RECON Chile SUP & Multi-sport Trip ADMIN NOTES. 
Industry pros/guides please review and share your notes with David. 
1. 50% discount to recon industry pros and guides;
2. Following itinerary seems lite on multi-sport adventures. If more multi-sport adventures are needed recommend removing a SUP session and replacing with a high end multi-sport activity. See VIP Pucon Multi-sport Adventures. 
3. Costs. Recommend costs for RECON trip be 50% discount of regular kayak trip. Additional, any out of pocket multi-sport adventures such as horse back riding, via ferrata, wine or beer tasting… 
TRIP DETAILS START HERE. 
If you love to stand up paddle board and explore new adventures then the Chile SUP board and multi-sport adventures may be for you. Chiles Lakes District is dotted with lagunas, lakes, rivers, waterfalls, hot springs, and volcanos remarkable for adventure exploration. Daily, the SUP board trip will explore Chiles Lakes District waterways and combo with a selection of multi-sport adventures. SUP boarders range from beginner to the experienced with guided instruction and equipment. SUP trips commence on easier sections of lakes and lagunas with fantastic views  and beaches. As the week progresses so do the lakes and rivers exploration. Adventures are mixed with a variety of relaxing activities to keep the trip fun with resting balance.
Chile SUP & Multi-sport Tentative Itinerary 
Trip Dates, JAN 20 – 28
Itineraries are subject to change based on weather conditions and group skill levels. 
JAN 20, Day 1 (SAT). Temuco (ZCO) Arrivals 11:00 AM to 5:00 PM

AM – Airport Transfers/Arrivals. Your trip begins with a short drive to the Pucon Kayak Retreat base property to gear up and cool off.
PM – SUP Board Lago Villarrica to Playa Blanca. After your arrival we'll goto Lago Caburgua or Laguna Tinquilco for a short afternoon of paddling and relaxing on the beach.
Welcome to Chile and orientation dinner.
JAN 21, Day 2 (SUN). Hike Nacional Parque Huerquehue & SUP Laguna Tinquilco
AM – Hike Nacional Parque Huerquehue. Driving around Lago Caburgua the group arrives to Laguna Tinquilco. Glacially formed and fed by waterfalls from the Nacional Parque Huerquehue the group will first hike with the morning coolness to Tres Lagunas. Passing through the Araucania forests and famous Monkey Puzzle trees the hike is spectacular. Lunch will be at the Tres Lagos.
SUP Board Laguna Tinquilco. Upon your return to the trailhead base you will cool off in Laguna Tinquilco and paddle the length of this short yet deep laguna classic. Appetizers and cocktails await at the end of the paddle alongside the Laguna beaches.
JAN 22, Day 3 (MON). Hike Turbio Lava Fields + Saltos & SUP Rio Liucura
AM – Hike Turbio Lava Fields + Saltos. The Turbio lava fields are right on the slopes of Volcan Villarrica with pools and small saltos to dip and chill along your hike. You can hike and explore as much or as little as you like along Pucon's best kept secret hike. After the hike we'll break for lunch.
PM – SUP Board Rio Liucura (2 hours). This section of the Rio Liucura is calm yet moving for class I to II easy paddling beauty. SUP'ers will paddle direct toward the giant Volcan Villarrica views. The Liucura is our coldest water run. Yet, the summer days are so hot we bet you jump in a time or two to cool off.
JAN 23, Day 4 (TUE).  SUP Rio San Pedro (Hop in Whitewater Raft for the Rapids) 
The Rio San Pedro is a trip highlight as you SUP board out of Lago Rinihue where lake transistions to estuary into river. The first two KMs are easy and glorious. Yet, rapids pickup with intensity. So, we bring a raft for paddlers who want to hop into the raft for the bigger rapids. Or the brave can try to paddle through the warm turquoise waters. Soon the rapids calm down and SUP boarders can hop out of the raft back onto their boards. For many this will be your most glorious day of SUP boarding ever.
JAN 24, Day 5, (WED). SUP Trancura Delta to Lago Villarrica & Hot Springs
AM – Trancura Delta to Lago Villarrica. The Trancura Delta is where the river fans out into bars with slowing currents before they enter the broadening lake. This estuary is full of bird and fish life. Most spectacular is paddling into Lago Villarrica with the grandest of Volcan Villarrica vistas. We'll picnic and relax on the beach.
PM – Soak in the Hot Springs. Pucon is one of the most congested areas on the planet for hot springs. No surprise with so many nearby active volcanos.
JAN 25, Day 6, (THU).  SUP Rio Tolten & Villarrica Boardwalk Churros or Ice Cream + Pucon Tour & Dinner
AM – SUP Rio Tolten (2.5 hour paddle). Where Lago Villarrica estuaries into Rio Tolten the Volcan Villarrica towers over both lake and river. The vistas are spectacular as you warmup in the clear warm water. The trip begins mellow on flat water and progresses all the way to class II+ rapids. The moving water means boarders travel faster down river and are more likely to fall off. Don't worry. We'll teach you how to quickly drop to your board for balance and have safety protocols for you to learn. Rio Tolten is refreshing and a must for games, swimming, and even jumping out of tree into the river. Rio Tolten flows all the way to the Pacific Ocean… so, don't miss the takeout.
PM – Explore Lago Villarrica Boardwalk. Chileans are masters of fun toys. There are churro and ice cream shops, float toys to paddle around the lake, and giant adult big wheels to play and race along the lake frontage. This is an afternoon of fun with your new friends.
Tour Pucon & Dinner. Pucon is fascinating and super fun to people watch along the streets. This is a great time to explore and shop for souvenirs. We'll visiti one of our favorite culinary experiences. And give time for more Pucon exploring after dinner.
JAN 26, Day 7, (FRI). SUP Lagos Andinos & Craft Cerveceria Beer Tasting
AM – SUP Lagos Andinos. We'll drive near to the Argentina border amongst the famous Araucania forests and Monkey Puzzle trees. SUP boarders will explore the lake where we will set up a picnic on a private beach. There are trails around the lake so you can choose to hike or paddle.
PM – Craft Cerveceria. As we return from Lagos Andinos we will stop at a Rio Puelo riverside authentic cerveceria. Try a variety of brews and tastes next to this class V section of whitewater river. We'll bring appetizers to add flavor to the event.
Farewell Celebration Asado. 
JAN 27, Day 8, (SAT). Packing & Guest Option. 
Guests have the option to explore the fish and crafts market prior to departure flights.
*Guests adding a Pucon week have option to ride with staff to Pucon.
Speak to a Real Person. Email [email protected] or call/Whatsapp, +1-828-788-5135.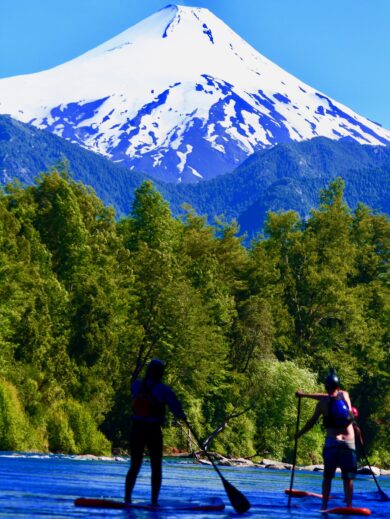 Price & Lodging Options
Prices per person*
Rio Suites (pp dbl occ) $3090
Hosteria Cabinas (pp dbl occ) $2490
Dorms (shared space) $2390
Camping $2290
Trip Details

Skill Level: Beginner to Intermediate SUP Board 
Deposit:  $US750 deposit. Read Payment Guarantees
Arrival City: JAN 20 Temuco (ZCO) 11 AM to 5 PM
Departure City: JAN 27 Temuco (ZCO) 11 AM to 5 PM
Trip Length: 8 Days Including Arrival/Departure Dates
Trip Extension Option: Yes

Want to chat with a real person? Send a message.