I bought a one-way ticket for $US350 and paid $US60 to insure 80% of my airfare costs. – Eli Castleberry, Pucon Kayak Retreat Instructor (Atlanta to Santiago flight)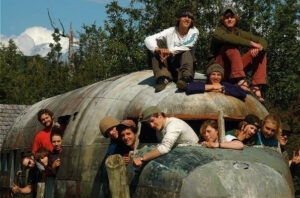 Kayakers stop en route to Patagonia's Rio Futaleufu for a photo opp at this deserted air craft. 
Due to the NOV 10, 2020 announcements that Chile will open Santiago International Airport (SCL) to tourist travel the Pucón Kayak Retreat is implementing the following updates and protocols.
Follow and update tourist border policies as announced. See La Tercera report regarding Chile Borders Open to Tourists, Require Covid Negative Test 72 Hours Prior to Arrival.
Pucon Kayak Retreat will adhere to Chilean hotel and adventure tourism policies for sanitization, personal protective equipment, reduced numbers, safe distance spacing, maintain travel and contact logs.
Pucon Kayak Retreat has numerous outdoor open spaces for meals, asados and fires, and instruction that meet safe distance spacing requirements.
Two Recommended Routes Santiago to Pucon – Domestic Flight or Bus
Fly to Santiago (SCL) and fly to Temuco (ZCO) connection. Guests are picked up at Temuco airport and transferred 90 minutes to PKR. Currently, Santiago to Temuco domestic flights have been reduced to two per day. As borders and travel restrictions decrease travelers may expect domestic flights to resume normal numbers. Retreat guests receive free airport transfers within the trip published pickup/drop-off times. Non-scheduled Temuco to Pucon transfers are available upon request for additional fee.
Fly to Santiago (SCL) then take overnight Santiago to Pucon bus. While, the overnight bus to Pucon seems more economical it may cost more due to Ubers/taxis, and additional day of travel costs. Guests taking Santiago to Pucon bus need to arrive a day early as the bus is overnight.
Rates Research
Search Source: KAYAK.com (of course)
Sample Dates: JAN 15 to JAN 23
Sample Route: Raleigh Durham (RDU) to Temuco (ZCO)
Costs: We found rates as low as $US650 which is approximately 50% off normal rates. Although, routes seem to require longer travel and an additional connection(s). Travelers may expect more flights to open now that Chile has announced border openings to tourists.
Sample Route: Raleigh Durham (RDU) to Santiago (SCL)
*Santiago flights either require buying a separate connection to Temuco or overnight Santiago to Pucon bus.
Sample Costs:  We found rates as low as $US542 less than half past flights.
Purchase Santiago to Temuco Connection Separate: Sky Airlines, LATAM Airlines, and Jetsmart offer domestic flights ranging from approximately $US50 to $US100.
Pros: Airfares may be cheaper than if buy separate.
Cons: Guests must recheck-in and pay for baggage a second time.
Travel Tips and FAQs
With COVID we recommend guests purchase trip cancellation insurance.
What about flying with kayak equipment? PKR trips provide guests with kayak choice included and option to rent a paddle. Guests are recommended to bring their personal soft equipment: PFD, layers, booties, helmet…
What about the COVID test? We are researching this valid question and expect a separate report on testing agencies and how to meet requirements.
Will Pucon Kayak Retreat be extending its season? Yes, due to COVID changes the retreat will be extending trips throughout March including Futaleufu trips.
Email, message or call for free travel tips and advice.
[email protected] or +1-828-788-5135
Discover Chile travel and airfares community news. Share it on this post and we all benefit.
KEEP KAYAKING.