Zerkle & Friends Chile Birthday Party
Dates. FEB 26 – MAR 5 (Birthdate is FEB 27)
Invitation Only.
Happy birthday Kathy. Over the years nurse/ranger/psychotherapist Kathy Zerkle has mended more broken river bodies and minds than all of us put together. It is with great pleasure that Pucon Kayak Retreat offers Kathy & friends a week of retreat Chilean river style amongst her besties.
At-Cost. Pucon Kayak Retreat is offering all lodging, river toys, and vehicles gratis. Guests are expected to pay costs of food, gas, activities not offered by PKR, guide tips, and employee pay out of pocket. Employees include 1 to 2 cooks and guides if needed for specific river trips. David Hughes will volunteer his services for the larger group river trips, shuttles and river fun. Basically, Zerkle friends are getting use of everything the retreat has gratis with exception of the personelle. 
Meals. PKR recommends to hire our cooks to both shop and cook main meals. Expect cook costs to be around $80-$100/day. We will recommend favorite restaurants for culinary experiences off the retreat property. Depending on budget group may opt for a morning breakfast cook rotation.
PKR Gratis Adventures. PKR toys include: 8 SUP boards, 40+ kayaks, and access to duckies and rafts. Experienced raft guides can easily take the helm of our Chilean raft runs. Other gratis adventures include best hikes such as: fire and ice trek (volcano and glacier), and the Rio Turbio basalt field swimming pools.
Non-Gratis Favorite Adventures. Hot springs ($20-$40 pending which), boat tow tandem paragliding ($75), vía ferrata climb ($150), canyoneering ($50), fly fishing, massage therapist ($60/hr), sky diving ($100), sommelier wine tasting presentation, authentic Chilean asado, yoga instructor sessions…
Lodging. The retreat has several accommodation offerings that are first come first serve: 3 river suites (couples), hosteria cabinas (couples and individuals – 10 beds), treehouse dorms (15 beds), and camping. Link to Pucon Kayak Retreat Loging Options.
Kayak Chile Rivers and Pucon Multi-Sport Adventures. Nightly, we will present the following day's adventure options. Knowing the diverse range of whitewater and adventure skills of Kathie's equally diverse friends we are sharing the Chile Week of Rivers itinerary. Chile Week of Rivers offers kayak trips from beginner to advanced. We will sprinkle in a mix of favorite multi-adventures. Due to potential guide needs guests will be expected to cover guide costs at $50/half day and $100/full day.
SAMPLE WEEK OF RIVERS ITINERARY FOR ZERKLE PARTY
Week of Rivers Chile Kayaking Trip For Beginner-Intermediate-Advanced Kayakers
The Week of Rivers Chile Kayaking Trips are designed for whitewater kayak clubs and groups that require a beginner to intermediate to advanced range of whitewater river features and skills for their members. The beauty of Pucon area rivers is the vast range of safe and challeging river features. Multiple kayak groups and instructors go out daily to beginner, intermediate and advanced rivers and sections. Beginner and Intermediate Chile Kayaking Trips need safety and private instruction.  Advanced Chile Kayaking Trips want to have fun challenging their skills running rivers in beautiful canyons too. Group organizers enjoy quality instructors organizing daily trips with multiple group skills in mind. It just so happens that the Pucon region rivers offer world class features for every skill set.
Did we mention volcanos, hot springs, and Pucon Chile multi-sport adventure trips? We are proud of our FIVE STAR Trip Advisor Reviews Pucon Kayak Retreat Chile Kayaking Trips.
INTERMEDIATE KAYAK CHILE RIVERS GUIDE & LINKS
ADVANCED KAYAK CHILE RIVERS GUIDE & LINKS
---
What's Included.
Meals at-cost

Kayaks, Paddles and Retreat River Toys

Airport Transfer *per scheduled times

Riverside Base & Lodging

World's Best Kayak Instruction

Daily River Transports and use of retreat vehicles/trailers
Not Included.
Meals out and cook compensation 
Alcohol and drugs
Gas and tolls
Non-gratis favorite activities: hot springs ($20 – $50 pending which), massage therapist ($60/hr), wine tasting sommelier presentation, vía ferrata summit ($150)
Guide tips
Chile Week of Rivers Tentative Trip Itinerary (*Zerkle itinerary pending Kathy's mood). 
*Due to water levels, skills, and group needs the following itinerary is subject to change and is a best prediction of the itinerary.
---
Day 1 (SAT)
Arrival to Temuco Airport (ZCO) between 11 AM to 5 PM.
Boat outfitting and welcome.
Intermediate Group Assessment – Lake or Middle Liucura.
Afternoon Group Assessment – Chile Kayaking Lower Trancura River (III to IV).
Day 2 (SUN)
Intermediate Group. AM – Trancura Delta and Lago Villarrica (I to III);  PM – Middle Liucura to Wave
Advanced Group. AM – Lower Trancura (III to IV); PM – Chile Kayaking Liucura Wave to Trancura Bridge (II to IV)
Day 3 (MON) 
Intermediate Group. Load for Chile Kayaking Rio Tolten & Lago Villarrica (I to III). Rolls and Strokes at Lago Villarrica plus river run.
Advanced Group. AM – Chile Kayaking Upper Trancura River (III to V, portages available); PM – Lower Trancura (III to IV);
Day 4 (TUE) Maichin Canyon 
Multi-Adventure Activity. Mapuche Indian Presentation on the state of Rio Trancura Headwaters vs. hydropower or Hot Springs.
Intermediate Group. Lower Maichin (II to III) Canyon.
Advanced Group. Chile Kayaking Maichin Canyon (III to IV)
Day 5 (WED) AM – Waterfall Wednesday 
Intermediate Group. Yes, we have a safe waterfall option (pack raft, ducky, or kayak) for intermediates too. There is a hike in option to the Upper Palguin 9 foot waterfall. You can run your first waterfall with set safety.
Advanced Group. Chile Kayaking Upper Palguin Canyon laps. For many the best kayaking experience of their trip is to explore the Palguin basalt canyon via kayak. Waterfalls range from three to twenty feet.
PM – Group Option Multi-adventure Activity. 
Day 6 (THU) Travel Day – Chile Kayaking Rio San Pedro (II to IV) Both Groups 
Instructors will meet with both kayak groups to discuss San Pedro trip logistics. For intermediate kayakers not qualified to kayak we can offer pack rafts, duckys, or raft. San Pedro is a full day river trip also driving 180 degrees around Volcan Villarrica. An early breakfast followed by one of the most scenic drives circling volcanos, lakes and rivers. Thursday nights are scheduled for a guest dinner at one of our favorite Chilean cafes. We'll take time to explore Pucon's shops, eateries, and have a cerveza or artisan ice cream.
*Guests are responsible to cover this cultural dinner estimate at $US12 to $US18.
Day 7 (FRI) Group Option, Farewell Celebration Asado & Video
We'll gauge the group energy and discuss kayaking or multi-adventure options for the final day. Some may want to try a clean waterfall for a grand finale lap on a favorite section. Others may want to get redemption on a specific rapid. We'll celebrate the week's accomplishments Chilean style with a grand fire and asado.
Day 8 (SAT) There's still time to get in one last run. 
AM – Optional Morning Lap or Pucon souvenirs and crafts shopping.
PM –Temuco Airport (ZCO) Departure Flights Between 11 AM to 5 PM.
KEEP KAYAKING.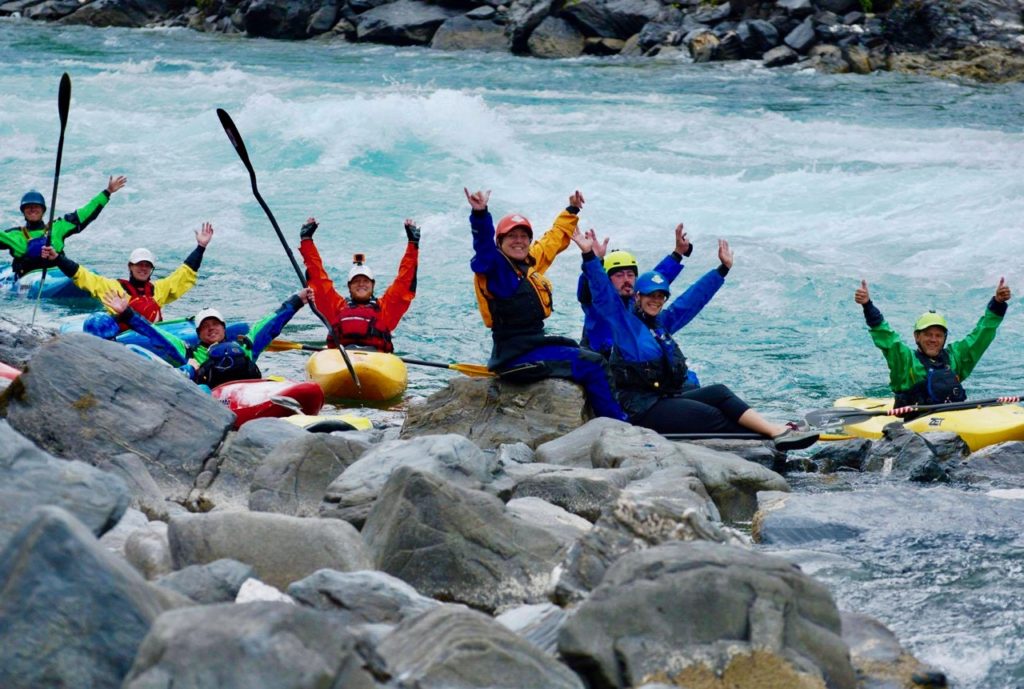 Lodging Options
River Suite (pp dbl occ)
$2,695.00/per

Hosteria Cabañas (pp dbl occ)
$2,395.00/per
Treehouse Dorm (pp shr occ)
$2,195.00/per
Camp (pp)
$1,995.00/per
Trip Details

Skill Level: Beginner-Intermediate-Advanced
Deposit: $US600. Read Payment Guarantees
Arrival City: Temuco Airport (ZCO) – 11 AM to 5 PM
Departure City: Temuco (ZCO) – 11 AM to 5 PM
Trip Length: 8 Days
Want to chat with a real person? Send a message.