Students Kayak Week of Chile Rivers – 50% DISCOUNT
A week of kayaking Chile rivers for beginner (no experience), intermediate and advanced student kayakers. The dream holiday student kayak trip where your only classes are how to keep your head down when rolling, scouting rapids, protective tucking for waterfalls, and of course stomping datboof! Any current student qualifies for a 50% discount.
About Student Week of Chile Rivers
STUDENTS KAYAK Week of Chile rivers is treated like a normal kayak trip. Students receive an all-inclusive trip including meals, kayak, lodging, transportation, and daily ACA instruction right on Chile's best rivers. Beginners with no instruction can get safe kayaking instruction too. Kayakers know that Pucon is a whitewater mecca… now, advanced student kayakers can charge daily and we have kayaking options for beginner and intermediates too.
How do STUDENTS get the 50% DISCOUNT? 
Any current student qualifies. For transparency purposes we want to show you the best kayaking trip possible so that you spread your word of mouth testimony.
STEP 1. Complete Student Discount Form.
STEP 2. If/when you receive 50% discount code, register for the Student Week of Chile Rivers trip.
About Chile Kayaking
This is the fun part. With 14 hour in a day this time of year, students have sufficient time to kayak multiple sections daily. We're also scheduling holiday activities such as Christmas stouts. Pucon boasts a variety of lakes and beginner to intermediate sections right in our back yard. And every kayaker knows about Pucon's advanced and waterfalls scene. Students will have a full week of kayak development on safe sections to match their skills.
Chile Kayaking For Beginner, Intermediate and Advanced Kayakers
Beginner Kayak Instruction. Daily, an instructional group just for beginner kayakers will go to local lakes and beginner river sections to safely develop rolls and foundational kayak skills. Yes, you will get to paddle more advanced rivers as your skills progress.
Sample BEGINNER KAYAK Itinerary: KAYAK CHILE ROLLS & RIVERS TRIP
Intermediate Kayak Instruction. Intermediates will continue kayaking development on safe class II+ to III rivers with objectives to gain confidence with combat rolls, eddy catching, scouting, rier running and experiencing Chile rivers. Option to run clean waterfall in hard shell kayak.
Sample INTERMEDIATE KAYAK itinerary: KAYAK CHILE PUCON CLASSICS INTERMEDIATE TRIP
Advanced Kayak Instruction. This may be the most exciting group as they daily will progress kayak skills on Pucon's famous rivers, boofs, and waterfalls. Advanced kayak progressions incldue safety and rescue, scouting "relative" class V, eddy piercing, safety setting and decision making, and waterfall running.
Sample INTERMEDIATE KAYAK itinerary: KAYAK CHILE PUCON CLASSICS ADVANCED TRIP
More About Kayaking Chile Rivers and Waterfalls
This is the fun part. Chile rivers are famous for clear blue colors, quality features, and clean waterfalls. We mix river running and waterfalls to practice a diverse range of skills. Bring your camera and elbow pads… this is gonna be fun.
River Running Skills. Scouting and setting safety; piercing and controlling eddies; boofing; aggressive ferrying; catching challenging eddies; extreme race techniques; downriver play.
Waterfall Skills. Assessing lines; protection positions; art of kayak flight; pitch degree control; boofing; stomping; freestyle.
Cheesy Christmas Party
Bring your cheesiest holiday outfit. We encourage elves, bad Santas, reindeer, snowman/woman… Students will have a $US20/20,000 peso budget for Elephant Christmas party.
Christmas Day Waterfall Tradition. Now's your chance to get media of Santa or an elf running a waterfall. This is a holiday to remember.
FAQs
Who should apply?  Beginner, Itermediate and Advanced students keen to kayak Chile rivers.
Am I good enough? The great thing about Chile rivers is the diverse range of beginner, intermediate and advance kayak features idea for development. Students with a growth mindset to accept failures as opportunities for learning will progress in this safe learning environment. So, your roll is not bombproof. We'll help you get there. Are you a beginner? We will dedicate an instructor to you too.
Can your families do a trip?  Yes, many students want to experience holidays with family. We can offer a custom trip to your families too. Email [email protected].
Gift your student a Trip. Ask your family for this trip to be your holiday gift? Could be your best present ever. Read more "Gift a Trip." 
What about lodging? When students register they select lodging from river suite, hosteria cabins, dorms or camping based on your comfort and budget. The Student 50% DISCOUNT CODE is applied during registration process.
What about meals? Students will participate in a meal team to help with clean up and prep. Dinners will be cooked by in-house staff. Meal team activities such as food shops are designed as cultural and participatory experiences.
How much spending money should I bring? With the exception of a single dinner out everything is provided. Costs of Chile restaurants and souveniers are approximately 30% less than US tourism costs. There are markets with provisions and snacks walking distance from retreat. Souvernirs such as apparrel and crafts are a must for our Pucon day.
KEEP KAYAKING.
---
Included.
Breakfast, L

unch, & Dinner daily

Kayak Rental

Airport Transfer *per scheduled times

Riverside Community & Lodging

Kayak Instruction

Daily River Transports
Not Included.
One dinner out at group chosen favorite cafe, or travel meal
Airport transfers outside of scheduled times
Alcohol
Personal camping and kayak gear
Optional multi-adventure options such as massage therapy or hot springs
Snacks and souvenirs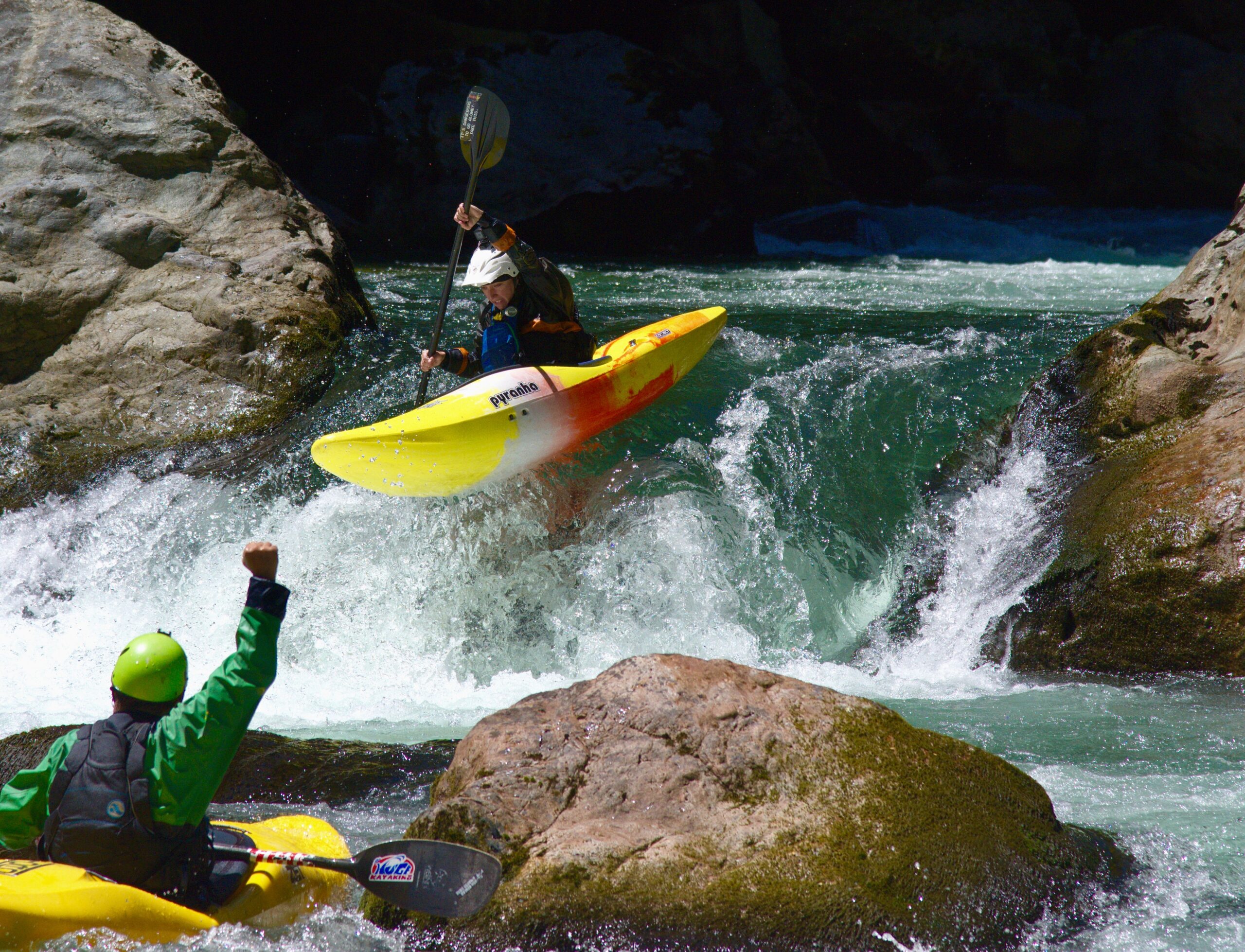 Lodging Options

*Pending 50% DISCOUNT CODE
River Suite (pp dbl occ)
$3,090.00/per

Hosteria Cabañas (pp dbl occ)
$2,490.00/per
Treehouse Dorm (pp shr occ)
$2,390.00/per
Camp (pp)
$2,290.00/per
Trip Details

Skill Level: BEG, INT, ADV
Deposit:  $750 deposit. Read Payment Guarantees
Arrival City: DEC 23, Temuco (ZCO)
Departure City: DEC 30, Temuco (ZCO)
Trip Length: 8 Days
Want to chat with a real person? Send a message.