Description Lower Maichin River (II to III)
Approaching the Argentina border is the gorgeous Maichin Canyon collecting water from volcanos Sollipulli and Lanin. Idea for beginner and intermediate kayakers seeking a canyon experience with safe whitewater rapids. World class for beauty and fishing we often take inflatable kayaks and intermediate kayakers to practice rapid running, scouting, surf, ferrying, and eddy catching.
Whitewater Kayak Skills Learning
flat water roll

combat roll

river communication and scouting

eddy catching

low volume ferrying

confidence building
Access Put in/Takeout
Requires 2 vehicles or shuttle driver, this is a long 45 to 60 minute shuttle. Idea to combine shuttles with an advanced group on the Maichin Canyon. Bumpy harsh road. /Takeout at Panqui Bridge.
Put In: Driving from Pucon toward the Argentina border the Maichin collects snow melt from Volcanos Sollipulli and Lanin. The Lower Maichin begins at the takeout for the Maichin Canyon. Putin at Maichin Canyon takeout (ask for permission from farmer and offer 5,000 pesos).
Take Out: Panqui Bridge prior to Currarehue
Dangers
The section is relatively safe, professional kayaker required for beginners and intermediates. There a couple of read and run rapids with trees requiring professional to direct intermediates around hazards.
Instructor Tips & Challenges
Take money for the Mapuche market at Panqui Bridge takeout. Photo shoot at side tributary waterfall. Great section to practice combat rolls, ferrying, and eddy piercing with safety spotters. Offer 5,000 pesos to farmer at put-in.
Pucon Chile Beginner Kayak Rivers
---
Liucura Bridge and Liucura Wave (II to III) coming soon. 
Pucon Hotsprings & Lakes for kayaking. When its cold we negotiate to use nearby hotsprings for roll lessons. When its hot we use Lago Caburgua.
Chile Kayak Trips Featuring
Lower Maichin

Want to chat with a real person? Send a message.
Other Beginner Trips We're Offering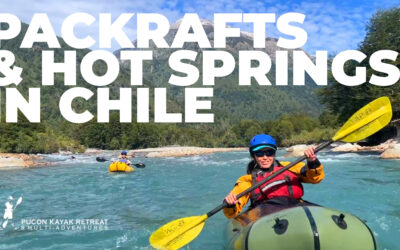 VIP Packraft Patagonia rivers amongst glaciers and hotsprings. Chile multi-sport adv enture with gear support via horses to remote locations. For beginner paddlers with adventure spirit.
read more