Description Tolten River & Lago Villarrica (II to III)
Flowing out of Lago Villarrica to the Pacific Ocean is the spectacular Rio Tolten. The water is clear blue and warm during summer months. With deep water the Tolten is a quality run for beginners learning to kayak, intermediates seeking to practice combat rolls, fishers, and SUP boarders. The river has at least a half dozen vistas of the volcano. The put-in beach and access is idea for pre-trip roll practice and instruction during the shuttle. 
Whitewater Kayak Skills Learning
flat water roll

combat roll

river communication and scouting

eddy catching & surfing

ferrying

confidence building
Access Put in/Takeout
Requires 2 vehicles or shuttle driver with specific access knowledge as the access points are complex. Can offer commercial fish operators to run your shuttle for 10,000 pesos. 
Put In: At the estuary where Lago Villarrica transmutes from lake to river just above bridge. 
Take Out: Specific farmer access cost 5,000 pesos. 
Dangers
The section is relatively safe. Although, overhanging tree limbs are a serious danger for beginner kayakers. This run requires safety kayakers to assist.  
Instructor Tips & Challenges
Practice rolling at beach below the bridge. There is a tree to jump out of on river right below beach but getting more difficult to climb. Great section to practice combat rolls, ferrying, and eddy piercing with safety spotters.
Pucon Chile Beginner Kayak Rivers
---
Liucura Bridge and Liucura Wave (II to III) coming soon. 
Pucon Hotsprings & Lakes for kayaking. When its cold we negotiate to use nearby hotsprings for roll lessons. When its hot we use Lago Caburgua.
Chile Kayak Trips Featuring
Tolten River

Other Beginner & Intermediate Chile Kayak Trip Options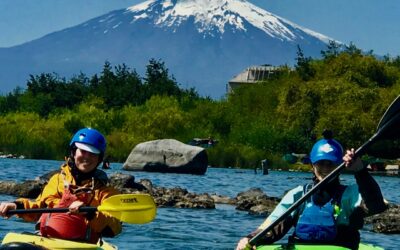 Chile kayaking trip for intermediate and advanced women kayakers led by kayak school owners, competitors and expedition leaders on Chile's best whitewater.
read more