Description Trancura River Delta & Lago Villarrica (II to III)
A great section for beginner and intermediate whitewater kayakers with safe eddy lines, lots of eddy lines to learn your kayak edges, ferrying, and eddy hopping in safer section.. Ending in Lago Villarrica allows kayakers to work on their rolls in flat water. At the takeout to the Lower Trancura section commences the Trancura River Delta section at the Quelhue Bridge. During summer months there is a Mapuche market with great fruit smoothies and lunches. The section offers multiple vistas of area volcanos, mellow eddies, and rapids. Idea for beginners with a professional instructor or intermediates seeking to gain confidence on a safe section.     
Whitewater Kayak Skills Learning
No skills required as this is where you begin learning to whitewater kayak. 
flat water roll

combat roll

river communication and scouting

eddy catching & surfing

ferrying

confidence building
Access Put in/Takeout
2 vehicles or shuttle driver with specific access knowledge as the access points are complex. Takeout during summer months the beach gate is often locked. Idea option to co-op shuttle with a Lower Trancura group. 
Put In: Quelhue Bridge same as takeout to Lower Trancura.  
Take Out: Requires 4 x 4 truck to cross Rio Plata for beach take out or hike out of beach to road (not idea for beginners).
Dangers
The section is relatively safe. Although, overhanging tree limbs are a serious danger for beginner kayakers. This run requires safety kayakers to assist.  
Instructor Tips & Challenges
Great place to roll practice at the Lago Villarrica beach at takout with grand view of the volcanos. Great section to practice combat rolls, ferrying, and eddy piercing with safety spotters. Take out requires 4 x 4 truck to cross Rio Plata, avoid deep sand with vehicle.
Pucon Chile Beginner Kayak Rivers
---
Liucura Bridge and Liucura Wave (II to III) coming soon. 
Pucon Hotsprings & Lakes for kayaking. When its cold we negotiate to use nearby hotsprings for roll lessons. When its hot we use Lago Caburgua.
Chile Kayak Trips Featuring
Trancura Delta

Want to chat with a real person? Send a message.
Other Beginner & Intermediate Chile Kayak Trip Options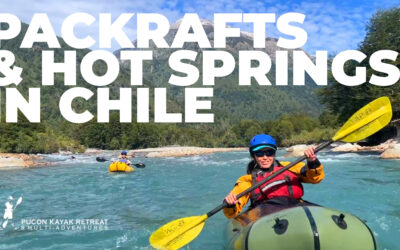 VIP Packraft Patagonia rivers amongst glaciers and hotsprings. Chile multi-sport adv enture with gear support via horses to remote locations. For beginner paddlers with adventure spirit.
read more