Kayaking in Chiles Rio Fuy and Pucon's whitewater epicenter is the best of two of Chile's epic kayak destinations. Now, advanced and expert kayakers can get two great destinations in one trip.
Fuy PLUS Pucon Rivers. Guaranteed Epic… JAN 6 – 13.
Fuy Plus Pucon trip starts with a river-running and creeking warmup at your Rio Trancura base. Backyard Pucon kayaking offer quality whitewater features on various rivers, big water rapids, and waterfall canyons. After your Pucon warmup the kayaking group roadtrips to lap Rio Fuy canyons. The Fuy PLUS Pucon is the perfect balance of light travel, Chile exploration, and a variety of Chile's best whitewater.
Kayaking Chile's Upper Fuy Basalt Canyon
Rio Fuy is like a real-world Ewok fantasy land. We're serious, a giant Ewok architected spiraling tree hotel is the center-piece of one of Chile's most outrageous eco-parks right at the Las Leonas section of waterfalls. Structures in this area match the magic of the forests, lakes, volcanos, glaciers, and canyon drainages.
Meanwhile,  the Lago Neltume is a narrow lake extending from the Argentina frontera collecting annual glacial melt. You will paddle out of this warm water lake with a view of glaciers into the clear blue yonder. The short lived Rio Fuy (15 KM) makes it's way through a handful of canyons and three river sections before it drains into Lago Panguipulli. More than 20 classic drops including the las Leonas (the Lions) triple drop section make the Fuy a kayaker's paradise.  Kayakers may also paddle a lower section of the Middle Fuy below the class V canyon. And the Lower Fuy.
Read 100+ Satisfied Guest Reviews on Pucon Kayak Retreats Trip Advisor page.
Middle Fuy Canyon Below Class V Canyon 
During January the Middle Fuy canyon is just too much volume and class V for our trips. Although, we know a trail to hike into the canyon just below the gnarliest class V rapids offering class III to IV turquoise boofs, and one hell of a spectacular canyon experience. Approximately, 3 KM long this section receives a boost of water from two glacial fed creeks.
Lower Fuy (III to IV)
Easiest of the Fuy sections begins where the Middle Fuy ends. Lower Fuy laps add to the boofing and whitewater charging for another 6 KM. Plus views of the glacier and rapids are worth it. 
Pucon Rivers and Sections
Our back yard Upper and Lower Trancura offers the best advanced whitewater in the area. We'll mix Upper Trancura, Upper Palguin, Maichin rivers as warmer uppers for our Fuy road trip.
What Is Included
Breakfast, l

unch, appetizers & dinner.

Kayak rental.

Airport transfer *per published times found on registration page. 

Riverside communal ammenities & lodging.

Industry leading guides and Team Buena Onda.

Daily kayak and adventures.

River and town transports.

Two house bottles of vino or pisco sour nightly.  

KEEP KAYAKING shirt.

New friends for life. 
Not Included
Team Buena Onda Tips. Recommend 9% to 15% of trip cost to be split across team participants.
1 meal out per week at local culinary adventure.
Personal provisions. There are markets within walking distance of retreat.
Some optional multi-adventure activities such as massage therapy and hot springs.
Airport transfers outside of scheduled times.
Tentative Fuy Plus Pucon Kayaking Itinerary.

*Due to varying river levels and individual skills we retain flexibility with the itinerary. For example, Fuy and Pucon destinations could be flip flopped due to levels.
JAN 6 – Day 1, SAT. Airport Transfer (arrive between 11 AM to 5 PM). Drive to retreat, outfit boats, possible Lower Trancura river assessment run(pending timing) to wash off the travel. Welcome to Chile appetizers, dinner and orientation.
AM – Airport Transfers.
PM – 2:30 PM River Assessment and fun.
JAN 7 – Day 2, SUN. Rio Liucura or Upper Trancura. Afternoon appetizers/provisions
JAN 8 – Day 3, MON. Maichin, Trancura, or Palguin.

JAN 9 – Day 4, TUE. Rio San Pedro (read more). 
AM – Early departure for San Pedro.
PM – Drive to Lago Panguipulli Lodging (Lower Fuy Takeout)
JAN 10 – Day 5, WED. Rio Fuy Fun.
AM – Breakfast and Lower Fuy with Middle Fuy below class V canyon advanced option.
PM – Upper  Rio Fuy Option.
JAN 11 – Day 6, THU. Mas Fuy. 
AM – Fuy Choice Lap
PM – Return to Pucon
JAN 12 – Day 7, FRI. Choice Pucon River Sections.
AM – Upper Palguin laps or session a clean waterfall.
PM – Upper Palguin with optional double header Upper Trancura lap to home base. 

 JAN 13 – Day 8. Pack. Temuco Airport Transfers (flights between 11 AM to 5 PM).
Want to extend your trip? Speak to a real person? [email protected] or +1-828-788-5135. 
KEEP KAYAKING.
---
What's Included.
Breakfast, Lunch, and Dinner

.

Kayak Rental.

Airport Transfer.

Lodging.

World's Best Kayak Instruction.

Daily River Transports.
Not Included.
Alcohol.
Optional multi-adventure activities such as massage therapy, hot springs, paragliding…
Our Social Media
Pucon Kayak Retreat Instagram 
Pucon Kayak Retreat Facebook
Pucon Kayak Retreat YouTube
Pucon Kayak Retreat Trip Advisor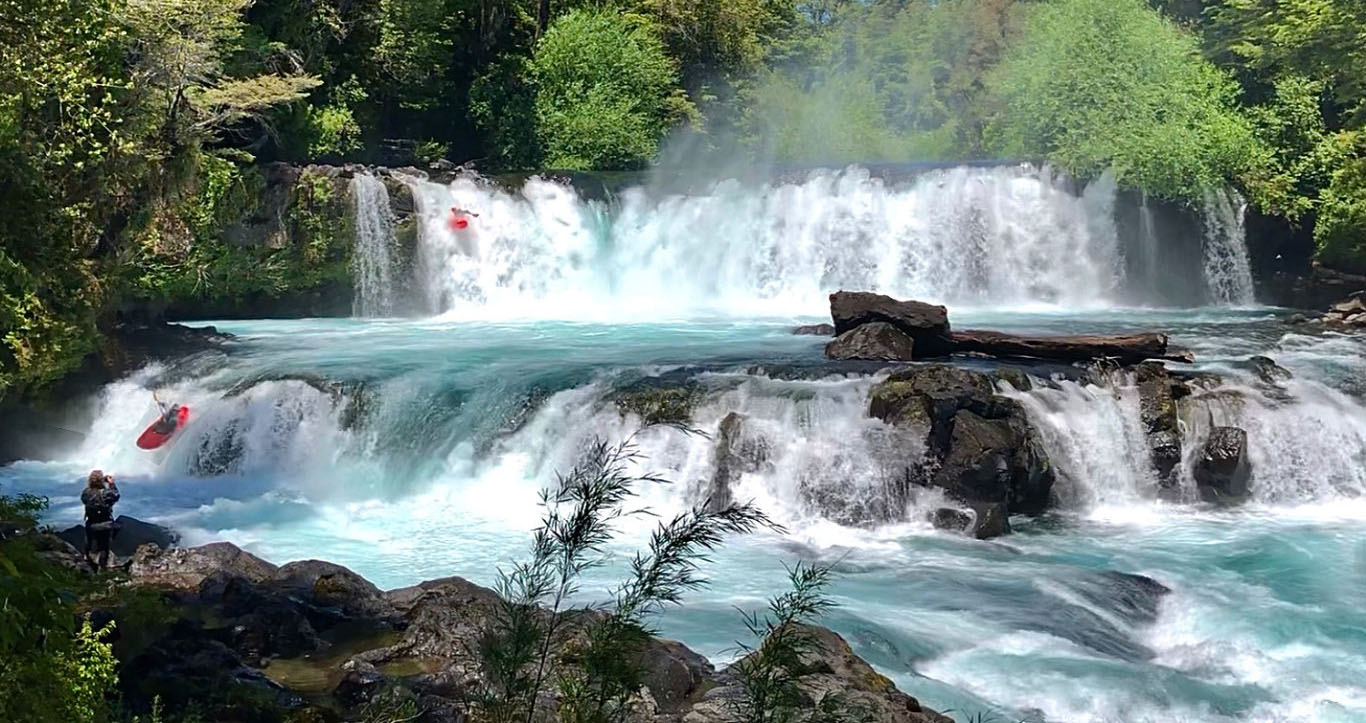 Price & Lodging Options
Pucon River Suite/Fuy Cabin (pp dbl occ)
$3,290.00
Pucon Hosteria/Fuy Cabin
$2,990.00
Trip Details

Skill Level. Advanced Kayakers
Deposit.  $750 deposit during COVID Restrictions. Read Payment Guarantees
Arrival City. Temuco Airport (ZCO) 11 AM to 5 PM
Departure City. Temuco Airport (ZCO) 11 AM to 5 PM
Trip Length. 8 Days
BONUS Trip Extension. ASK ABOUT SECOND TRIP DISCOUNT.

Want to chat with a real person? Send a message.