Updated NOV 19, 2020
Traveler Abstract
This is a resource for Pucón Kayak Retreat (PKR) guests, kayakers, and travel enthusiasts detailing Chile's new international tourist requirements. There are three requirements:
Negative Coronavirus test 48 hours prior to boarding
Reporting of daily travel
Proof of coronavirus insurance.
At first we were skeptical of the insurance requirement, but research shows many plans now include Coronavirus cancellation, medical coverage, and "cancel for any reason" policies at affordable rates. PPE and safe distancing measures are required during travel. Pucón is in a zone labeled Paso/Step 3 which means it has transitioned into conducting coronavirus safety measures. PKR will avoid restricted Paso 1 and 2 zones.
Chile Travel Requirements (Embassy, 2020), after December 7th, 2020
All travelers will have to present three documents when boarding:
A completed "Affidavit of Travelers" electronic form (available at c19.cl also known as a Sanitary Passport) prepared less than 48 hours before boarding (Embassy, 2020)
Note: Think of this like a daily travel log reporting daily contacts and travel. If you come into contact with someone that has coronavirus you will be notified and vice versa. The form is simple and easy to complete.
Proof of a negative result from a Coronavirus test taken within 72 hours arrival or 48 prior to departure (Embassy, 2020)
Note: The Nasal swab test appears to be the gold standard with costs ranging from $U50 to $US100. See PCR test locations.
Proof of a health insurance policy that provides coverage for Covid-19 and related health issues during the traveler's stay in Chile (Embassy, 2020)
Note: Our research showed there are affordable policies covering $100,000 to $500,000. Policies impressively offer COVID travel cancellation, medical coverage, and cancel for any reason clauses. A $3,000 one week trip offered plans ranging from $US72 to $US75, depending on coverage amounts. We liked Forbes' easy to navigate Coronavirus Travel Insurance Plans.
After December 7, non-resident foreigners entering Chile with the three documents described above will not have to complete a 14-day quarantine. Although, non-resident foreigners entering Chile will be subject to a 14-day "Period of Vigilance for Travelers."  During this period, travelers will report daily their location and health condition to the Health Ministry through a system that will be implemented for this purpose. This platform will be launched in the coming days (Embassy, 2020).
Notes. PKR will provide internet access to facilitate guests' to daily reporting.
Pucón Travel/Activity Restrictions
Pucon transitioned from Paso/Step 1 (quarantine) to Paso/Step 2 (transition) and now is in Paso/Step 3 (Preparation).
According to the Chile Government Coronavirus Action Plan definitions, the following activities are prohibited: cinemas and theatres, public gyms, enclosed sports such as indoor soccer, enclosed cafes, and enclosed events (Goberierno, 2020).
Things Allowed in Pucón Region (Goberierno, 2020) Applicable to Retreat Guests
Participation in events up to 25 persons in enclosed spaces;
Participation in events up to 50 persons in open air spaces;
Travel between regions in steps 3, 4, and 5;
Participation in open air sports in groups up to 25 persons with no audience;
Outings require wearing mask, hand sanitization, and safe distancing measures;
Open air seating requires 2 m spacing between tables;
Indoor seating operates at 25% capacity with safe spacing.
Helpful Links
"How Cheap Are Chile Airfares Due to COVID?"
PKR COVID Policies and Guarantees. 
Summary
Although the Metro Santiago area is in quarantine, the remote small towns, rivers, and mountain valleys of Chile are now permitted to conduct life and business with clear coronavirus measures. For travelers, there are simple affordable coronavirus insurance options which give guests varying degrees of medical and cancellation coverages.
We invite you to share your airfare and insurance research to help other guests.
KEEP KAYAKING. 
Highlights. One of a kind land bridge seal launch; Double Drop challenges, ear dipping the 12 footer, and multi-lapping the 20 footer.
Dangers. The run is relatively safe. Although, high flows can get downright nasty with scary swims. Low flows and too far left off the 20 footer the water is green. Avoid taking out river right above the crack.
Instructor Tips & Challenges. Go with someone that knows has access permissions or have a vehicle security plan. Plan to lap Double Drop and the 20 footer (leftside below Pescador is trail). PKR provides safety and freestyle coaching for various waterfall skills.
Advanced Pucon Chile Rivers to Kayak 
---
Other advanced rivers descriptions coming soon: Coilaco 30 Footer, Maipo (Lower & Upper), Rio Nuble, Futaleufu
Want to chat with a real person? Send a message.
Other Advanced Chile Kayak Trip Options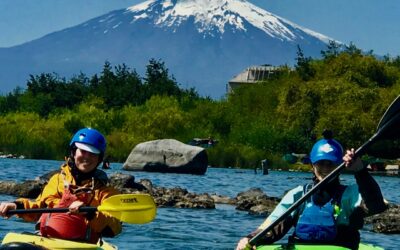 Chile kayaking trip for intermediate and advanced women kayakers led by kayak school owners, competitors and expedition leaders on Chile's best whitewater.
read more