Want to crowd source fund your Chile kayak trip?
This article gives tips to help raise funds for your dream Chile kayak trip. Check out the helpful crowd source links, ideas, concepts, and other tips to help you creatively find ways to fund your dream Chile kayak adventure. And feel free to email us… we're here to help.
Step 1 – Select a Crowd Source Funding Platform
Got a purpose or great story for your trip? FundMyTravel.com provides a platform with a 5 percent commission fee. Sample success stories include Brooke's Birthday Travel, Send Anna Home for Christmas, and Teaching English in Shanghai  (FundMyTravel.com, 2016).
The world's largest site for crowd funded travel offering the "GoFundMe guarantee" ensuring refund if something goes wrong with donation (TravelandLeisure.com, 2020). GoFundMe has a 0% platform usage fee with funding provided by donor tips (GoFundMe.com, 2020).
CrowdRise is a charitable subset of Go Fund Me listed as charity.gofundme.com. This source is idea for organizing groups with a specific mission such as raising funds for river protection and sustainability. According to their site pricing page the service has no subscription fees or paywalls (Charity.GoFundMe.com, 2020).
Step 2 – Identify Why People Would Support Your Trip
To get friends, family, and the social media world to pull out a credit card to fund your vacation will require some creative effort on your part, possibly something in return as well. Below is a sample list of proven reasons folks will donate to an adventure vacation.
Your Special Occasion AKA Gift Campaigns
Link to more Gift-A-Trip ideas. 
Birthday, graduation, anniversary, accomplishment, rite of passage, and such events are good cause for friends and family to gift you. Sample title, Alex's Best Birthday Gift Ever – Chile Kayak Trip. Gift campaigns are by far the easiest as often friends and family have little idea of what to get for your special occasion. In a sense you are doing them a favor by organizing and creating a space where they can donate to what you really want – to kayak rivers in Chile.
Kayak to Save Chile Rivers Sustainability
Video. Patagonia Study Abroad students on Chile Rivers sustainability. 

Pucon Kayak Retreat will donate 20% of your Chile kayak trip to Chile local river sustainability causes. Examples include takes special interest in bringing attention to and protecting rivers in jeopardy of being dammed. The retreat has a national resource of river friends proactively leading the movement to protect Chile rivers. Any guest completing a regular trip with the goal of fundraising Chile rivers protection and awareness Pucon Kayak Retreat will provide resources to local interviews, and a post-trip free week of camping or discounted lodging. Food and trip costs not included.
Idea locations to donate. Local Mapuche river sustainability activists, national river sustainability legislative activists (recommended), Chile River Keepers (NPO).
Requirements. Participant must complete a story report (media or blog) on Chile Rivers sustainability to be published via PKR social media channels. PKR reserves the right to promote with international river sustainability publications. Any funds raised exceeding trip costs is will be appropriated to participant choice Chile river sustainability causes.
Get Creative
Got another creative reason for family, friends, and social media world to donate to your Chile trip? Write it up and make it happen.
Creative Ideas. Donate kayak equipment to local Chile youth kayakers in need, media package of your Chile kayak trip, framed waterfall photos…
Step 3 – Offer Rewards Bolstered by Your Creativity & Talents
Survey your talents and interests asking what someone would who doesn't know me pay for this event (Boles, 2012). Can I illustrate, produce a video, produce a photography package, write adventure blogs for sponsoring companies, give kayak and travel instruction… Whatever the product you can create a rewards program for various size donations. You can even add a list of creative souvenirs thank you items (Boles, 2012).
Step 4 – Promote Your Campaign
Once you have created your campaign you will need to promote via your social media outlets. Pucon Kayak Retreat will additionally offer our social media resources to help too. Especially, if you create a river sustainability cause or donate to a local youth campaign. Ask your family, friends, and any large support groups to share and promote your campaign to cast a larger net (Boles, 2012). We recommend Facebook, local clubs, whitewater forums and groups, Instagram, and Twitter.
To learn more and help develop your crowd source campaign to kayak Chile's rivers email or call. We're here to help. [email protected] or +1-828-788-5135.
KEEP KAYAKING.
References
Boles, B. (2012, October 24). How to crowdfund your next travel adventure. Retrieved from Matador Network: https://matadornetwork.com/trips/how-to-crowdfund-your-next-travel-adventure/
Charity.GoFundMe.com. (2020). Go Fund Me Charity Pricing . Retrieved from Go Fund Me Charity: https://charity.gofundme.com/c/charity-pricing
FundMyTravel.com. (2016). Fund My Travel. Retrieved from Fund My Travel: https://www.fundmytravel.com/
GoFundMe.com. (2020). Go Fund Me Free. Retrieved from Go Fund Me: https://www.gofundme.com/c/free-fundraising
TravelandLeisure.com. (2020). Travel and Leisure. Retrieved from Travel and Leisure: https://www.travelandleisure.com/trip-ideas/budget-travel/crowdfunding-sites-for-vacations
Highlights. One of a kind land bridge seal launch; Double Drop challenges, ear dipping the 12 footer, and multi-lapping the 20 footer.
Dangers. The run is relatively safe. Although, high flows can get downright nasty with scary swims. Low flows and too far left off the 20 footer the water is green. Avoid taking out river right above the crack.
Instructor Tips & Challenges. Go with someone that knows has access permissions or have a vehicle security plan. Plan to lap Double Drop and the 20 footer (leftside below Pescador is trail). PKR provides safety and freestyle coaching for various waterfall skills.
Advanced Pucon Chile Rivers to Kayak 
---
Other advanced rivers descriptions coming soon: Coilaco 30 Footer, Maipo (Lower & Upper), Rio Nuble, Futaleufu
Chile Kayak Trips Featuring
Upper Palguin River
Want to chat with a real person? Send a message.
Other Advanced Chile Kayak Trip Options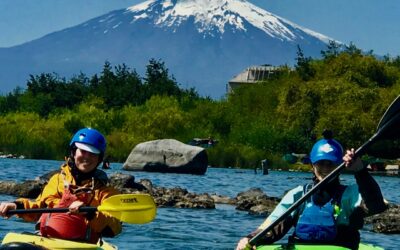 Chile kayaking trip for intermediate and advanced women kayakers led by kayak school owners, competitors and expedition leaders on Chile's best whitewater.
read more