Description. Get off the plane and wash off your jetlag with a Lower T lap. Guaranteed world class development features, and you can put in steps from your bed. Our favorite development section has a big water feel with a diversity of big waves, boofs, long and short rapids, and high quality development features idea for improving skills.  This backyard classic is so convenient we often take afternoon additional laps. 
Whitewater Kayak Skills Required
solid combat roll

boof-attitude

river communication

eddy catching and piercing
Access Put in/Takeout
Putin right at your retreat base and we'll run the river with and shuttle for our guests.
River Character

Pescador is the longest and most exciting rapid. Ask a guide to run the rock bar above the Liucura Confluence to work the Tinkerbell eddies and ferries. Boof series below the warmup, and Mandatory Boof for the icing on the cake. Take some change and buy a smoothie at the Mapuche market at the takeout.
Dangers
The run is relatively safe for experienced kayakers with a solid roll. Although, the most common accidents occur in the first rapid below put-in. The rock bar has a hard to see sneak line that is helpful to have a guide if you are worried about your roll.
Instructor Tips & Challenges
There are many fun challenges that folks that don't know the run may miss without a vet Lower T boater. Boof series, challenge eddies, and especially the hidden line hopping over into the Rio Liucura to catch the Tinkerbell Ferries. 
Advanced Pucon Chile Rivers to Kayak 
---
Other advanced rivers descriptions coming soon: Coilaco 30 Footer, Maipo (Lower & Upper), Rio Nuble, Futaleufu
Chile Kayak Trips Featuring
Lower Trancura
Want to chat with a real person? Send a message.
Chile Advanced Trips We're Offering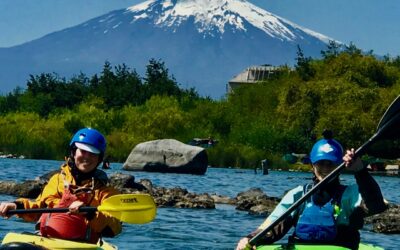 Chile kayaking trip for intermediate and advanced women kayakers led by kayak school owners, competitors and expedition leaders on Chile's best whitewater.
read more