White Water Kayak Chile-Rio San Pedro River
White water kayak Chile-Rio San Pedro is idea for all kayak and raft skill levels. With kayaks and inflatables you can learn safely or charge the giant blue – white water waves and rapids. Beginner and Intermediate kayakers often paddle ducky, pack raft, or raft support options. Advanced kayakers love the bigger white water challenges and play boating as intermediates too get to experience this Chilean treasure. Paddle out of the Volcano-snow-pack-fed Lago Rinihue blue estuary as it transmutes to river. The waterf beauty and vistas is stunning. Paddle class II in awe as the gradient and rapid power build to climax at rapids like Tsunami, the White Room, and the damned Dam Rapid. The river is playful  with lots of surf waves and challenge moves. It's really just so beautiful and fun that it is a must for beginners to expert kayakers. 
Youtube Video Whitewater Kayak Chile Rio San Pedro.
White Water Kayak Chile Skills Learning
flat water roll

combat roll

river communication and scouting

eddy catching

low volume ferrying

confidence building
Access Put in/Takeout
This is a big shuttle with a 2 hour drive from Pucon and hour shuttle. Requires driver or 2 vehicles. High theft danger at takeout bridge.
Put In: Driving from Panguipulli follow map to where Lago Rinihue meets Rio San Pedro. Free public access at end of road. Ask locals to park your car on their property for 5,000 pesos and extra security. 
Take Out: From Panguipulli follow map to where road crosses San Pedro. Recommend hiring driver or paying locals to park on their property. Bridge takeout is high risk for broken windows vehicle theft. 
Read more White Water Kayak Chile Rivers Guide. 
Highlights. Take a mask and snorkel the clear warm water, wave surfing, the giant rapids, and just gazing into the water.   
Dangers. The right wall at White Room is undercut. Rapids are more difficult at lower flows and especially difficult for rafts and duckies. High vehicle broken window and theft potential at takeout bridge. Pay a local to park or hire driver.
Instructor Tips & Challenges. No valuables in vehicles, hire a driver for security.
Instructor Tips & Challenges. If you want a challenge you can lap Tsunami; best area river for overnight trips; pay a local to park your car securely.
Pucon Chile Beginner Kayak Rivers
---
Liucura Bridge and Liucura Wave (II to III)
Pucon Hotsprings & Lakes for kayaking. When its cold we negotiate to use nearby hotsprings for roll lessons. When its hot we use Lago Caburgua.
Advanced Pucon Chile Rivers to Kayak 
---
Other advanced rivers descriptions coming soon: Coilaco 30 Footer, Maipo (Lower & Upper), Rio Nuble, Futaleufu
Chile Kayak Trips Featuring
San Pedro River

Want to chat with a real person? Send a message.
Other Beginner & Intermediate Trips We're Offering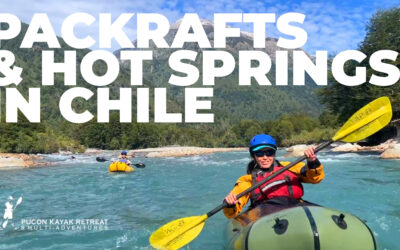 VIP Packraft Patagonia rivers amongst glaciers and hotsprings. Chile multi-sport adv enture with gear support via horses to remote locations. For beginner paddlers with adventure spirit.
read more