Possibly, South America's most run waterfall section the Upper Palguin Canyon is like a waterfall park idea for experts keen to master advanced skills in a safe setting, and first time creekers excited to learn creeking and waterfalls techniques. Hiks a short distance to the base of the pro-only Salto Palguin (boof to 85 footer) for a one-of-a-kind seal launch adjacent to a river land bridge. Double Drop is the first and most difficult rapid with a ladder complimentary of PKR boaters construction offering multi-lapping of this gem. A 4 footer followed by a 9 footer offers lots of speed and plenty of entertainment. Other notable drops include Squeaky Door, the 12 footer, 20 footer, and Pescador.
Whitewater Kayak Skills Require
Confidence to learn and try the following in a remote basalt canyon. 
solid combat roll

river running experience

river communication

creek eddy catching

low volume ferrying

boof skills
Access Put in/Takeout
20 minutes from retreat base need a vehicle or driver. 
Put In: Roadside access at Salto Palguin pulloff, or private access with permissions. Roadside has experienced breakins.  
Take Out: Pull-off at fence hole .75 KM below putin. Leave nothing in your vehicles.  
Highlights. One of a kind land bridge seal launch; Double Drop challenges, ear dipping the 12 footer, and multi-lapping the 20 footer.
Dangers. The run is relatively safe. Although, high flows can get downright nasty with scary swims. Low flows and too far left off the 20 footer the water is green. Avoid taking out river right above the crack.
Instructor Tips & Challenges. Go with someone that knows has access permissions or have a vehicle security plan. Plan to lap Double Drop and the 20 footer (leftside below Pescador is trail). PKR provides safety and freestyle coaching for various waterfall skills.
Advanced Pucon Chile Rivers to Kayak 
---
Other advanced rivers descriptions coming soon: Coilaco 30 Footer, Maipo (Lower & Upper), Rio Nuble, Futaleufu
Chile Kayak Trips Featuring
Upper Palguin River
Want to chat with a real person? Send a message.
Other Advanced Chile Kayak Trip Options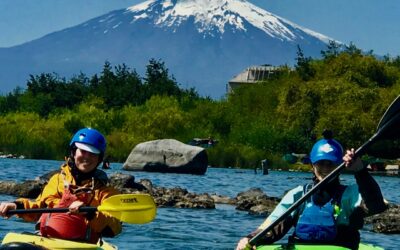 Chile kayaking trip for intermediate and advanced women kayakers led by kayak school owners, competitors and expedition leaders on Chile's best whitewater.
read more