White Water Kayak Chile-Upper Trancura River
White water kayak Chile-Upper Trancura river offers action packed rapids with pour overs, boofs, challeng moves, slots, fun moves, and even two world class V big water rapids for the pros.  And you'll take out right at the retreat property for your convenience. With the Pucon valley's volcanos, Andean peaks, creeks, and rivers all flowing into the Trancura River the various sections guarantee exciting whitewater year round. The Lower and Upper Trancura are great for advanced to expert kayakers even attracting the world's elite to notch class V rapids like Marimon and Last Laugh. The development features are excellent for boofing, piercing high speed eddies, challenging kayakers with rapids, and high speed ferry moves.
Raw video, Kayak Chile Upper Trancura River by Kyle Thomas. 
White Cater Kayak Chile Skills Required
solid combat roll

boof-attitude

river communication

eddy catching and piercing
Access Put in/Takeout
Requires Bike or shuttle driver, or two drivers.
Put In: 9 KM above PKR base river right or left. Need shuttle. 
Take Out: PKR guests take out at retreat. 
Upper Trancura River Character

The run is full of fun moves, development features, lots of boofing and slot drops to run. Non-experienced kayakers often miss the many fun slots and boofs below Last Laugh. High water is fluffy, fast and fun. Last Laugh can be intimidating and being upside down will require super solid roll. Few experts will run Marimon at high water. At high water there is a sweet 8' high spout left of the island at Garganta.
Dangers
All rapids are portage-able but are helpful with Trancura experienced guide. Sieve on right at Garganta; log on right below Feo; Marimon is only for experts with kayak safety at bottom recommended; Last Laugh is for experts only.
Instructor Tips & Challenges
There are many fun challenges that folks that don't know the run will miss out on. Thread the Needle is about a 30% move even for the pros but super fun to try; ask a guide about our one minute slalom course challenge below the wave; at medium to high flows have a guide lead you off the Garganta Spout; lap Feo on the right; see how many slots you can stick for the runout below Last Laugh; how many eddies can you catch at Feo. 
More Advanced White Water Kayak Chile Rivers
---
Other advanced rivers descriptions coming soon: Coilaco 30 Footer, Maipo (Lower & Upper), Rio Nuble, Futaleufu
Chile Kayak Trips Featuring
Upper Trancura
Other Advanced Trips We're Offering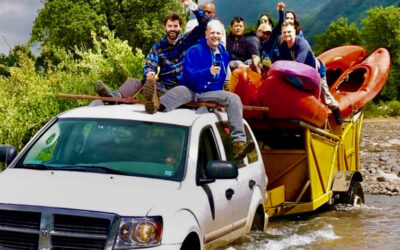 Recruiting, training and retaining kayak instructors to lead Chile kayak trips. Instructors can earn 50% DISCOUNTS to kayak Chile rivers.
read more