Jessie Watson – Ice Creamery Dreaming & Chile Kayaking
Jessi was recommended via our affiliate Colorado Mountain College Culinary Arts department. Jessi took the kitchen bull by the horns and raised the bar on our appetizers and meals menu. Keeping guests and staff well fed translates to a happy retreat experience. The cool part is that after just one Chile season Jessi is already running the Upper Palguin waterfalls and numerous other whitewater runs. The guides kind of rally around finding space for Jessi to hop in on kayak trips on his days off. It's no wonder considering the fact Jessi takes care of everyone's nutritional value.
During the summers Jessi is exploring opening his own artesan ice creamery in Steamboat Springs. So, when in Steamboat make certain to ask us where to get the best ice cream. Mmm…
Above: Jessi Watson adds an artistic touch to the wood fired oven used for pizza night, asados, and special events. 
It took Jessi less than a season to master his roll and become an avid kayakers. Just imagine how good he can become next season. 
Scheduled
Chile Kayak Trips

Our Scheduled Chile Kayak Trips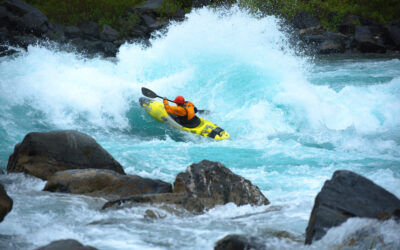 Multiple WEEKS Available
Advanced Chile Whitewater Kayaking Trip guarantees blue rivers, waterfalls, slides, and boofing all on world class creeking and big rivers.
read more