As a Chilean youth Javier's father Jorge would take him fishing in the Nuble Valley. The Nuble Valley also attracted one of NOC's greatest legends, Jon Clarke. Jon a lover of both the Chilean people and protector of threatened rivers began teaching Chilean youth to kayak and the community members to create sustainable eco-businesses. Jon was training adults to lead eco-tourism adventures and lodging services. Jon and the Jimenez family established the annual Nuble Festival as a tribute to protect and make more aware of the river's threats from giant hydro-power. Jon tragically passed away due to a non-whitewater related event. But his legacy lives in the Nuble Valley.
It was 2016 when NOC's kayak program direct Tosh Arwood reinitiated Chile kayak trips, and PKR was introduced to the Jimenez family. It was emotional for everyone that knew Jon, and everyone desired to help continue to protect the Nuble and Chile rivers. Upon meeting Javi at age 15, seeing his excitement for whitewater, passion for the outdoors, and the Jimenez family care for the Nuble Valley we decided to return to the Nuble every year it releases free flowing water.
Pucon Kayak Retreat owner David Hughes soon invited Javi to volunteer at the retreat in exchange to learn whitewater instruction, meals, and transportation to Pucon's rivers and canyons. Today Javi is charging waterfalls, training for extreme racing, and aspires to be a whitewater kayak and fly fishing guide/instructor. Javi gives presentations to university, high school and kayak groups regarding the protests and actions the Nuble Valley has witnessed in opposition of the hydropower development. Any trip featuring Javi's presence is gainful with safety, Chilean culture and history, personal experience within hydropower opposition, translation, and remarkable whitewater instruction. It is with pride that we watch Javi grow and develop into an eco-tourism leader.
Above: Javi lands a rainbow before breakfast at the retreat quincho. 
Scheduled
Chile Kayak Trips

Want to chat with a real person? Send a message.
Our Scheduled Chile Kayak Trips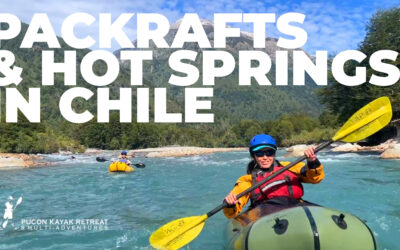 VIP Packraft Patagonia rivers amongst glaciers and hotsprings. Chile multi-sport adv enture with gear support via horses to remote locations. For beginner paddlers with adventure spirit.
read more