The Bull Riding Cancer Surviving Kayaker
Above: Randy Sparrow hanging out in Chile's Rio San Pedro clear blue water during Pucon Classics Trip.
Like many retreat kayakers Randy introduced himself at the NOC Guest Appreciation Festival (GAF) and later signed up for a dreamy Chile kayak trip. Sadly, Randy cancelled due to a bout with skin cancer diagnosis. This wasn't Randy's first rodeo with cancer as 8 years earlier he fought off colon cancer. That's when Randy got introduced to one of kayaking's greatest programs. The First Descents non-profit for cancer patients that uses kayaking and rivers therapeutically. Randy was surprised when more than a year later we reached out to inform his Chile kayak trip deposit was transferrable as trip credits. And he soon signed up for two weeks of fulfilling his kayaking goals.
Randy's introduction to whitewater was as entertaining as his younger bull riding days. Seeking an instructional class Randy reached NOC's front line Jae Jackson. Jae asked about Randy's level of kayaking experience, "Well, I've paddled some II's and III's and a III+ or two." What Randy left out was the fact his kayaking experience was actually in a sit on top crafted for flat water. Which we speculate his class III experience may have been a windy day on an Arkansas lake. Jae aligned Randy with a class II to III whitewater clinic. After the first day of classes instructor Casey Jones asked, "So Randy. How many times have you paddled that boat?" Randy pondered for an honest response, "Other than today?" Casey nodded as if to say you can tell me, "Once."
Randy offered to go into a less skilled class but Casey insisted to see how the clinic went. By the end of the clinic Randy was hitting multiple rolls, paddling class III, and best of all was hooked on kayaking. Randy laughs, "I've been staying in my boat and Casey has had to put up with me ever since."
Above: Randy Sparrow plants a boof stroke on the Lower Palguin waterfall (Pucon Classics Trips).
//

Randy Sparrow bull riding.

Three years and having survived cancer later Randy spent two weeks paddling in the heart of Chile's best whitewater. The first few days were dusting off the cob webs a bit, and by the end of the trip Randy was running waterfalls and class IV. Excited for a new season of kayaking with a whole new level of kayak skills and confidence. We salute Randy Sparrow for representing everything we love about rivers. KEEP KAYAKING.
Scheduled
Chile Kayak Trips

Want to chat with a real person? Send a message.
Our Scheduled Chile Kayak Trips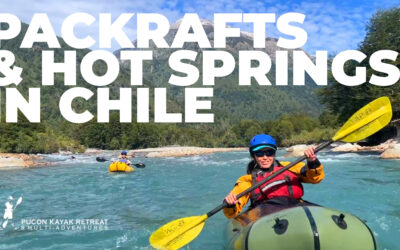 VIP Packraft Patagonia rivers amongst glaciers and hotsprings. Chile multi-sport adv enture with gear support via horses to remote locations. For beginner paddlers with adventure spirit.
read more