"I'm Not Good Enough to Kayak Chile." WRONG. 
We hear it all the time. Heck, with all the kayak pros and wannabes posting videos running Chile's beautiful waterfalls and class V many assume tht's all there is. Did you know that for every class V section Chile has six beginner and intermediate sections. Saying, you're not good enough to go kayaking in Chile, is akin to saying, you're not strong enough to goto the gym. You goto the gym because you're out of shape, want to improve your health and strength, you have clear goals to get stronger. A kayaking trip with Pucon Kayak Retreat is an investment in developing your kayaking skills with daily student centric kayak instruction. The cool part is that your kayak skills are aligned with the proper river sections based on skill levels of beginner, intermediate, advanced, and expert kayak trips.
Instructors vs. Features. Which matters most? 
Kayakers that lack instructional experience often paddle the same river sections over and over never progressing. Instructors don't tend to just offer advice due to social norms. But we can easily see that just one day of fundamentals development can be progressively applied to proper river features.
Meet Tinkerbell – Land of the Ferries
A lesson in piercing eddies maintaining momentum.
Tinkerbell is a high speed eddy line that without proper technique will spin out the intermediate paddler. The goal is to pierce Tinkerbell whilst planing your kayak to the back of the eddy. Your instructor in the class teaches proper stroke placement, timing, boat edging, and piercing angle. But it is the feature Tinkerbell that unforgivingly spins out the novice. The best instruction is a combination of professional instruction with the best possible river features.
Chile Kayak Trips and Best River Features
Here's a few of our favorite river features for development.
Rio Tolten Lake and River,

Chile Beginner Kayaking Trips

.
Kayaking Chile's Rio Tolten
starts as Lago Villarrica's estuary flows into the Tolten en route tot he Pacific. Beginners work on rolling in the lake and paddling in the rapids. Intermediates can also work on combat rolls (rolling in a rapid).
Palguin Double Drop, Chile Advanced Kayaking Trips.
A few years ago the retreat team built a ladder to
kayak Chiles Upper Palguin
Double Drop allowing kayakers to lap the drop. The first drop is a steeply banking high speed high level boof that flows through a seam toward a clean nine foot boof. Immediate video feedback allows kayakers to progress boofing and freestyle like few other features can offer.
Salto Blanco de Sur, Chile Expert Kayaking Trips. At 35 feet this clean fun spout is big enough to offer proper big waterfall feel and practice with a soft landing into big pool. Skills include paddle toss, safety protection tuck, left. orright stroke, waterfall lean or ear dipping, and boof to stomp.
Read our satifaction ratings on Trip Advisor.
KEEP KAYAKING. 
Dangers
The section is relatively safe. Although, overhanging tree limbs are a serious danger for beginner kayakers. This run requires safety kayakers to assist.  
Instructor Tips & Challenges
Practice rolling at beach below the bridge. There is a tree to jump out of on river right below beach but getting more difficult to climb. Great section to practice combat rolls, ferrying, and eddy piercing with safety spotters.
Pucon Chile Beginner Kayak Rivers
---
Liucura Bridge and Liucura Wave (II to III) coming soon. 
Pucon Hotsprings & Lakes for kayaking. When its cold we negotiate to use nearby hotsprings for roll lessons. When its hot we use Lago Caburgua.
Chile Kayak Trips Featuring
Tolten River

Want to chat with a real person? Send a message.
Other Beginner & Intermediate Chile Kayak Trip Options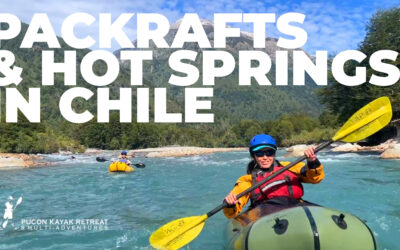 VIP Packraft Patagonia rivers amongst glaciers and hotsprings. Chile multi-sport adv enture with gear support via horses to remote locations. For beginner paddlers with adventure spirit.
read more